If you're just starting to think about an upcoming small bathroom remodel for aging in place, your head is probably spinning. There's so much to consider in a standard bathroom remodel. With the added layer of creating a safe bathroom for aging in place, you have what can feel like a million decisions to make.
---
For more help renovating small bathrooms, check out these helpful guides!
---
Smart Aging-in-Place Design Doesn't Need to be Complicated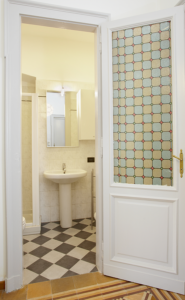 When I work with my homeowners or talk with DIYers, I remind them that keeping aging-in-place design simple is not only easier and more cost-effective, but it usually ends up creating a safer and more comfortable home for your aging parent in the long run.
Apply this thinking to your bathroom renovation and focus on upgrades that will make the biggest difference in your parent's safety. In this article, let's walk through each of the primary areas of a small bathroom that you'll want to consider when you're making an aging-in-place upgrade. I'll set you up with the basics and direct you to some of my other, more detailed articles so you can dive into some of these renovation jobs in detail.
Focus on These Key Areas of the Bathroom During Your Aging-in-Place Renovation
The Sink

A wall mount, wheelchair accessible sink is an excellent addition to a bathroom to make it much more aging-in-place friendly. Even if your parent is fully mobile, I love to see DIYers plan for the possibility of needing wheelchair accessibility in the future. In small bathrooms, look for a wall mount sink that's low profile and isn't too deep. A deep sink will be more difficult for a wheelchair to access and it will end up hanging over much-needed floor space.
Here are two wheelchair friendly sinks worth looking into.
CeraStyle U-Hole Rectangular Rimming Sink
This ceramic sink is wall-mounted with pipes nearly flush to the wall with a good amount of clearance for a wheelchair.
Scarabeo One-Hole Rectangular Rimmed Sink
This sink has it all for aging-in-place wheelchair accessibility. It not only has great clearance underneath the basic, but it has a side shelf with plenty of room to place soap, toothbrushes and any toiletries, keeping everything within reach.
Installation: Moderate to Advanced
Unless you have extensive DIY renovation experience, I recommend bringing in a contractor for any major plumbing work. When you're transitioning from a sink encased within a counter to one with piping exposed, it's common to have to reroute some of the pipes. This is definitely a job for a professional.
The Shower
Most aging-in-place accidents happen while bathing. This is why the shower deserves serious attention as you plan your aging-in-place bathroom upgrade. There are several hazards in and around a shower that you can help mitigate. Here's what to focus on as you update your shower or tub.
Zero-Threshold Shower
The National Association of Home Builders and the Americans with Disabilities Act both want to see a zero-threshold shower in every aging-in-place bathroom. This is a tall order, especially if your current bathroom is a shower/tub combo. If you're committed to making the bathroom as safe as possible and it's within your budget, removing the tripping hazard that a tub or shower threshold creates is one of the best investments you can make in your entire home.
Installation: Advanced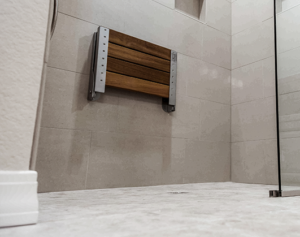 I recently wrote an entire article to help DIYers work their way through a full zero-threshold shower installation. Read my full article, 'Converting a Tub to a Zero-Threshold Shower,' for a step-by-step installation guide. However, if you're a DIY novice or have little to no plumbing experience this is a good job for a professional contractor.
Shower Faucets
Shower faucet levers and knobs can cause adults with arthritis a lot of pain. It's easy to overlook, but the faucet handles you choose should be ADA-compliant and easy-to-turn.
Two of my favorite aging-in-place shower faucet handles that I trust to be comfortable for aging hands include the American Standard Edgemere Faucet Handle and the Peerless Single-Function Shower Handle.
Installation: Easy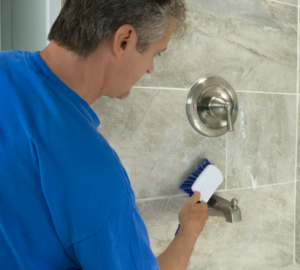 Faucets are an easy upgrade that any DIYer can tackle. I did a full review of these handles and some of my other favorite shower faucets for aging in place in an article called, '5 of the Best Shower Faucet Handles for Aging in Place,' that you can read to learn more.
Grab Bars
Shower grab bars are proof that sometimes the simplest aging-in-place upgrades make the biggest difference. Plan on adding several grab bars throughout your bathroom as you work through your remodel, including several inside and just outside of the shower or tub. I like to include at least one vertical grab bar at the entrance to the shower and one horizontal bar inside the shower along the wall. I place one or two outside the shower as well.
Two of my favorite shower grab bars are:
Moen Home Care 16-inch Curved Shelf Grab Bar
This is a curved shelf grab bar that's conveniently placed right next to everything you need as you shower.
Franklin Brass Concealed Mount Bathroom Grab Bar
This grab bar can be installed directly into a tile shower wall and be placed vertically or horizontally.
Installation: Easy
Grab bars are another easy DIY project that anyone can handle. You can read through my article on 'The Best Bathroom Grab Bars for Aging in Place and How to Install Them,' to read about these and many other grab bars for the shower, sink, toilet and more.
The Floor
This is a big one! Most slips happen in the bathroom so the flooring you choose is incredibly important. Avoid any flooring that's shiny or smooth. The best bathroom flooring material for aging in place is slip-resistant vinyl. You can purchase vinyl as tiles, sheets or planks in a variety of styles. I personally like the click-locking planks because they're easy to install and give a higher-end look than other vinyl options.
A few great vinyl floors to check out when you're planning your bathroom renovation are:
Vinyl Tiles: CO-Z Vinyl Adhesive Tiles
These tiles are your most cost-effective option. They're slop-resistant and are easy to install and clean.
Diflart Walnut Wood Luxury Vinyl Clock Lock Plank
This plank floor is not only slip-resistant, but it repels water making it perfect for your aging-in-place bathroom.
Installation: Easy to Moderate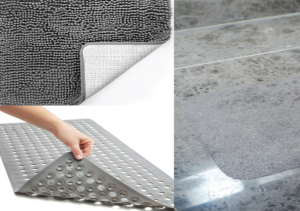 If you're new to DIY projects, give this flooring project a try. I recently wrote an article that can help you along the way: 'The Best Flooring Products for the Aging-in-Place Bathroom.' In it, you'll find more flooring recommendations as well as suggestions on floor mats, shower mats, and more.
The Toilet
Raising the height of the toilet is one thing that can make such a big difference for someone aging-in-place. This renovation upgrade, in particular, will make it easier for your parent or loved one to live independently for a much longer period of time.
Adding just 3-5-inches to the height of the toilet seat is many times all that's needed. If you plan to keep your existing toilet, you can add a riser to the seat. Two of the better risers I've found are:
Carex Hinged Toilet Seat Riser. This riser gives you an additional 3.5-inches of height. It's also hinged making it easy to clean and it's rated safe for up to 300-lbs.
Vive Toilet Seat Riser with Handles. Adding support bars on either side of the toilet for better stability is another aging-in-place upgrade that can help your parent be safer and more comfortable living on their own. This riser gives your parent an additional 3.5-inches in height with a set of sturdy handles.
Installation: Easy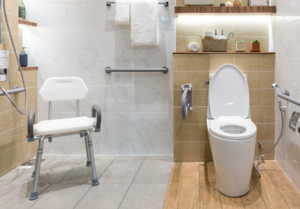 Adding toilet risers and other accessories is a piece of cake. I have an entire article dedicated to safe aging-in-place toilets and accessories called, '5 Aging-in-Place Toilet Products That Will Keep You Safe,' that's a great resource when you're ready to make additional toilet safety upgrades during your bathroom renovation.
Painting
Once you've tackled the major renovations in the bathroom and installed each of the fixtures, choosing a paint color is next on the to-do list. Paint can seem trivial but as older adults lose some of their ability to see contrast, paint colors can actually be an important decision. That's why high-contrast paint colors are an important part of your bathroom renovation.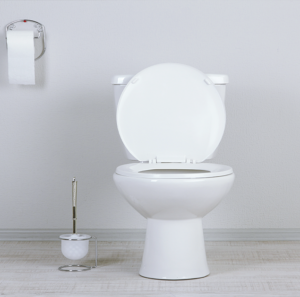 Small bathrooms, in particular, that have fixtures and items in close proximity can benefit from a paint color that contrasts against light switches, countertops and closet doors. As you put the finishing touches on your aging-in-place small bathroom renovation, you can take a look at my recent article, 'How to Quickly Paint Around a Toilet and Other Tips for Painting Tight Bathroom Spaces for Aging in Place' for a thorough resource on everything you need to know to paint a small bathroom and make it look great.
Keep Your Bathroom Renovation Plans Simple When You're Designing for Aging in Place
These tips should get you started on your aging-in-place small bathroom remodel. Planning any remodel is tough, but focusing on these key areas will help you simplify the process and keep you focused on the essential safety and comfort upgrades that are going to make the biggest difference for your parent as they age in place.
Send me your questions in the comments section below as you go. Good luck with your next aging-in-place remodel.
Like this post? Spread the love!