A relaxing shower can provide a lot of therapeutic health benefits for an older adult aging in place. However, it can also be one of the most dangerous activities your parent or loved one does each day. Building a shower with proper aging-in-place design features will help them live independently for a much longer period of time.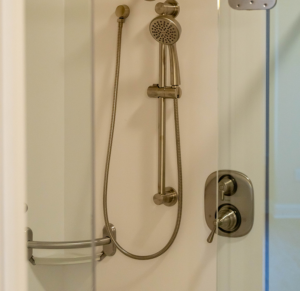 When you're ready to upgrade your parent's current shower to a safer aging-in-place shower, focus on the faucet handle first. The faucet handle is the control center of your shower. Without the right one, you'll lose or reduce your ability to control critical features like temperature and pressure and greatly increase the risk of a serious injury.
In this article, I'll teach you about the all-important aging-in-place shower faucet handle – what makes a handle safe, how to go about choosing the right one for an aging-in-place shower, and which shower handles out there today are my go-to for creating a safe, accident-free shower environment. Let's get to it!
First and Foremost, Look for A Shower Handle That's ADA-Compliant
The American Disabilities Act, or ADA, lists a set of strict standards that a shower handle, or any other bathroom faucet or fixture, must meet in order to be considered safe for aging in place. The shower handle you choose must meet every item on this list of criteria to pass the ADA-compliance test.
A shower handle must not require tight grasping, pinching or twisting of the wrist
It must be operable with one hand
The force required to activate the handle shall not exceed 5-lbs.
The faucet handle must not exceed a reach-forward height of 48-inches and be no less than 15-inches above the finished ground
Once You Narrow Down Your Search to ADA-Compliant Handles, Anti-Scald Features Should Be Next on Your List
DIYers remodeling an aging-in-place shower tend to focus on the design and feel of the shower handle – and for good reason. But, there's also a lot going on 'under the hood'. Finding the safest faucet handle out there means understanding the entire package.
Behind the shower handle is the faucet's water valve. It controls how the water functions, including its temperature. If your shower valve is not set-up to regulate the temperature of the water, you can easily and very quickly suffer a third-degree burn.
Hot water scalds are responsible for about 20% of all household burns. For older adults, scalding water ends up having a domino effect of other dangers, too. Sudden hot water can cause additional injuries from shock including heart attacks, falls and other serious and even life-threatening accidents.
Luckily, installing a temperature-controlled shower faucet handle with an anti-scald water valve is an easy fix to this problem. As technology has improved over the years, these controls have become more mainstream, and just about every big-name manufacturer has a temperature-safe option. The National Association of Home Builders recommends anti-scald or temperature-controlled faucets be in every aging-in-place bathroom which has fueled anti-scald innovations over the years as well.
As with anything, added product features can mean added cost. Keep in mind that shower handles have a big responsibility in the aging-in-place bathroom and they're not a product worth skimping on. Invest in a shower handle that's built to keep sore hands comfortable and keep water temperatures at a safe level and you'll make an immediate difference in the safety of your aging-in-place home.
The Best Shower Handles for Aging in Place
Each shower faucet handle that made my 'best of' list is both ADA-compliant and anti-scald. You can trust each one to be a safe, comfortable handle for your aging-in-place bathroom, and easy to install for any DIYer.
#1: American Standard Edgemere Shower Handle
American Standard has been a well-known name in the bathroom faucets and fixtures world for a long time. Of all of American Standard's shower handles, the Edgemere is my favorite. The size and shape of the handle alone make it a great choice. It's long and more substantial than other more modern handles that are popular among big-name manufacturers today.
The Edgemere also includes American Standard's hot limit safety stop for scald protection and a pressure-balancing valve for added comfort and safety from sudden drops in water volume. The Edgemere checks the 'must-have' safety boxes for a shower handle worthy of aging-in-place design.
If you're looking for a safe, comfortable aging-in-place shower handle with a classic look, the American Standard Edgemere is a great option.
#2: Delta Dorval Monitor 17 Series Shower Handle
This handle has it all. The Delta Dorval shower handle lets you easily control the water temperature and pressure of your shower. It has Delta's Monitor pressure balance valve that keeps the water within a safe temperature range to protect from scalding and any sudden changes to both temperature and pressure. While not as dangerous, a sudden burst of cold water can startle an older adult just as much as hot water. Since any sudden movements in a slippery shower have the potential to be a serious problem, reducing unwanted changes in water temperature is a huge plus.
Its ability to keep the shower temperature constant and consistent is why the Delta Dorval is one of my favorite aging-in-place faucet handles. It's also a great looking, modern handle that will look good in any style bathroom you're renovating.
To complete the installation of the Dorval shower handle, you'll need to purchase the Delta MultiChoice Universal Shower Rough Valve.
I use Delta faucets throughout many of my aging-in-place renovations. If you're looking for a safe, comfortable and reliable shower handle, give this one some serious consideration.
#3: Delta Stainless Ara Angular Modern TempAssure Shower Handle
Also from Delta, the Ara shower faucet handle is all about control. I like this handle because it gives you separate controls for separate functions which allows your parent or loved one to customize things like water temperature, pressure, and volume. Delta does this with its TempAssure Thermostatic cartridge that measures and monitors the temperature of the water and automatically adjusts it up or down to keep the water safe and comfortable.
The handle itself is ADA-compliant with three easy-to-grab levers. Each lever is squared off at each end and stocky enough that older hands can get a good grip without exerting much strength.
To install the Ara handle, you'll need the Delta MultiChoice Universal Integrated Shower Diverter Rough Valve.
As you probably know, Delta is one of my go-to brands for high-quality shower faucet handles, plus faucets, showerheads, and more. You can check out my "Best of Delta" articles and learn more about what makes just about any of their products an excellent choice for any aging-in-place bathroom.
'Best Delta Bathroom Faucets for Aging in Place'
'Best Delta Shower Faucets for the Aging-in-Place Bathroom'
#4: Moen 90 Degree Moentrol Shower Handle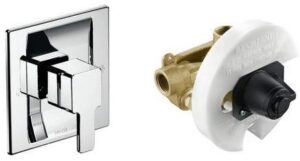 Leave it to Moen to create a new, versatile handle design that's also a solid, quality-constructed piece of hardware built to last. More than most brands, Moen knows how to bring beauty and strength to the table. Their Moentrol faucet handle is modern and minimalistic and will look great in any aging-in-place home.There are two reasons this one makes the list. First is its massive, stocky lever. Old, sore hands, especially larger hands, are going to have an easy time maneuvering this handle. Second is the handle and valve set. It includes Moen's Moentrol pressure balancing system for full water coverage and pressure. It also has what Moen calls Temperature Memory. This system automatically prevents hot and cold surges so scalding is no longer an issue.
#5: Peerless Single Function Shower Handle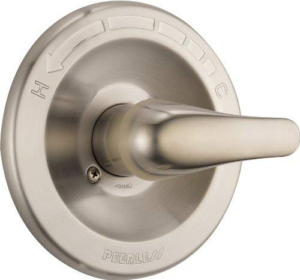 Peerless may be a name you haven't heard of in the shower fixture world. They're a lesser-known company with budget-friendly shower handle options – a fraction of the price of the bigger names. With this shower handle from Peerless, you still get a safe and comfortable ADA-compliant single handle. I like the way Peerless designed this handle. It's simple and traditional – you're not getting bells and whistles with this one. But, its handle has a lot of substance to it. It should be easy for an older person to get a solid grip on it making it much more comfortable than other handle options.
This handle system also includes Peerless' temperature technology that protects against sudden changes in water temperature. If someone flushes the toilet in the powder room you won't get a rush of cold or hot water while you're showering.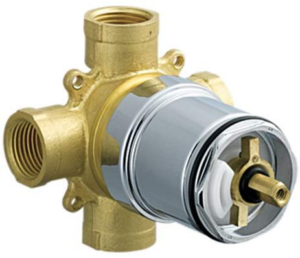 To complete the installation, you'll need to purchase a Peerless Rough-In Valve Body.
If your aging-in-place budget is tight, take a look at Peerless. They can help you with a safe, quality shower handle at a reasonable price.
It's Time to Choose the Right Aging-in-Place Shower Handle for Your Bathroom
When you're ready to shop for the perfect aging-in-place shower handle, set high standards for this hugely important shower fixture. If a shower handle isn't ADA-compliant and anti-scald, you don't want it. I've tried and tested a lot of shower handles over the years while renovating aging-in-place bathrooms. By using this list of "best of" handles, you'll get a quality product and avoid handles out there that just don't make the cut.
Use the comments section below to ask me any questions you have about the shower handles on this list and anything else as you renovate your shower and bathroom. And as always, good luck on your next aging-in-place renovation project.
Like this post? Spread the love!