When you set out to find the perfect shower faucet for your aging-in-place bathroom remodel, you'll need to think beyond your parent's favorite color, finish or style. In order for a bathroom faucet to be safe enough for an older adult to age in place successfully, shower faucets have to meet a set of strict criteria.
National aging-in-place building standards for residential and commercial buildings designed for people living with disabilities were established by the US Department of Justice's Civil Rights Division back in the '90s. Today, this department still oversees and carries out the American Disabilities Act, or the ADA. As our aging population has grown, these standards have influenced how professional contractors build not just aging-in-place residences, but just about every home and commercial space out there.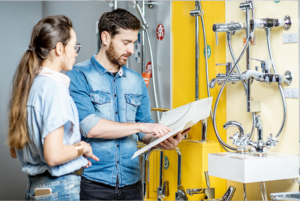 All of this is to say that selecting something as simple as a shower faucet can have a big impact on the quality of living for your parent, loved one, or anyone aging in place. The standards set by the ADA have made it a lot easier for professionals and DIYers to tell a safe fixture from an unsafe one. Whatever home bathroom project I'm working on, installing ADA-compliant shower fixtures is non-negotiable.
Don't Settle for Anything Less Than an ADA-Compliant Aging-in-Place Shower Faucet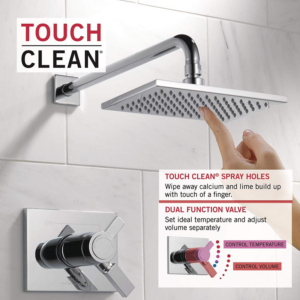 The good news is that finding an ADA-compliant shower faucet has never been easier. Most big-name manufacturers now list ADA compliance on product spec lists. And, as the desire of older adults to age in place grows, I predict that we'll see even more product options for faucet manufacturers in the coming years.
ADA-Compliance Involves Meeting A Strict and Very Specific Set of Criteria
This is the criteria a shower faucet must meet to be considered ADA-compliant according to the American Disabilities Act.
A shower faucet must not require tight grasping, pinching or twisting of the wrist
It must be operable with one hand
The force required to activate the faucet's operable parts shall not exceed 5-lbs.
The height of the shower faucet from the shower floor must be no higher than 48-inches and no less than 15-inches
This last point is especially important if your aging-in-place parent or loved one is accessing the shower with a wheelchair or will be sitting on a shower bench while bathing. You can imagine how a 'safe' shower faucet can suddenly become a serious safety hazard if an adult with a mobility issue needs to reach too far to turn the shower on or off.
The Best Delta Shower Faucet Sets for Aging in Place
Delta is a brand I trust to give me a safe, ADA-compliant shower faucet that also works well and looks great. I've put together this list of my favorite Delta shower faucets for aging-in-place as a guide that you can use to plan your DIY shower renovation.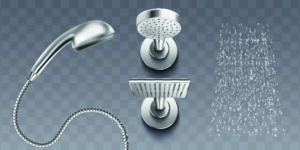 These faucet sets include the showerhead and faucet handle valve trim and give you everything you need to add a safe and attractive aging-in-place shower faucet to your home.
Also, be sure to check out my other "Best of Delta Faucets" lists including:
'Best Delta Bathroom Faucets for Aging in Place'
'Best Delta Kitchen Faucets for Aging in Place'
Best Delta ADA-Compliant Shower Faucet & Adjustable Grab Bar Combo
Speakman® Neo Anystream® Handheld Showerhead and Grab Bar Combo
This Speakman Handheld Showerhead Grab Bar Combo is my favorite showerhead and grab bar set-up from Delta, and – in my opinion – one of the best shower faucets on the market for aging in place, period. Everything about this shower faucet screams 'aging-in-place' – every element of its design is ADA-compliant, including the grab bar, slide bar, pause and trickle adapter, hand-held shower, arm and flange, shower elbow and valve and trim. Also great for older adults, or anyone else, is its anti-scald temperature control feature, making it that much safer.
Best Delta ADA-Compliant Shower Faucet for Water Conservation
Trinsic® TempAssure® 17T Series Tub & Shower Trim with H2Okinetic Technology
Delta's Trinsic TempAssure Shower Faucet is a great looking faucet that will fit right into your aging-in-place bathroom no matter the style. It blends the best of both worlds when you're looking for an ADA-compliant shower faucet that's also designed for water conservation. It used to be that the only real way to conserve water in the shower was to turn the water off, leaving you to choose between your comfort and your conscience. This Delta shower faucet includes a pause feature that reduces the water to a warm trickle while you lather up. And, if you just can't bring yourself to turn the water pressure down while you wash, the Trinsic faucet also features Delta's WaterSense technology so it uses 20% less water than the industry standard without sacrificing any of its performance.  
Best Delta ADA-Compliant Shower Faucet with Temperature Control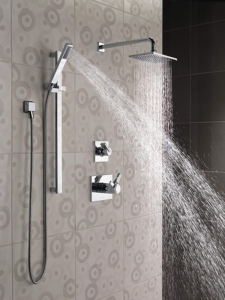 Vero® TempAssure® 17 Series Tub & Shower Trim
This ADA-compliant Vero shower faucet trim also includes Delta's TempAssure technology. This feature is just a simple thermostatic valve added to the fixture that keeps the water at a safe, consistent temperature within a few degrees. We've all experienced the water in the shower change from warm to uncomfortably cold or dangerously hot without warning. This faucet keeps those temperature fluctuations from happening whenever someone flushes a toilet or turns on the sink in another part of the house. While this is a feature we can all appreciate, it's an especially smart innovation for an aging-in-place home for multiple reasons. With aging comes greater mobility challenges which means an older adult's muscles move and react slower than a younger person's. A shower that turns hot quickly, not giving that older adult enough of a warning to get out of the way, can put an older adult in a potentially dangerous situation where they suffer a burn or slip when trying to quickly move out of the way. The Delta Vero with TempAssure technology is a great faucet and definitely worth considering if water temperature is a concern in your aging-in-place home.
Replacing or Upgrading Just the Shower Valve Trim
Sometimes it's the simple fixes that make the biggest impact in the aging-in-place world. Upgrading a shower faucet's valve trim to be ADA-complaint is one of them. That's because the valve handle is almost always the biggest culprit of pain when we're talking about the shower faucet.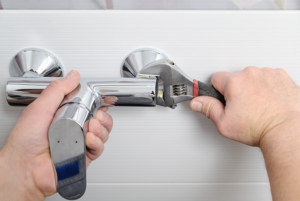 If you're a DIY pro, replacing the valve trim is a quick and easy job. And, if you're just starting your DIY aging-in-place journey, swapping out an old shower valve knob or other hard-to-turn handle for ADA-compliant valve trim is the perfect place to start. With some pro advice and the right products, it'll be a simple, cost-effective way to make an immediate impact on the safety and comfort of an older adult living in their home.
Delta offers a lot of ADA-compliant trim-only shower faucet options for you to choose from. Their trim-only products also work great if you want to better customize a shower faucet's valve handle with a specific showerhead that isn't offered together as a set. There are so many ADA-compliant options available that when I'm building or renovating an aging-in-place home, making the final faucet trim decision many times comes down to the style preference of the homeowner. For that reason, I've included a few of my favorite trim styles on this list, too. Each shower valve trim below is, of course, ADA-compliant.
My Favorite Delta Shower Faucet Valve Trim Products
Best Delta ADA-Compliant Traditional Style Faucet Valve Trim
Cassidy Traditional TempAssure Valve Trim
If you walk into any faucet and fixtures showroom, you'll be flooded with a sea of shower faucets that have straight, clean lines in brushed or polished stainless finishes. I still work with a lot of older homeowners, though, who prefer traditional trim hardware in finishes like Venetian bronze and polished brass.
Delta's Cassidy line includes a traditional trim style that's perfect for older adults who need the comforts of a modern shower faucet but still want a traditional style for their home. This valve trim features Delta's TempAssure technology to keep the water temperature consistent to prevent burns. This feature is a no-brainer when you're updating an aging-in-place home.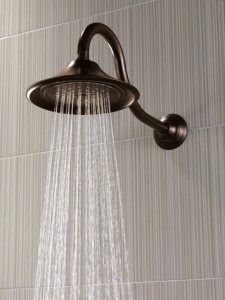 Pair This With: Delta Cassidy Showerhead and the Delta Addison Shower Arm
This Cassidy showerhead from Delta is built to fit right in next to the Cassidy valve trim so you get a fully traditional look. If you go this route, make sure you use the Delta Addison Shower Arm to mount it. The arm with the showerhead is what makes this set-up special.
With this showerhead and shower arm combo alongside the Cassidy valve trim, your aging-in-place bathroom will be the perfect mix of traditional and custom style.
Best Delta ADA-Compliant Modern Style Faucet Valve Trim
Stainless Ara Angular Modern TempAssure Valve Trim
If modern shower design is what you're after, the Modern TempAssure Valve Trim from Delta is it. It features Delta's TempAssure technology which, again, I think is an aging-in-place 'must' for safety. It has a separate temperature dial, too, so you can set your ideal water temperature.
The Ara Angular valve trim gives the younger or more modern aging-in-place homeowner a great option to get the contemporary a look they want from a trusted brand. I use this valve and trim in my aging-in-place renovations when the resale value of a home is a major consideration. Modern fixtures are going to appeal more to buyers and are less likely to look outdated a decade or so down the road.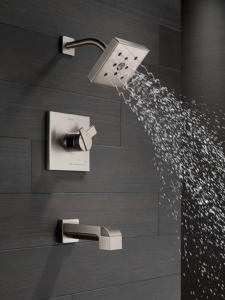 Pair This With: Delta H2Okinetic Showerhead
This showerhead is very modern with a more unique look than others from Delta. It was designed to pair with Delta's modern style shower valve trims, including the Ara trim. It gives showers a custom look making it equally appealing for a resale. It conserves water, is easy-to-install and easy-to-use, making it great for just about any aging-in-place home.
Best Delta ADA-Compliant Minimalist Faucet Valve Trim
Vero 6-Setting Shower Handle Diverter Trim Kit
I like simple designs, especially for an aging-in-place home. The Vero shower handle is as simple as it gets while still being attractive and easy-to-use. Unlike some of Delta's other trim models, Vero is a line without as many bells and whistles. It's practical and safe with a large gripping handle that an older adult with sore or arthritic hands should be able to easily manipulate.
This faucet trim option is also a good choice if resale value is a factor in your decision. It's modern and minimalist design will give you a custom look that's safe now and will sell well later.
Pair This With:  Vero Rainfall Showerhead
You can keep a minimalist look in your aging-in-place shower by pairing Delta's Vero Rainfall Showerhead with the 6-setting shower handle. A rainfall showerhead can be a great way to make the shower more therapeutic for someone in a wheelchair or any older adult. I like this rainfall showerhead in particular because it gives you a full soft spray so you don't feel like you're drowning under a flood of water.
Choosing the Best Delta Shower Faucet for Your Aging-In-Place Upgrade
Safety always comes first in aging-in-place design. Use this list to narrow down your shower faucet search to only the best ADA-compliant faucets out there. Then, find out what style and finish your parent or loved one like most. They should not just be safe – they should enjoy their home, too.
If you have any questions on these or other ADA-compliant shower faucets, use the comments section below and I'll give you any additional information and recommendations I have. Good luck with your next aging-in-place project!
Like this post? Spread the love!