Believe it or not, it is possible to find aging-in-place kitchen flooring that's safe, cost-effective and easy to install. Helping my clients find the right kitchen flooring material that checks all of these boxes is a big part of my job.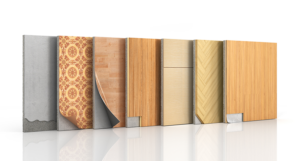 If you're a DIYer, however, and you don't have a professional contractor by your side, it's hard to know what you're getting for your money and just how safe a floor will be. It's also hard to know which kitchen floors are DIY-friendly and easy-to-install. A lot of floors look the same and things can get confusing fast.
Finding the right kitchen flooring material for your aging-in-place project requires some homework. You need to consider safety, price, and installation as you shop.
Finding the Safest Flooring Materials for an Aging-in-Place Kitchen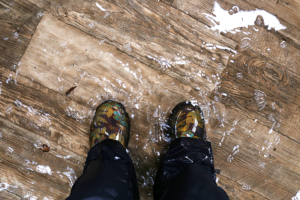 Keeping liquids off of a kitchen floor is one of the most important rules of smart aging-in-place living. But, despite the best of efforts, a little water on the floor is inevitable. The kitchen floor you choose shouldn't make things worse. A floor that gets incredibly slippery when wet should never make the list. Think polished tile or smooth ceramics – avoid these slick floor surfaces at all costs.
Another safety feature to consider for aging-in-place is shock-absorption. Some flooring materials are going to be better than others when an adult is standing in the kitchen and on their feet for an extended period of time. Finding a floor with some cushion is a smart way to make the kitchen that much safer.
Finding an Inexpensive Aging-in-Place Floor that Doesn't Sacrifice Quality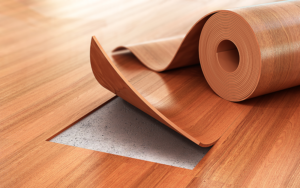 Let me define what I mean by 'inexpensive.' When I'm shopping with a client who's on a tight budget and needs to spend as little as possible on their aging-in-place kitchen floor, I'm not necessarily looking for a 'cheap' floor. I'm looking for a quality floor that won't break the bank and comes in at the low end of the typical flooring price range.
Here's why. A cheap floor is really an expensive floor disguised as a good deal. Cheap floors will easily get scratched and gouged, and they may start peeling from water damage and fall apart within a few years. You'll end up replacing a cheap floor sooner than you should, and you'll spend all the money you saved when you first bought it—and probably more.
Finding a DIY-Friendly Kitchen Floor
Yes, it is possible to find a safe and affordable kitchen floor that's also easy-to-install. It just takes a little digging. In this article, I'll help you cut through the clutter and find kitchen flooring materials that you can install quickly and easily.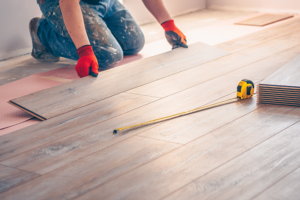 To find a safe, inexpensive and easy-to-install kitchen floor, we need to look at vinyl and laminate. You can find safe and affordable deals on other materials, too. Ceramic tiles and concrete floors are great examples. However, vinyl and laminate are typically the easiest kitchen floors to install and great for the first-time or novice DIYer.
Vinyl Flooring
Vinyl is typically the least expensive kitchen flooring material and the easiest one to install. Quality vinyl floors start anywhere from $0.50 – $1 per square foot and go up to $3 – $5 per square foot if you start to edge into the luxury vinyl world. If you haven't installed a floor before, vinyl is a great material to start with.
Why I Like Vinyl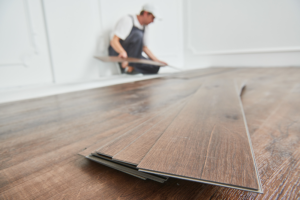 It's waterproof. Vinyl is a great choice for kitchens because, no matter how hard you try to prevent it, water is going to end up on the floor. Other flooring choices just can't keep water out like vinyl. It's also easy-to-install and easy-to-clean – all great aging-in-place qualities.
As I mentioned, vinyl is also a great choice for DIYers who don't have extensive flooring experience and are just starting to learn the trade. You can install it on top of the subfloor or right on top of the existing floor assuming the floor is in good shape.
Drawbacks
Vinyl is susceptible to light scratches. If you do decide to install a vinyl floor, you may have to replace it sooner than the laminate options we'll go over below. Overall, though, quality vinyl is a great choice for a cost-sensitive aging-in-place kitchen remodel.
Vinyl flooring comes in a few different forms – tile, sheet and plank.
Vinyl Peel & Stick Tiles
Peel-and-stick vinyl tiles are the least expensive of the vinyl options out there and are the easiest to install. They're a great option for the super budget-sensitive kitchen.
Achim Nexus 12-inch Vinyl Tile Black and White – $0.65/sq. ft.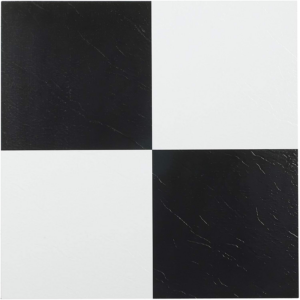 This floor is a fun tile for any aging-in-place kitchen. It has a classic black and white tile look but with all of the benefits of vinyl. Because these Achim tiles are a vinyl peel and stick, the installation is as easy as it sounds.
Achim Nexus Marble Granite Vinyl Tile – $0.50/sq. ft.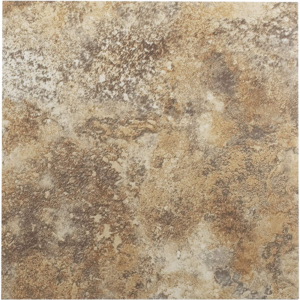 Another inexpensive yet quality vinyl peel and stick tile option from Achim is their marble granite tile. Its detailing will fool even the most well-trained eye into thinking they're walking into a marble-tile kitchen.
When you go to install a peel-and-stick vinyl tile, make sure you have these few other items on hand to make the install go smoothly and ensure you have a beautiful final result.
Utility Knife – to cut the edges of the vinyl tile to size to fit your kitchen
Pencil – for marking the tiles for cutting and trimming
Square – to cut square pieces of vinyl as you trim tiles to size
Sheet Vinyl
Sheet vinyl is what it sounds like – a sheet of vinyl that you roll out and lay across your subfloor or overtop of your existing floor. Here's a quality sheet vinyl option to consider for a cost-sensitive kitchen renovation.
Rubber-Cal Terra-Flex Oak Vinyl – Price: $2.26/ sq. ft.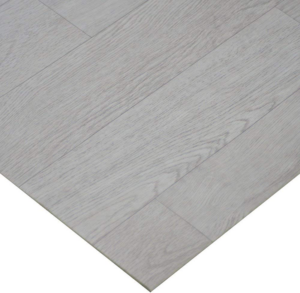 This sheet vinyl mimics the look of an older wood floor. It's easy to install using just double-sided flooring tape.
To complete a sheet vinyl installation, you'll also need:
Vinyl Planks
Vinyl planks are the highest quality of the vinyl flooring options and are going to put you at the higher end of the vinyl pricing scale. Compared to other flooring materials though, vinyl planks are still one of the least expensive options out there.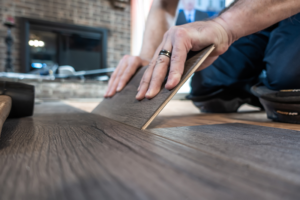 Installation is easy. Rather than sticking or pasting vinyl to your subfloor, vinyl planks use a 'click lock' system to connect one plank to the other – no glues or adhesives required. They're also great for older adults who are aging in place and need a floor that's easy to care for and won't scratch or gouge easily.
Vinyl planks have grown in popularity over the last decade, and it's pretty easy to find quality options. There are a ton of styles and widths to choose from. What I love about vinyl planks, too, is that they can mimic the look of just about any type of wood. But unlike real wood plank floors, vinyl planks are a fraction of the price.
Here are a few safe vinyl plank options that will keep your DIY aging-in-place kitchen budget under control.
Diflart Walnut Wood Vinyl – Price: $2.36/sq. ft.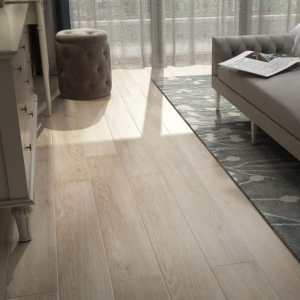 I love the non-traditional plank length and shape of this vinyl from Diflart. It's wider and shorter than a lot of other vinyl planks out there, which gives the floor a higher-end look. For a great price, this flooring has a built-in cushioned underlayment that absorbs shock to keep the planks quiet and comfortable to walk on. This is a great flooring option for older adults who can benefit from the added cushion these planks give. They're also waterproof, durable, and should last years, even in high-traffic areas like the kitchen.
SELKIRK Vinyl Plank Wood Grain Floor – Price: $3.12/ sq. ft.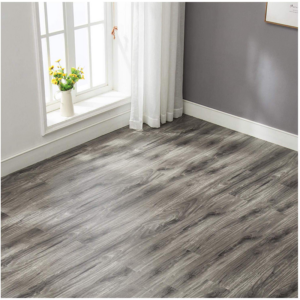 This vinyl plank from SELKIRK has a beautiful wood grain with a lot of dimension and different shades of grey, which gives it the look of real wood. This floor is perfect if you or your loved ones want a modern-looking kitchen. They're easy to install and have an under-pad attached to the plank so there's nothing else to buy to complete the installation. They're also easy to clean and waterproof.
To install vinyl planks, you'll need the following:
Measuring Tape – you'll need to precisely measure each plank to size
Pry Bar – for removing the trim before installing the flooring
Pencil – for marking the vinyl for cutting and trimming
Miter Saw – to cut vinyl boards to length
OR
Circular Saw – a less expensive tool option for cutting the boards to length
Laminate Flooring
Laminate is another safe and cost-effective flooring option that's easy to install in an aging-in-place kitchen. It's more expensive than peel-and-stick tiles or sheet vinyl, but about the same price as vinyl planks.
Why I Like Laminate
Laminate is extremely easy to install, so it's great for even first-time DIYers. Like vinyl, it's very low maintenance and easy to clean which is perfect for an older adult who shouldn't have to worry about scrubbing floors every day. It can also hold up in high-traffic or to any other rougher-than-normal use without showing signs of wear and tear.
Laminate, like vinyl, has come a long way in the last decade. Finding a quality kitchen floor that appears high-end and is also a good bargain is now completely possible with today's laminates. There are also a lot of manufacturers adding recycled materials to their laminates now so finding an eco-friendly floor that's also budget-friendly is no longer an impossibility.
Drawbacks
Laminate is not waterproof. Unlike vinyl, laminate and water don't get along and too much moisture can cause harm to the floor over time. But, in an aging-in-place kitchen, you need to find ways to mitigate the amount of water that gets on the floor so you can reduce the risk for slips and falls. So, if other design elements have most water issues taken care of, laminate can be a good option.
Pergo XP Haley Oak Laminate Flooring – Price: $2.67/ sq. ft.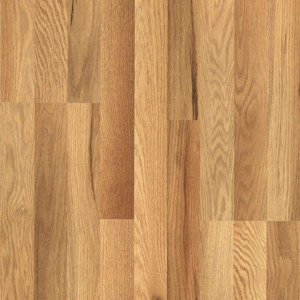 Pergo is a well-known name in the flooring world, and for good reason. They make quality laminate residential floors that hold up well in high traffic areas, like the kitchen. This Haley Oak is an exact match to real wood grain. What I like about Pergo and this floor, in particular, is its ScratchGuard coating designed to resist damage from harsh scratches, hard impacts, and stains. This coating helps make the floor that much more durable in a busy kitchen. And, it comes with an underlayment so it's ready for installation right out of the box.
Home Legend Brazilian Cherry Laminate Flooring – Price: $1.95/ sq. ft.
Home Legend is a lesser-known brand compared to Pergo and offers its laminate plank flooring at a lower price than the bigger names. Budget-conscious DIYers should give Home Legend a look. You can achieve the same realistic wood plank look at a much nicer price point. This Brazilian cherry laminate has a beautiful, rich color that will pop in a traditional, less contemporary kitchen.
To complete a laminate installation, you'll also need:
Laminate Wood Installation Kit – spacers, tapping block and pull bar to make installation easier
Measuring Tape – you'll need to precisely measure each plank to size
Pencil – for marking the laminate for cutting and trimming
Miter Saw – to cut laminate boards to length
OR
Circular Saw – a less expensive tool option for cutting the boards to length
For the Home Legend laminate or any laminate that doesn't come with an attached underlayment, you'll need to purchase an underlayment to complete your installation. Choose a Laminate Underlayment with Moisture Barrier since your laminate is going in a kitchen where spills and water on the floor are inevitable.
Choosing the Best Floor for Your Aging-in-Place Kitchen
Now that you have the basics of vinyl and laminate kitchen flooring covered, it's time to choose the best material for your project and get started. If you're worried about making a mistake during installation, don't! Check out my article on how to fix common vinyl kitchen flooring installation mistakes before you start.
Use the comments section below if you have questions about these floors as you continue to shop. I'm here to help!
As always, good luck with your next aging-in-place home project.
Like this post? Spread the love!