I can't overemphasize the importance of safety in the aging-in-place bathroom. It's the most common room in the home for an older adult to get hurt and seriously injured. And it's no surprise why. Bathroom floors easily get wet and showers have to withstand slippery soaps and shampoos that cling to the shower floor. Unless faucets and fixtures meet strict safety standards, they can also become a hazard for sore, arthritic hands causing pain and other safety concerns.
All of these factors together create serious safety risks for an aging-in-place adult. And, the dangers compound as mobility, agility, and balance naturally degrade with age.
So, What Can Be Done to Make an Aging-in-Place Bathroom Safer?
Luckily a lot. Today, you can easily find bathroom safety accessories that will help keep an older adult safe as they age. And, unlike other aging-in-place home renovation projects, adding a few accessories to your bathroom is fast, affordable and easy – even for the DIY novice.
Take a look at my top 8 aging-in-place safety accessories that you can add to your bathroom this weekend. By incorporating each one into your parent's bathroom, you'll make an immediate difference in the safety and wellbeing of your aging-in-place home.
Safety Accessory #1. Grab Bars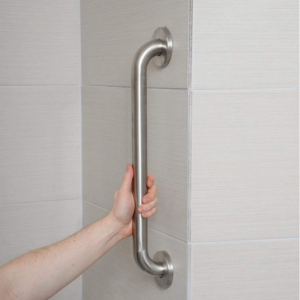 When we think of easy safety accessories for the aging-in-place bathroom, grab bars are one of the first things that come to mind. And, for good reason. They're one of the best ways to help an older adult avoid a fall should they start to slip on a wet bathroom floor.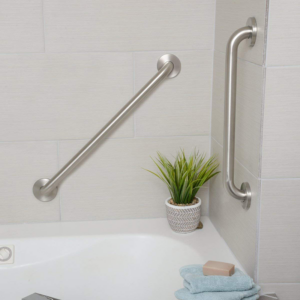 The best places to mount a grab are next to the toilet, next to the shower or tub, and even inside the shower. Anywhere an older adult has to sit down, stand up or reach should have a sturdy grab bar anchored to the wall.
You can also mitigate the risk of a fall by carefully looking at your bathroom layout and deciding where to add other grab bars. When in doubt, add one. They're an easy and affordable way to make a huge difference in aging-in-place bathroom safety.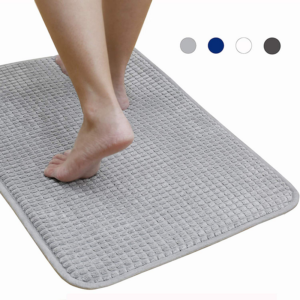 The next area in the bathroom to assess is the floor. Most bathrooms are covered in smooth sheet vinyl, ceramic tile, or linoleum, all of which can be extremely slippery when wet. Even a bone-dry bathroom floor can pose a danger to something as innocent as a wet foot stepping out of the shower.
Adding non-slip rugs are a great way to prevent an accident and can help contain the inevitable splashes of water from the sink or shower. Make sure the one you pick has a grippy, rubber underside that clings to the floor and prevents any movement.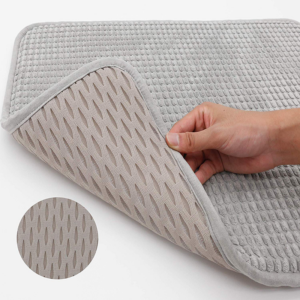 A word of warning here. The bathroom rug you choose should not be too plush. You don't want to create a tripping hazard when an older adult steps from the floor to the mat. You'll need to use your best judgment here and find a mat that suits your parent or loved one. Or, look for a non-slip flooring option instead. If you do decide that an alternative to traditional non-slip rugs is best, talk to a professional aging-in-place contractor for advice on the best options and to help with the installation.
Adding safety accessories to your aging-in-place bathroom could not get easier or less expensive than placing a thin shower mat in the tub. While not a very glamorous addition to a bathroom, this accessory is both practical and potentially life-saving.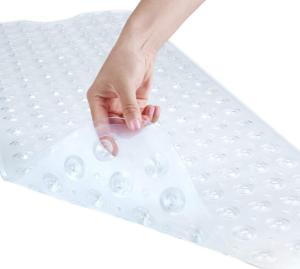 As you probably know, shower mat installation is a breeze. You just lay it down in the center of the tub where the adult is most likely to shower and you're in business. The mat adds traction where it's needed most and can greatly reduce the risk of slips and falls in the shower.
Aside from adding traction to your tub or shower, mats are also surprisingly comfortable on your feet. By adding a non-slip shower mat on the inside, a non-slip bathroom rug on the outside, and a grab bar in between, you'll do a lot to minimize the risk of a fall as your parent walks in and out of the shower.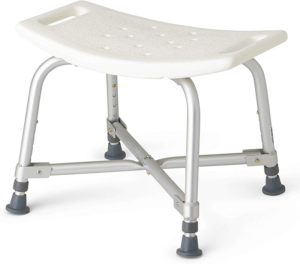 We aren't done with the shower and tub just yet. Adding a sturdy bench to the shower is a great way for an older adult to bathe safely and comfortably.
Choose a shower bench with a solid base and non-slip feet that stay put. The bench should not be able to slide around, even when exposed to soapy water.
You'll also want to find a plastic bench that's easy to disinfect. Running a disinfectant over the bench every few showers is important for keeping it clean and reducing the spread of any germs that can pose a threat to an older adult with a susceptible immune system. I also recommend the bench have stainless steel legs so rust isn't an issue. The bench you choose is going to stay wet after each shower so find one that can hold up.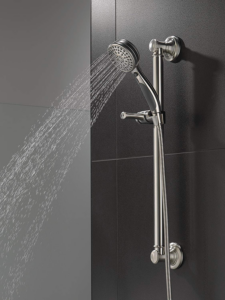 An adjustable shower head is a smart addition to an aging-in-place shower and should be on your list as one product that can give an older adult a much safer and more pleasant shower experience. This adjustable shower head from Delta is ADA-complaint so you know it's safe for aging-in-place.
When you add a shower bench to your aging-in-place shower, an adjustable shower head is a must. You don't want your parent reaching for the shower head in a slippery shower. Once it's installed, they can simply slide the shower head to the preferred height and angle so the handle is always safely within reach.
You can learn more about my favorite ADA-compliant aging-in-place shower heads by taking a look at my recent article, "The Best Delta Shower Faucets for Aging in Place."
It's natural for anyone to grab a hold of what's in front of them if they start to fall. In a shower, that could easily be the shower curtain.
Some poor quality shower curtain rods are loosely screwed in place. Or, even worse, some are simply tension rods. For the aging-in-place shower, a bolt-on shower curtain rod anchored to the wall is one small accessory that can potentially help soften a fall. They're as easy to install as a grab bar and can be paired with a good quality shower curtain and sturdy steel rings to make the shower curtain even safer.
Maintaining independent use of the toilet is one of the foundations of living in place safely. Even if your parent doesn't need assistance now, installing accessories that make toilet use easier are critical for an aging-in-place bathroom as an adult ages.
A toilet rail is a simple accessory that sits on either side of the toilet seat. Having a handrail to support you as you sit and stand can make all of the difference in the world when it comes to living independently and staying in your home longer.
You can take a look at a recent article I wrote on toilet safety products, "5 Aging-in-Place Toilet Products That Will Keep You Safe."
If your parent or loved one does suffer any type of accident while in the bathroom, having a phone nearby is the fastest and safest way for them to call for help. Believe it or not, though, this is one bathroom accessory that a lot of people overlook.
If your parent has a cell phone, they must get into the habit of taking it into the bathroom, especially if they live alone. Having a designated place for the cell phone that's easy to reach is equally important. Even placing their phone on the bathroom counter won't do them any good if they fall and can't reach it. A toilet paper holder with a built-in shelf is a simple safety accessory to add to your aging-in-place bathroom. Because it's also a toilet paper holder, you'll want to mount it at sitting level. This puts the shelf at the ideal height it from the ground should an older adult need to get to the phone while on the ground.
Even better than a cell phone is a permanent landline phone that lives in the bathroom. I always recommend a landline be installed in each of my aging-in-place bathrooms. Even with the best of intentions, it's difficult for an older adult to remember to bring their cell phone into the bathroom. A cordless landline phone placed at waist height in the bathroom is the safest way to make sure a phone is always there should they need it.
Install These Aging-In-Place Bathroom Safety Accessories This Weekend
Each of these safety accessories will be a great addition to your aging-in-place bathroom. Once you get started, you should be able to get each one easily installed in one day or over a weekend. Adding these small yet critical accessories to your bathroom is going to make an immediate impact for your loved one as they age in place.
As always, use the comments section below to send any product or installation questions you have along the way. Good luck with your next aging-in-place project.
Like this post? Spread the love!