Making decisions that impact the potential safety and wellbeing of your loved one as they age in place isn't easy. When I talk with DIYers planning an aging-in-place home renovation, the stress of choosing the safest products seems especially high in the kitchen – a potentially dangerous room in the home where slips, falls and burns are a concern.
Even a seemingly simple purchase like a kitchen faucet should be given the careful consideration it deserves. Kitchen faucets, in particular, have undergone major changes in recent years as manufacturers innovate and develop safer, more convenient products. The most recent game-changer? Touchless Faucets.
Why Touchless?
Touchless faucet technology is one of the greatest innovations for the aging-in-place home that I've seen in a long time. Even if a manual faucet lever meets all the safety criteria, eliminating the need to turn a lever on and off is going to be the safer option every time. Touchless faucets make it even easier and safer for an older adult to comfortably age in place, especially those with sore, arthritic hands.
Other Important Features to Consider When Choosing an Aging-in-Place Touchless Kitchen Faucet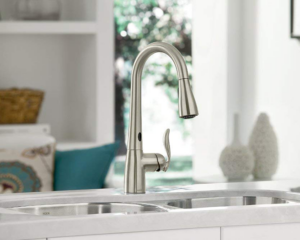 When you search for a touchless kitchen faucet, you also need to consider other features to ensure the entire faucet is ADA-compliant, meaning it meets all safety standards put forth by the American Disabilities Act. If your touchless faucet malfunctions for any reason and an older adult is forced to manually turn the water on and off, your faucet needs to have ADA-compliant manual features as a back-up.
The following criteria need to be met for a kitchen faucet to be considered ADA-compliant.
The kitchen faucet must not require tight grasping, pinching or twisting of the wrist
It must be operable with one hand
The force required to activate the faucet's operable parts shall not exceed 5-lbs.
The ADA includes additional criteria for wheelchair-accessible kitchen sinks and faucets. I go into this in detail in my recent article, "5 of the Best Delta Kitchen Faucets for Aging in Place." If this applies to your aging-in-place kitchen, do your research before doing anything else.
After ADA-compliance, your aging-in-place touchless faucet should include these three primary design features.
Single Lever
The National Association of Home Builder's recommends aging-in-place kitchen faucets have lever handles, and so do I. Levers are safer for arthritic hands than knobs.
Tall Spout
A tall gooseneck faucet spout with a high-arch is perfect for aging in place because an older adult won't need to reach forward or down to access the water. A tall spout makes the sink area more comfortable to use and can reduce the risk of an older adult losing their balance and potentially falling.
Pull Down Sprayer
A water sprayer is a great feature for any home. For the aging-in-place home, make sure your faucet has a pull-down spout and built-in, easy-to-use sprayer. This will keep sore hands comfortable and the sprayer well within reach.
The 5 Best Touchless Faucets for Aging in Place
Once you zero-in on the faucet features you need, find the right one for your kitchen with my list of the best touchless kitchen faucets for aging in place.
The Moen Arbor MotionSense faucet is as close to perfect as a touchless kitchen faucet can be for aging in place.
Why I Like It. This touchless faucet is set up with two sensors for controlling water. It has the traditional front motion sensor that turns on when it detects your hands under the faucet. It also has a top sensor. If you need to fill a pot, vase or anything else, you can simply place the container right under the faucet and turn the water on from above. It's a simple yet incredibly smart feature that makes Moen stand out among others in the field.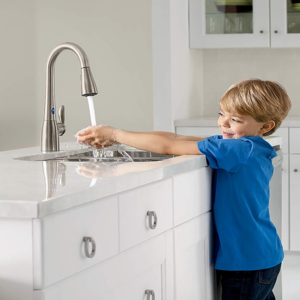 Its sprayer is a powerhouse. Moen's Power Clean spray technology gives it 50% more spray versus most other faucets according to the manufacturer so the sink is easier to spray and keep clean. The Arbor is also spot-resistant so it stays looking cleaner longer. This is another minor feature that I find really valuable in aging-in-place kitchens. The less cleaning your aging parent needs to do, the better.
The Downside. I have no complaints about the style, performance or safety of Moen's Arbor faucet. The only sticking point for many DIYers on a budget is going to be the price. Moen doesn't cut corners and the cost of the Arbor reflects that. A quality faucet is an important feature of a safe aging-in-place kitchen, so I highly recommend investing in a good quality faucet like this one if you can.
If you're looking for bells and whistles, you've found it. Kohler's manual Sensate kitchen faucet is a favorite of mine and now I'm an even bigger fan of the touchless version.
What I Like. There's a long list of features that make the Sensate a great touchless faucet option for aging in place. Here are the highlights.
It reacts quickly to motion with a sensor that responds in 20 milliseconds
Unlike other touchless faucets, its Response Technology responds to your hands or a utensil or pot placed in front of the sensor
Its Temperature Memory feature turns your water on and off at your preset temperature. This is HUGE for avoiding injuries caused by scaling water
It offers a two-function pull-down spray head giving an older adult a safe, comfortable sprayer with strong cleaning power
The sprayer has a magnetic docking system so the hose fully retracts and resists drooping over time
It has a high-arch gooseneck spout with lots of clearance so adults aren't reaching or leaning over the faucet
It installs easily – great for the DIYer
The Downside. The Kohler Sensate touchless kitchen faucet's price point tops the list. This touchless faucet has it all, but it's undeniably an investment. If you have room in your budget, this is an investment worth making. You won't regret having this faucet in your kitchen knowing that you or your parent has one of the safest and most comfortable faucets out there.
Moen's Align touchless pull down is an attractive industrial-style pull-down kitchen faucet that is as functional as it is stylish.
Why I Like It. This touchless kitchen faucet makes the list for several reasons. It has Moen's single sensor MotionSense technology so it easily turns on and off with just the wave of a hand. This makes operating the faucet extremely easy for sore and arthritic hands.
Like the Arbor faucet, the Align features Moen's Power Clean spray technology giving it a good amount of pressure when you're using it to clean.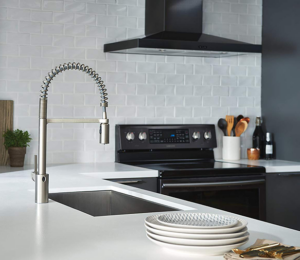 Beyond function, the Align is a unique and attractive addition to your aging-in-place kitchen. I like the choice of finishes Moen chose for this faucet. It comes in black stainless, chrome, matte black, and spot resistant stainless. If you're designing a modern kitchen you're sure to find a finish that works well.
As an added bonus for the aging-in-place DIYer, Moen's Align faucet is easy to install. This is a safe, comfortable faucet choice for your aging-in-place kitchen.
The Downside. Moen's Align pull-down comes with a hefty price tag and is one of the more expensive faucets out there. If you can make room in your budget, the Align from Moen will not disappoint.
Bio Bidet FLOW Single Handle Pull Down Motion Sensor Kitchen Faucet
If your aging-in-place renovation budget needs to keep a touchless kitchen faucet at a friendlier price point, the Bio Bidet FLOW Motion Sensor kitchen faucet is designed for budget-conscious luxury.
Why I Like It. Every dollar counts when you're renovating. FLOW by Bio Bidet is about half the cost of the Moen and Kohler options on this list. It's a less expensive take on a high-end look.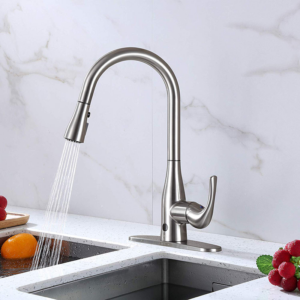 The Bio Bidet FLOW faucet is also a well-performing faucet in its own right and certainly worth taking a look at. It's a single-sensor touchless faucet that's completely hands-free. It also has a pull-down sprayer feature and a high-arch spout which are a must for aging-in-place. And, it has a modern yet simple design that's available in several quality finishes so it's likely going to look great in any kitchen.
The Downside. If you're okay not having every bell and whistle in order to get the price of your faucet down, then Bio Bidet is a great company to turn to for a safe aging-in-place kitchen faucet. I'd like to see the hand sensor higher up on the faucet base to line up more naturally with your hand placement. However, once you get used to the sensor this won't be a problem. Overall, the Bio Bidet is one of the best touchless kitchen faucets for anyone on a budget.
Pfister brings another budget-friendly and stylish faucet to market with the Stellen Touch-Free Pull Down.
Why I Like It. By looking at the Pfister Stellen touchless kitchen faucet, you would never know it cost less than half of the Moen and Kohler models. It's well designed with a choice of either a modern polished chrome, matte black or stainless steel finish.
It has a 3-function pull down sprayer that not only sprays but also releases steam with the push of a button. I don't usually like added buttons that require an older adult to push down. But, this button is easy to push and does not need to be held down – one push is all you need.
Overall, the Pfister checks all of the boxes of a quality aging-in-place touchless faucet.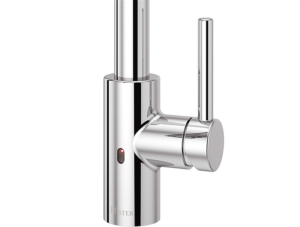 The Downside. The only downside with the Pfister Stellen is its sensor response sensitivity. You may need to give the faucet sensor an extra second to recognize your hands or give it an extra wave. It doesn't have the level of response technology of the big name brands, but for the price, it may be worth that extra second of wait time. If you're looking for a quality budget-friendly touchless kitchen, give the Pfister Stellen some serious consideration.
In a way, Delta is both behind and ahead of the curve when it comes to faucet technology. Their Leland single handle pull down gets an honorable mention here because of its Touch2O one-touch technology. With one touch anywhere on the faucet spout, water will begin to flow. While it's not a touchless faucet, it's still an excellent single touch faucet that's safe and comfortable for an older adult aging in place.
Even Greater Faucet Technology is on The Horizon
I consider Delta 'ahead of the curve' for its new smart faucet technology called VoiceIQ. VoiceIQ is Delta's entrance into the touchless and voice-activated faucet world. Homeowners can now sync their faucet to their smart speaker, smartphone or any other smart device to activate the water and control water temperature, pressure, and more.
Kohler recently announced their version of the smart home faucet – Kohler Konnect. Their voice-activated faucets also connect to a smart device in the same way.
The verdict is still out on these early smart faucet models and we'll see how they perform. The good news is that voice-activated technology holds a lot of promise for increased safety and comfort in the aging-in-place home. It's great to see this technology becoming more mainstream. Look for a review of these and other smart faucets in the future as the technology evolves.
For now, you can take a look at another recent article I wrote on "5 of the Best Delta Kitchen Faucets for Aging in Place" where I recommend my favorite manual faucets from Delta. This is a great resource if your parent or loved one is not comfortable with a technology-based faucet but you still need to purchase a safe and comfortable kitchen faucet for their home.
Choosing the Right Touchless Kitchen Faucet for Aging-in-Place
As you do your research and start shopping, use these touchless kitchen faucets as your starting point and you won't go wrong. Use the comments section below to send your kitchen faucet questions, or any aging-in-place renovation questions, my way. Good luck with your next aging-in-place home project!
Like this post? Spread the love!