Designing any kitchen – especially an aging-in-place kitchen – can be an extremely overwhelming task. Before you start sketching, shopping and comparing color swatches, keep in mind that there are really only three primary goals for an aging-in-place kitchen.
Reduce Pain
Increase Comfort
Create a Safe Environment
As you work through your aging-in-place kitchen plans, keep these goals in mind and let them drive each decision you make.
In your new kitchen, the faucets and fixtures you choose will be just as critical to safety as the appliances, countertops, and flooring you install. That's why in this article we're talking about all things 'kitchen faucets'; what makes one faucet safer, more comfortable, and less painful than another; which features should you look for; and which faucets are worth buying for your aging-in-place kitchen.
Finding a Safe, Quality Kitchen Faucet Should Be One of the Top Considerations for Any Aging-in-Place Kitchen Remodel.
So, what makes a kitchen faucet safe for aging in place?
First and foremost, any faucet you install in an aging-in-place home should be ADA-compliant, meaning it meets the safety criteria mandated by the Americans with Disabilities Act (ADA). To meet ADA standards, a kitchen faucet needs to include the following:
The kitchen faucet must not require tight grasping, pinching or twisting of the wrist
It must be operable with one hand
The force required to activate the faucet's operable parts shall not exceed 5-lbs.
If you're planning for a wheelchair-accessible kitchen sink space, the faucet must not exceed a reach-forward height of 44-inches. *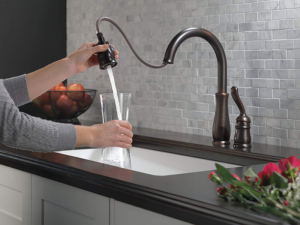 *In an aging-in-place kitchen, you'll want to install your kitchen faucet forward of the wall and well within reach for an aging adult. If you're designing an aging-in-place kitchen to be wheelchair accessible, you'll need a sink and countertop with clear ground space underneath and a maximum forward reach of 44-inches for a 20-25-inch deep countertop. Most standard kitchen countertops in the US are 25 ½-inches deep.
As you can see, even when you follow the ADA's standards for aging in place design, there are always multiple factors in play that need to be considered before you make a faucet or fixture purchase. I'd recommend mapping out your sink and faucet space to understand the maximum forward reach for your faucet before you start your renovation. This is also a good time to bring in a professional aging-in-place contractor. They can help you verify that your plans will create a safe kitchen environment for an older adult.
Key Faucet Features to Consider for Aging in Place
Here are three key kitchen faucet features that can reduce pain and increase comfort for older adults.
Single Lever
Simple is usually best when we're talking about any aspect of aging-in-place design. The National Association of Home Builder's recommends aging-in-place kitchen faucets have lever handles. Levers are easier to maneuver and more comfortable for arthritic hands than knobs. I'll only use single lever kitchen faucets in my aging-in-place renovations because they require one hand and one simple back and forth motion to operate.
Tall Spout
An elongated faucet spout that rises high above the sink is perfect for aging in place because it reduces an older adult's need to reach forward or down to access the water. A tall spout makes washing hands and dishes much easier and safer.
Pull Down Sprayer
A water sprayer is a great feature for any home. For the aging-in-place home, however, I don't like sprayers that you have to lift from the counter and press to spray. They require too much stress on aging hands. When you're designing for aging in place, it's also important to keep everything within easy reach. Faucets with pull downspouts and built-in sprayers are much easier to use. I also recommend choosing a pull-down rather than a pull-out spout. It's usually easier for sore hands to pull up and down as opposed to pulling the sprayer towards them which requires more muscle and clearance space.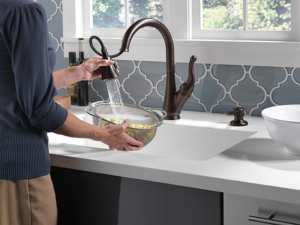 When you start looking for the right faucet for your aging-in-place kitchen, I highly recommend finding an ADA-compliant faucet that includes all three features so you know the faucet you choose is comfortable and safe.
My list of the 5 Best Delta kitchen faucets for aging in place is a round-up of single lever, tall spout kitchen faucets with a pull-down sprayer.
Why Delta? I've been using Delta products for years and trust them to produce a quality ADA-compliant kitchen faucet. I use Delta faucets in just about every one of my aging-in-place kitchen renovations.
Be sure to check out my other "Best of Delta Faucets" lists including:
For this article, I'm focusing on Delta's traditional kitchen faucet options. However, I have an entire other article on kitchen faucets called 'The 5 Best Touchless Kitchen Faucets for Aging In place' that goes into detail about Delta's Touch2O and VoiceIQ faucet technology. I review Delta's best touchless faucet options and show you how they can make a huge difference in the safety of the kitchen for someone aging-in-place.
The 5 Best ADA-Compliant Delta Kitchen Faucets for Aging in Place
Delta Leland Single Handle Pull Down Kitchen Faucet
The Delta Leland faucet has all of the bases covered to be a great aging-in-place kitchen faucet. This one makes the list because of its elongated spout that reaches farther forward than most other faucets from Delta. It also has a pull-down spout with Delta's magnetic docking feature. This keeps the sprayer from drooping over time – the most common cause of sprayer leaks. Not to mention there's nothing more frustrating than a pull-down sprayer that won't retract back into the spout. With the Leland faucet, this isn't an issue.
The Leland single handle faucet has a soft handle that's easy to maneuver back and forth. It also sits on the countertop separate from the spout itself. You need minimal pressure and grip to easily turn the water on and off making it a very comfortable choice for the aging-in-place kitchen.
Delta Talbott Single Handle Pull Down Kitchen Faucet
The Delta Talbott pull-down faucet has a spout design that's great for an older adult with arthritic hands. The end of the spout fans out and is wider than the base. Its shape makes the pull-down spout easier to hold on to without needing any additional grip strength. This is even more important if you're pulling down the sprayer with wet or soapy hands.
The faucet's handle is easy-to-maneuver back and forth and side to side – one handle to control temperature and pressure keeps things simple. It's also long with more surface area for large, sore hands to more easily grip.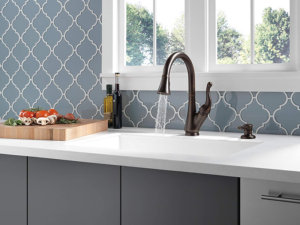 A note on this one. Like many kitchen faucets from Delta and other brands, this Talbott faucet set comes with a separate soap dispenser. The entire Talbott faucet set is considered ADA-compliant. Soap dispensers can be great for aging-in-place because they keep the soap within reach. However, the soap dispenser itself can be difficult for some older adults to use because it requires a downward pushing motion. Just about every Delta faucet has the option to add a soap dispenser. This is a case where you'll need to know if this accessory will benefit the older adult using it and make a judgment call on whether or not to install it during your renovation.
Delta Valdosta Single Handle Pull Down Kitchen Faucet
The Delta Valdosta kitchen faucet has all of the features that make it a safe and comfortable aging-in-place faucet option, and a style that will look great in just about any kitchen. It has a modern feel but with a few details that let it work in more traditional kitchens. If you're on the fence and not sure which faucet will look great, the Valdosta is a safe bet.
Like the other faucets mentioned above, it has Delta's magnetic docking feature so the pull-down sprayer won't droop over time. It has cold and hot water indicators and an easy-to-maneuver single handle so turning it on and off is comfortable for sore hands. Keep in mind that the Valdosta is also sold with a soap dispenser so the same note above on soap dispensers applies here as well.
Delta Victorian Single Handle Pull Down Kitchen Faucet
If you're designing a traditional-style kitchen, then this faucet is for you. The Delta Victorian kitchen faucet includes all three key features of an ideal aging-in-place kitchen faucet and is Delta's take on old-world design, especially when you choose the Venetian bronze finish.
It may seem minor, but one of the main reasons this faucet makes the list is its single lever handle that points toward you. The handle's position eliminates any turning. Just push up or down on the lever and you can easily and comfortably turn the water on and off. You don't even need to fully grip the handle to maneuver it. It's a great option for arthritic hands.
Delta Trask Single Handle Pull Down Kitchen Faucet
Delta has several modern-styled faucets and the Trask single handle pull down is my favorite for aging in place. It has a sleek design that will make it stand out as a focal point in the kitchen. And, it's as safe and comfortable as it is attractive. Its elongated gooseneck spout design reduces reach. And, its single lever handle is sleek and easy to maneuver back and forth.
Like all high-quality Delta pull-downs, the Trask includes the magnetic docking technology so the pull-down sprayer won't droop over time. If you're looking for a modern, safe, comfortable and easy-to-install kitchen faucet, you can't go wrong with the Trask.
Choosing the Right Delta Kitchen Faucet for Aging in Place
There's no wrong choice when choosing between one of these five ADA-compliant kitchen faucets from Delta. Each one will help you create a safe and comfortable kitchen for your loved one and reduce pain as they use their faucet to cook and clean compared to other faucet options out there. Also important is that each of these options will make a great looking addition to any aging-in-place renovation. My list of favorites gives you several design options so you should find that one of these faucets, if not more, fits perfectly with your kitchen's style.
As you plan your DIY kitchen renovation, send me any questions you have by using the comments section below. As always, I'm here to help you along the way.
Good luck with your next aging-in-place home project!
Like this post? Spread the love!