When I talk with DIYers in the early planning stages of an aging-in-place bathroom renovation, they almost always ask me which bathroom faucets are the safest and which one they should buy. My answer: an ADA-compliant bathroom faucet from Delta. 
Why ADA-Compliant?
Back in the '90s, the American Disabilities Act, or ADA, was passed mandating that commercial spaces meet guidelines to keep people with disabilities safe. Since then, these guidelines have been adopted into residential design and, specifically, homes built for aging-in-place. The ADA changed the game for home safety for older adults, especially in the bathroom where accidents are most common. Using ADA-compliant faucets is the best way to make sure your bathroom is safe for aging-in-place.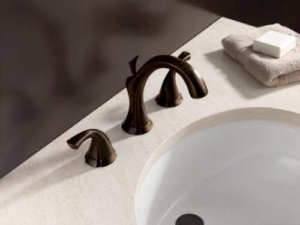 The good news is that finding an ADA-compliant bathroom faucet has never been easier. As the interest in aging-in-place has grown over the past decade, more and more manufacturers are recognizing the need for safe bathroom faucets and fixtures for older adults with mobility issues, arthritis and other challenges we all face as we age.
As you plan your aging-in-place bathroom renovation and begin looking for the best bathroom faucet, immediately weed out any option that isn't ADA-compliant.
Why Delta?
Delta is a well-known brand with a ton of ADA-compliant bathroom faucet options. You can trust them to make a safe bathroom faucet that works well and looks great. I use Delta faucets in just about every one of my aging-in-place bathroom renovations.
To Be ADA-Compliant, a Bathroom Faucet Must A Specific Set of Criteria
A bathroom faucet must meet every item on this list of criteria to pass the ADA-compliance test.
A bathroom faucet must not require tight grasping, pinching or twisting of the wrist
It must be operable with one hand
The force required to activate the faucet's operable parts shall not exceed 5-lbs.
The faucet must not exceed a reach-forward height of 48-inches and be no less than 15-inches above the finished ground
Matching Your Faucet to Your Sink and Vanity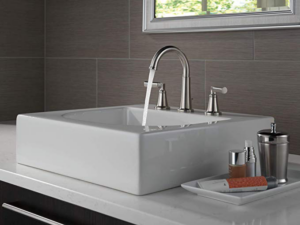 Before you can shop for the best faucet for your aging-in-place bathroom, check the set-up of your sink and vanity to see the placement and location of the faucet. Unless you're going with a completely custom sink or designing your bathroom sink yourself, you'll need a faucet and sink that align with the same number and position of plumbing holes.
Faucets are typically categorized by the number of plumbing holes and the spread, or distance, between each hole if there's more than one. The most common faucet set-ups include:
Single Hole
Centerset
Widespread
Some bathroom faucets are fixed to the vanity or the wall, rather than the sink. These two other variations include:
The 10 Best ADA-Compliant Delta Bathroom Faucets for Aging in Place
Once you know your faucet placement and dimensions, you're ready to shop. Here's my list of the best Delta bathroom faucets for aging in place. I've divided my favorites by faucet-type so you can find the best faucet out there for your particular sink or vanity configuration.
Also, be sure to check out my other "Best of Delta Faucets" lists including:
'Best Delta Shower Faucets for Aging in Place'
'Best Delta Kitchen Faucets for Aging in Place'
Best Delta ADA-Compliant Single Hole Bathroom Faucet
Delta Haywood Single Handle Faucet
The Delta Haywood faucet checks all the boxes. If you told me it was designed as the perfect match for the aging-in-place home, I'd believe you. It's ADA-compliant with a handle that's elevated above the spout more so than just about any other single handle faucet out there. This gives you more clearance between the handle and spout which makes it easier to get a grasp on the handle. This can significantly reduce pain and discomfort for arthritic hands.
The faucet itself lasts longer than most; Delta claims it will last twice as long as the industry standard and won't leak. It also includes Delta's WaterSense technology meaning it uses 20% less water than other faucets on the market, so it'll conserve your water bill, too.
Runner Up: Delta Modern Single Handle Project Pack Low Flow Faucet
Any bathroom faucet from Delta's Modern line is a perfect addition to a contemporary aging-in-place bathroom. Delta gets super modern with this one which is great to see. This is a quality piece to add to a bathroom if you want to start incorporating small touches of modern design into your home without making the full leap.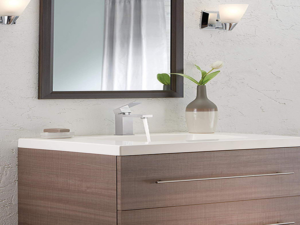 The Delta Modern single handle faucet is the runner up for both its style and ease-of-use. You can't go wrong with this one. It's a great overall ADA-compliant faucet. With one simple, easy-to-use lever, this is one of the easiest faucets to turn on and off for aging in place homes. Not only is Delta's Modern single handle bathroom faucet ADA-compliant, but it's also low-flow and includes Delta's WaterSense technology.
Best Delta ADA-Compliant Centerset Bathroom Faucet
Delta Bowery Centerset Bathroom Faucet
The Delta Bowry centerset faucet couldn't be more perfect for the aging-in-place bathroom. It's my top centerset faucet pick because of two features. One, its high, elongated spout. There is a lot of clearance space between the spout and the sink bowl so an older adult can easily get their hands wet without having to hunch over the bowl. The spout also arches forward getting the water that much closer so you don't have to reach quite as far.
Second, the handles. Unlike some faucets that require you to use your whole hand to grab and turn bulky knobs, these simple handles are sleek enough to be easy to use and thick enough to be easy to grasp.
Runner Up: Delta Cassidy 2-Handle Centerset Bathroom Faucet
Delta's Cassidy centerset faucet is another great aging-in-place bathroom faucet option. Just like the Bowery centerset faucet, the Cassidy model has an elongated spout that brings the water closer to the edge of the sink so there's no need to reach. Its handles are also easy-to-turn. The only reason the Bowery edges out over the Cassidy is the diameter of the handles. The thicker diameter handle requires slightly less of a grip to turn.
If your parent or loved one is looking for a more traditional style, this is a quality ADA-compliant bathroom faucet option worth considering.
Best Delta ADA-Compliant Widespread Bathroom Faucet
Delta Bowery Two Handle Widespread Bathroom Faucet
Once again, Delta's Bowery collection makes the list with its Two Handle Widespread Faucet. Like the centerset version, the Bowery widespread is an almost perfect design for the aging in place home. Its spout extends out into the sink or bowl reducing the distance an older adult needs to reach forward. Its uniform handles are thick enough to grip at each end so turning on and off the water is easy and less painful than other faucets out there.
Not only is this one of the most practical aging-in-place faucets, but Delta's Bowery collection also features a simple design and classic style that will pair well with just about any aging-in-place home. That makes it great for resale, too.
Runner Up: Delta Addison Two Handle Widespread Bathroom Faucet
This one is a close second. Delta's Addison Two Handle Widespread Faucet also has an elongated spout – not as elongated as the Bowery, but it does a nice job of reducing reach distance. What I really like about this one are the handles. The top of the Addison handle arches up creating handles that are ergonomic and much easier to turn for an older adult, including someone with arthritic hands.
The Addison widespread bathroom faucet also has Delta's WaterSense technology for water conservation. Overall, this faucet isn't about bells and whistles, which I like. It's simple, attractive and works well for anyone aging in place.
Best Delta ADA-Compliant Wall Mount Bathroom Faucet
Delta Zura Single Handle Wall Mount Faucet
The Zura Wall Mount Faucet from Delta has several features that make it my top pick for an aging-in-place wall mount bathroom faucet. First, it's spout is long enough that forward reach shouldn't be an issue.
Second, a single handle is an incredible feature for aging-in-place. Delta makes things easier for an older adult with a bathroom faucet that requires just one handle to control. And, the faucet's handle includes red and blue markings so recognizing hot and cold water settings is that much easier.
Be aware that with any wall mount bathroom faucet, you're going to need a valve kit. The valves are installed behind the wall and join with the faucet's spout and handle. With the Zura faucet, you'll need a valve kit as well as a drain, both of which are sold separately.
To complete the installation, you'll need:
Despite the extra hardware needed for a wall mount install, Delta makes is easy with quality valve kits and drains that DIYers can handle.
Runner Up: Delta Stryke Wall Mounted Faucet
If the Zura wall mount faucet is just a little too modern for your taste, another great wall-mounted aging-in-place bathroom faucet, and my second pick, is the Delta Stryke Wall Mount. The handles are what make this faucet such a great aging-in-place option. The Stryke faucet has two ergonomic handles that are each marked with either a thin red or blue line around the base. This makes it much easier for an older adult to recognize hot and cold temperatures. And, the handles are easy to maneuver per ADA-compliance, but also stay in place really well so you can easily control water temperature and pressure.
When you purchase the Stryke wall mount faucet, you'll need to buy a drain and wall mount valve to complete the installation.
To complete the installation, you'll need:
The Stryke is a quality faucet and, despite the need for additional hardware, it's not a difficult faucet to install.
Best Delta ADA-Compliant Vessel Bathroom Faucet
Delta Addison Single Handle Vessel Bathroom Faucet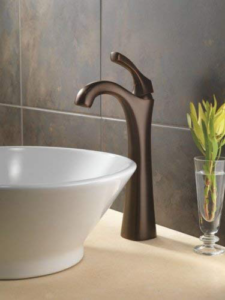 Delta's Addison vessel faucet is the best I've found for aging-in-place. It has an extended-height spout so it gives you plenty of clearance above a vessel sink. Its handle is simple, easy-to-maneuver and thick enough so that even arthritic hands can grip it comfortably when turning on and off the faucet.
What I also like about this faucet over others for aging-in-place is its design. It's simple and will blend in with just about any style, which is great for resale. And, it's one of Delta's easiest faucets to install, so it's great for DIYers. You really can't go wrong with the Addison vessel faucet.
Runner Up: Delta Pivotal Single Handle Vessel Bathroom Faucet
If you want a more modern faucet to go with your vessel sink, this one's for you. The reason the Pivotal faucet is great for aging-in-place is its easy-to-use handle and its height above the vessel sink. Assuming you go with a standard height sink, the Pivotal vessel faucet is made to sit high above the bowl for good clearance and sits forward enough that an older adult won't have to reach for the handle.
The Pivotal vessel sink is extremely modern which isn't for everyone. It's my second pick mainly for this reason. But, if you're looking for a contemporary look, water conservation technology, and an easy-to-install vessel sink, the Pivotal is a great choice.
Choosing the Right Delta Bathroom Faucet for Aging in Place
There's no wrong choice when choosing between one of these ten ADA-compliant bathroom faucets from Delta. Each one is a safe, comfortable and great looking addition to any aging-in-place renovation. As you plan your DIY bathroom upgrade, send me any questions you have by using the comments section below. As always, I'm here to help you along the way.
Good luck with your next aging-in-place home project.
Like this post? Spread the love!