Older adults slip and fall in the bathroom at a higher rate than any other room in the home. The bathroom can be a scary place for adults as they age. And the fear of falling in the shower or while at the sink is a real worry that often adds another layer of stress on top of the already-challenging task of bathing.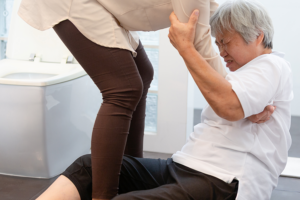 These fears are, unfortunately, well justified. One in three people over age 65 fall each year and most of these accidents happen in the bathroom. As aging-in-place builders and designers, we need to do everything we can to reduce the physical and emotional dangers an unsafe bathroom poses for the aging-in-place adult and find ways to prevent falls.
The bathroom flooring you choose during your renovation is your first line of defense against avoidable accidents. Luckily, there are many great flooring products out there for the aging-in-place bathroom to make the floor as slip-resistant as possible.
In this article, I'll walk you through my go-to aging-in-place bathroom vinyl flooring products. Each one can help make the bathroom floor safer and empower your parent to confidently age in place.
Vinyl is One of the Safest Flooring Materials for the Aging-in-Place Bathroom
The flooring material you choose for your aging-in-place bathroom is one of the most important renovation choices you'll make.
I choose vinyl flooring for every aging-in-place bathroom I renovate. That's because vinyl planks are durable, waterproof and less expensive than natural wood or tile. And, most importantly, they're the safest flooring material for aging-in-place. Here's why.
The National Floor Safety Institute rates a floor's slip resistance by measuring its coefficient of friction (COF). Essentially, the more friction that's created between the floor and a person as they walk, the less likely that person is to slip and fall.
You want to look for vinyl flooring with a high COF. Industry standards put .42 as the minimum acceptable COF required to prevent or limit slips. Vinyl floors have one of the highest COF ratings out there with some as high as .6 COF.
Even if the flooring manufacturer claims its floor is slip-resistant, that doesn't mean it passes the minimum COF test. So, read the fine print to find out the COF rating of a floor before you make your purchase. It's the only way to know if a floor that claims to prevent slips will actually hold up its end of the bargain.
Once you find a few slip-resistant flooring options, your next decision is the type of vinyl floor you want to install. Vinyl flooring comes in three types: tiles, sheets, and planks.
Vinyl was once a poor-quality flooring choice. Many were difficult to install and the lack of quality showed. Today, however, vinyl has improved significantly. It comes in what seems like an infinite number of styles and quite a few sizes. Vinyl can mimic the look of wood, ceramic, concrete, and more, giving you a good amount of design freedom.
Vinyl Flooring is Also a Budget-Friendly Option
You'll love vinyl even more once you see the price tag. It's one of the least expensive flooring types out there, ranging between approximately $0.50 – $5.00 per square foot depending on the type of vinyl you select.
So, with vinyl you're getting a floor that protects against slips and falls and is also budget friendly. You can't ask for more than that.
Here are several slip-resistant vinyl floor options to keep your aging-in-place bathroom floor safe and look good.
Luxury Vinyl Plank Flooring
Luxury vinyl plank floors are stiff planks that click together and lock in place. They form a floating floor that's highly durable and water-resistant. Of the three types of vinyl flooring out there, they come in at the highest price point. In my opinion, though, they're well worth the extra dollar or two per square foot if your budget allows for it because of how great they look after the job is done.
Here are several of my favorite luxury vinyl plank floors for the aging-in-place bathroom.
Diflart Luxury Vinyl Click-Locking Planks
Luxury vinyl planks tend to be the most durable of the vinyl options out there. Rather than laying a tile or sheet vinyl with adhesive, these planks lock into place and float on the floor. This floor from Diflart is not only waterproof and slip-resistant, but it's also shock-absorbing and comfortable to walk on. All of these features add up to a floor that's ideally made for the needs of an older adult. Click-locking planks are easy to install as well, so they make for a pretty easy weekend DIY project.
Dotfloor Dark Brown Vinyl Floor Planks
This vinyl plank from Dotfloor is a great example of the power of vinyl to be a safe and stylish flooring choice. This floor delivers what you'd expect from a quality vinyl plank – durability, water-resistance, and slip-resistance. Dotfloor has made slip-resistance and safety a high priority for all of its vinyl floors. Each one is designed to reduce the likelihood of slips. Their floors are also easy to clean, and easy to install – perfect for the aging-in-place DIY novice.
Mohawk Industries Distressed Wood Vinyl Floor Planks
One of my all-time favorite luxury vinyl plank floors happens to come from one of the big names in residential vinyl flooring – Mohawk. The company is a household name for a reason – reliable quality. Even beyond the quality, they offer a great mix of distressed flooring vinyl options like this one.
These planks from Vesdura are perfect for the modern aging-in-place bathroom. With their over-sized width of 7 inches, this floor screams custom, all while maintaining a safe, slip-resistant option for your parent's bathroom.
Modin Rigid Brenwick Vinyl Floor Planks
If you're looking for a more traditional wood tone, this dark chestnut vinyl plank from Modin is a great choice. These planks exceed the thickness of most other vinyl planks out there. They're also scratch-resistant and anti-microbial.
Modin Rigid Gibson Vinyl Floor Planks
Modin's Gibson vinyl plank is an excellent slip-resistant option, especially for older adults who suffer from sore feet or a stiff back and need a bit more cushion under their feet. Like Modin's Rigid Brenwick floor, these planks are thicker than standard vinyl and come with a pre-attached underlayment, making them softer and more insulated than other flooring options. The planks look like real wood grain with a variety of shades in each pack.
New Parliament Vinyl Floor Planks
New Parliament's gray wood tone plank is subtle yet modern which lets it work well in any aging-in-place bathroom. Its plank width is just wide enough to look custom but not wide enough to be mistaken as a farmhouse-style vinyl. This New Parliament floor also has a 1.5mm cork layer which gives your parent a lot of extra cushion and comfort. It's a great overall DIY option because of how easy it is to install.
Dotfloor Empire Black Saw Cut Vinyl Floor Planks
If your parent's design style is adventurous and they want a completely unique look, check out Dotfloor's black saw cut vinyl plank. Each board looks like an authentic wire-brushed wood plank. Houseguests will walk in and wonder where your parents found such beautiful, reclaimed wood to create their custom floor. And, the best part is that achieving this unique look doesn't require you to sacrifice any amount of slip-resistance.
Peel and Stick Vinyl Flooring
If you're completely new to the world of DIY aging-in-place renovation and vinyl planks seem too intimidating to install (they're not, I promise!), a vinyl peel and stick floor is another great way to jump in and upgrade the bathroom.
Installation could not be easier. First, lay out your grid pattern on the floor. Then, peel off the plank's or tile's backing to expose the adhesive strip and stick it onto the existing floor. Like with luxury vinyl planks, you'll create your pattern and lay each plank down one-by-one.
Pro Tip: While nothing could be easier than installing a peel and stick vinyl floor, don't go in overly confident and fail to plan out your grid pattern. I recommend creating a drawing of your bathroom to scale and sketching out your plank or tile placement and pattern before you lay the first one. Trust me – the last thing you want is to cut dozens of planks to get them to fit in place, or spend all day lifting up and repositioning tiles once they're stuck to the floor.
Because they're so easy to install (once you have your pattern sketched), peel and stick vinyl is a smart way to go if you're working in a small bathroom. Or, if you're installing the new floor in your bathroom's linen closet or around the tub or shower. In each case, you're looking at a lot of trimming to get the entire floor covered. With peel and stick vinyl, you can easily trim each section to size with just a utility knife.
Overall, peel and stick planks and tiles are a nice option if you're new to the DIY scene and want to keep the job simple without sacrificing the quality and safety of your floor.
CO-Z Vinyl Adhesive Floor Planks
These floor planks from CO-Z are waterproof, damp-proof, and mold-resistant. In other words, they were pretty much made to handle the demands of the aging-in-place bathroom. The biggest threat to safety in the bathroom is water on the floor. As much as you try to keep the floor dry, wet floors are inevitable from time-to-time. These vinyl planks can handle a little water without the risk of serious damage. And, their slip-resistant feature will mitigate some of the danger water can cause.
Roserosa Peel and Stick Vinyl Planks – Gray Wood Grain
These peel and stick vinyl planks from Roserosa are made with engineered vinyl, giving them a high level of durability. This also lets them maintain the look of real wood grain, even after years of wear and tear. If you're brand new to DIY home remodeling, this may be the floor for you. I happen to love Roserosa's gray wood planks and use them in many of my aging-in-place renovations. But there are several wood grain colors and shades to choose from. Here is a full list of RoseRosa Peel and Stick Vinyl Planks with every available wood tone option.
Achim Home Furnishings Nexus Vinyl Tile
I talk a lot about wood grain vinyl planks and tiles, but there's also a lot of great options that mimic other material types, like slate and marble. This peel and stick tile from Achim is a dark slate marble-style vinyl tile perfect for homes going for a more sophisticated or antique look. These tiles have all of the great slip-resistance features of the other vinyl options on my list of favorites and, like other trusted peel and sticks, is a great first-time DIY project.
Sheet Vinyl Flooring
Sheet vinyl is another excellent vinyl flooring option, especially if you're new to the DIY scene and looking for a safe floor that's also easy to install. Its popularity, however, has faded in recent decades so it can be a bit harder to find than tile or plank options. But, this option from Rubber-Cal is easily available and a great option if sheet vinyl is your thing.
Rubber-Cal Terra-Flex Oak Vinyl Sheet Floor
This sheet vinyl option from Rubber-Cal has a great light wood tone that's a good fit for most homes. I especially like its double-layer construction which makes this floor much more resilient than other thinner vinyl floors.
I recently dedicated an entire article to flooring with tips on what to consider when searching for the best floor for your aging-in-place home. You can read the article, "How to Find Flooring That's Safe, Inexpensive, and Easy to Install for Aging in Place," to learn more about vinyl and some other excellent flooring options to create a safe bathroom for an older adult.
Time to Get Started
The threat of a slip or fall in the bathroom is a scary reality for adults as they age. Luckily, there are a lot of preemptive strikes we can take to protect our loved ones. This weekend make it your DIY project goal to upgrade your aging-in-place bathroom floor. In just a day or two, you'll improve the safety of the bathroom and reduce the likelihood of your parent slipping or falling.
As always, use the comments section below to send me your questions throughout the flooring upgrade.
Good luck with your next aging-in-place home project.
Like this post? Spread the love!