Kitchen cabinet pulls and bathroom drawer knobs are minor considerations in your overall DIY aging-in-place home renovation project, right? Wrong! Our hands stiffen and become sore with age – there's no way around it. Large or small, any product you're incorporating into your remodel that impacts an older adult's hands needs to measure up to some serious safety and comfort standards.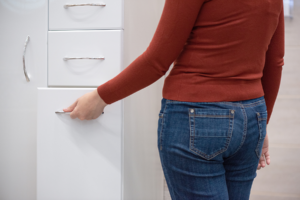 The cabinet pulls and knobs you select for your aging-in-place kitchen or bathroom should pass a strict set of criteria, so you know they're going to keep you, your parent, or loved one safe now and as they continue to age. In this article, I'm going to walk you through my criteria for what makes a safe and comfortable cabinet pull and knob. First, though, let's go over the types of pulls and knobs that aging-in-place homes need to avoid. 
Just as important as knowing the right types of cabinet pulls and knobs is knowing which types to avoid.
Here's a list of pull and knob styles on the 'do not buy' list.
Narrow Pulls – less than 3-inches wide. Thick hands either won't fit or can get stuck
Thin Pull Handles. Sore hands need a thicker pull to grab onto comfortably
Harsh Angles. Pulls with 90-degree angles can pinch sore hands
Cup Pulls. Cup pulls typically don't have an adequate surface area to grab onto safely
T-pulls. Pulls with a bar that sticks out farther than the end screw mounts can snag clothes or be painful to bump into.
T-knobs. Knobs shaped like a "T" put too much stress on arthritic fingers
Small Knobs. Grasping a small knob is painful for large, sore hands.
This may seem like a long list, and that's because it is. You can see why finding safe cabinet pulls and knobs for aging in place takes some serious consideration and is easier said than done.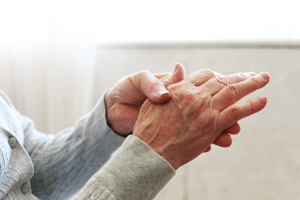 ADA standards (those put forth in the Americans with Disabilities Act) want to see cabinet pulls, rather than knobs, in aging-in-place renovations. Pulls are my go-to-choice for every one of my aging-in-place renovations. I rarely use knobs. However, some homeowners want a knob, regardless. I'm extremely critical of cabinet knobs and, while I wouldn't recommend one over a good quality pull, I have included a couple of knobs that are worth considering if you or your loved-one is comfortable with this option. Just be aware that the knobs on this list are not ADA-compliant and should only be used if you're confident they're the right choice for you.
The nice thing about cabinetry hardware is that it's not permanent. Whichever knob or pull you choose, you can always change it later. Keep in mind that if you choose a knob now, you'll probably need to swap it out for a comfortable pull as you or your loved one ages.
My Criteria for Safe Cabinet Pulls and Knobs for Aging in Place
The standard width for a cabinet pull is 3-inches. When you're looking for a pull, go with one that's at least this wide, if not wider. Wider pull widths fit larger hands more comfortably and lessen the chance of a hand getting pinched between the pull and the cabinet.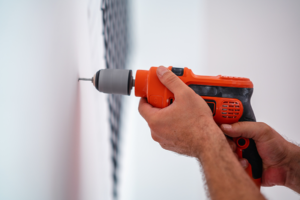 Pro Tip #1. If you go wider than 3-inches, be aware that you may need to drill new holes into the cabinet and patch the old ones to accommodate the non-standard width. Fitting new hardware is a project that any DIYer can handle. But, depending on the number of cabinets you have, there may be a lot of sanding, patching and re-staining required. It's definitely something to consider before you decide on a wider pull.
If you choose a cabinet knob, go big. Small knobs can cause pain for sore hands and should be avoided. The knob you choose should turn easily without much force and provide enough surface area for even arthritic hands to grasp comfortably.
Overall, look for cabinet pulls and knobs that meet this set of criteria:
Wide Pulls – at least 3-inches wide. Wide handles give even large hands room to grasp
Curved Edges. Pulls with curved edges are less likely to cause pain
Ergonomic Shape. Pulls and knobs should comfortably follow the contours of your hand
Large Handles or Knobs. There should be enough surface area for an easy grasp
Round Knobs. Round knobs are easier and more comfortable to grip than flat ones
The Best Cabinet Pulls and Knobs for Aging in Place
Here's my list of the 10 best cabinet pulls and knobs for aging in place. This list should be all you need to find the safest cabinet hardware for your home.
Cosmas Footed Handle Cabinet Hardware
The Cosmas footed handle is simple, elegant and ergonomic making it an excellent pull for any cabinet in your home. I usually end up installing these in my kitchens as a vertical cabinet pull because they're solid and sturdy. They also look and work great as a horizontal pull in both the kitchen or bathroom. Because they're the standard 3-inch width, these pulls make for a quality versatile piece of hardware.
This is another cabinet pull from Cosmas. It's similar in style to their footed handle, but with a sleeker, more rounded body. This one is also a standard 3-inch wide pull. Choosing between this and Cosmas' other pull is simply a matter of preference. If you're looking for a contemporary style that's still subtle and works with just about any modern design style, this is a quality pull worth considering.
Amerock Allison Value Hardware Pull
Amerock is one of my favorite cabinet hardware companies. Any pull you purchase from them is going to be a quality product that you can trust to last. Their Allison line in this rubbed oil bronze finish is perfect for an aging-in-place home with a traditional design style. This particular pull doesn't have a very thick handle on its ends, but the middle of the pull makes up for this with a thicker design feature for extra grip. It also comes in various widths. This 5 1/16-inch width pull gives lots of room for larger hands to grasp.
Amerock Revitalize Cabinet Pull
If you're looking for a standard-size pull with plenty of clearance for large hands, this is the one for you. Amerock's Revitalize cabinet pull has a bit more height than your average curved pull giving you some clearance between the cabinet and the hardware. While not curved, its edges are soft and should be comfortable for smaller hands, too.
I also love the Kane pull from Amerock. Its pipe-like design is smooth all the way around with no sharp edges and a thicker middle, making it comfortable for large and sore hands. It comes in a ton of different finishes – from antique silver to weathered nickel to gilded bronze. Regardless of your home's style, you can achieve the look you want by choosing the Kane pull in a finish that fits your design.
Crystal Glass Door Cabinets Hardware
This crystal glass cabinet pull is proof that aging-in-place functionality doesn't mean that kitchen and bath design has to take a back seat. The shape of this handle is what makes it an excellent choice for aging in place. Its traditional crystal glass handle and metal handle ends are rounded and ergonomic. It'll also comfort larger hands with its thick diameter and a width of just over 3-inches. This elegant handle is sturdy, easy-to-install, and comfortable for any adult aging in place.
Another great choice, if you're looking for traditional-style cabinet hardware, is this classic black cabinet pull. It's rounded, textured handle can help an older adult get a good grasp, and its handle's diameter is wide enough that grabbing it won't cause unnecessary pain. It also has a 4 ½-inch width screw to screw so there's plenty of clearance for larger hands.
For those of you fawning over the modern farmhouse design trend that seems to be everywhere right now, this 5-inch Ravinte cabinet pull will help you achieve that look while giving you a safe and comfortable aging-in-place cabinet pull option. I personally think this handle looks great in traditional-style homes and just about anywhere else as well. More importantly, though, it's extended width and curved edges will keep your parent comfortable as they age in place.
Southern Hills Oil Rubbed Bronze Knobs
If your kitchen or bathroom cabinets don't require much force to open or close, you can likely get away with a quality cabinet knob. If you do choose a knob for your aging-in-place cabinets, the oil-rubbed bronze knob from Southern Hills is a great choice. Its rounded body fits well into large hands and its 1 ¼-inch diameter provides a good amount of surface area. These knobs work well for dresser drawers as well.
Pro Tip #2: If your parent's dresser is in good shape but you're worried about their ability to open the drawers without any pain, a simple hardware swap may go a long way in giving them some added comfort.
Trinca-Ferro Glass Ribbed Round Knob
Another cabinet knob option worth considering is this antique-styled round knob from Trinca-Ferro. If I use a cabinet knob in an aging-in-place remodel, I like antique-style knobs because they're typically larger than conventional ones. These particular knobs from Trinca-Ferro make the list because of their above-average diameter and round shape. At nearly 2-inches wide, they're large enough for sore hands to easily grasp. And, at just $25 for a set of six, they won't break the bank – something to consider if you plan to swap knobs for pulls as your parent ages.
Safe Cabinet Pulls and Knobs are Extremely Important for the Aging-in-Place Home
Adding rounded, wide cabinet hardware that's easy and comfortable to grasp – even for sore, arthritic hands – is as important as the many other home updates you're making in your aging-in-place home. Let this list of my top 10 cabinet pull and knob picks guide you on your aging-in-place renovation journey and you'll know you're choosing the best for your parent or loved one.
Use the comments section below if you have questions on these pulls and knobs or any other aspect of your aging-in-place home projects. I'm here to help and get you on your way.
Good luck with your next aging-in-place home update.
Like this post? Spread the love!