Safety is always my number one focus when I'm renovating any aging-in-place home. And, nowhere is safety more critical for your parent than in the bathroom. The bathroom is by far the most common room in the home for an older adult to fall and become seriously injured.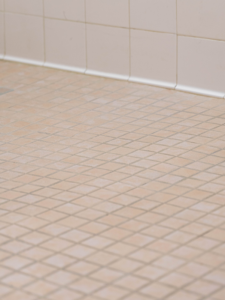 You can imagine how dangerous a wet floor or slippery shower can be to an adult with mobility issues. Or, how challenging it is to bend up and down to use the toilet, reach into a cabinet, or do any other number of tasks that you or I wouldn't think twice about. All of these scenarios are more likely to occur if an aging-in-place bathroom doesn't have the right safety accessories in place.
Related: The Ultimate Guide to Bathroom Safety
Grab Bars are a Simple Solution to a Big Aging-in-Place Problem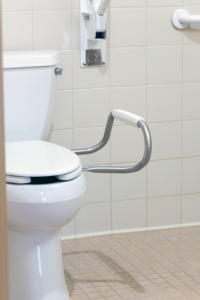 A significant number of bathroom injuries can be prevented with a sturdy grab bar to help catch your parent's fall. Grab bars can go anywhere in the bathroom where there's a flat wall. Install them where water may spill, soap can linger, or where lifting or bending over can't be avoided.
I recommend that every aging-in-place bathroom have a grab bar in these four locations.
Around the Toilet
Mount grab bars around the toilet on both sides if possible. An additional unit can be mounted off the rear wall by the water tank. There are some units I really like, such as those that fold up and down to save space. This allows those with limited mobility to use both arms and gain an additional location to hold on to.
By the Sink
Sinks are another dangerous spot where water can puddle on the floor. Mounting at least one grab bar nearby can help. Bars can be mounted along available wall space on either side and secured horizontally or vertically depending on what your parent needs.
Outside of the Shower or Tub
A great place to add grab bars is along the outside of the tub or shower where a lot of water is likely to accumulate. This area can easily get wet every time your parent showers. Even with a non-slip area rug there to help, stepping in and out of a shower or tub can be extremely dangerous. This is a priority location for a grab bar when designing for aging in place.
Inside the Shower or Tub
The inside of the shower is the most important place in the bathroom to consider mounting a grab bar. And, most likely one grab bar isn't enough. A textured bar or several bars mounted both vertically and horizontally is an absolute must for aging in place.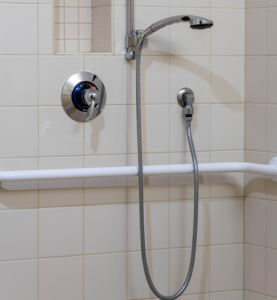 Grab bars are a simple, cost-effective bathroom tool that will drastically decrease the odds of an accident. Most installs are simple and quick, and even the more complex models are pretty straightforward. But, before you get to work, you need to understand what makes a grab bar safe.
Here's What the ADA Wants to See in an Aging-in-Place Bathroom Grab Bar
The Americans with Disabilities Act (ADA) mandates the rules for mounting grab bars, so let's dive into the requirements.
The outside diameter gripping surface of any handrails or grab bars must be 1 1/4-inches to 1 1/2-inches, or the shape must provide an equivalent gripping surface.
All bars used should be able to withstand at least 250 pounds of pressure.
When you're mounting a grab bar next to a toilet, they further specify that if handrails or grab bars are mounted adjacent to a wall, the space between the wall and the grab bar must be 1 1/2-inches. The grab bars must also be mounted between 33 and 36-inches above the floor.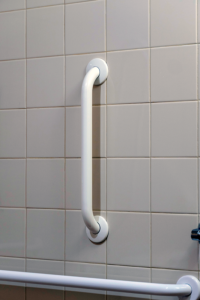 For toilets that are not in a stall, like in most households, the rear wall grab bar must be at least 36-inches long with the end closer to the sidewall mounted at least 12-inches from the centerline of the toilet. And, it needs to extend at least 24-inches on the transfer side.
For grab bars mounted alongside a toilet, the sidebar must be at least 42-inches long and mounted a maximum 12-inches from the back wall. The end of the grab bar must extend a minimum of 54-inches from the back wall. 
I've rounded up my favorite ADA-compliant aging-in-place bathroom grab bars that you can install in your bathroom this weekend. Let's dive in!
Here Are My Picks for Best Grab Bars for the Aging-in-Place Bathroom
Grab Bars Around the Toilet
Moen Home 24-inch Bathroom Grab Bar
This ADA-compliant grab bar from Moen is an all-around great option for any location in your bathroom where your parent needs extra support. What I like about this model, in particular, is that it can support up to 500-lbs – twice the weight required by ADA standards. It's just some added peace of mind that it'll do its job when your parent needs it most.
Moen 30-inch Flip-Up Bathroom Grab Bar
This flip up toilet grab bar is just plain smart. When your parent needs extra support while using the toilet, it's right there within easy reach. When it's not in use, your parent can easily flip the grab bar up so it's out of the way. This simple innovation is smart and practical – perfect for aging-in-place safety and comfort.
Grab Bars by the Sink
AmeriLuck Decorative Grab Bar
This solid grab bar from AmeriLuck is ADA compliant and stylish, making it a great choice for added support for a sink that's positioned along a wall. It's a 12-inch long bar which is also great for a sink where there's usually less usable wall space.  Depending on how your sink is configured, placing a couple of these bars around the sides of the sink will give your parent extra support around an area that's prone to getting wet.
Moen Home Care 18-inch Bath Grab Bar
Another excellent aging-in-place sink grab bar is Moen's textured bar. This is an 18-inch bar – a bit longer than the sink bar from AmeriLuck. If you have the wall space next to the sink to make room for a longer bar, take advantage of it and opt for this grab bar from Moen. The texture of this bar is why I'm such a fan. Its slip-resistant finish gives your parent some much needed extra grip.
Grab Bars Just Outside Shower and Tub Walls
AmeriLuck Stainless Steel Bath Grab Bar
This solid grab bar set gives you two bars to place anywhere in the bathroom. I like this 18-inch size and style for right outside of the shower or tub. If you have a shower/tub combo, place one of these grab bars at a position to aid your parent when they're stepping into the shower and place the other lower down for help stepping into the tub.
Delta Faucet Contemporary Decorative Grab Bar I love how this grab bar adds a ton of safety to the aging-in-place bathroom in a stylish way. Unlike so many other grab bars with a medical or sterilized look and feel, the contemporary look of this Delta grab bar will blend right into your bathroom design. And, it's ADA compliant and can support up to 500-lbs so it delivers all of the safety of the other models.
Grab Bars Inside the Shower and Tub
Moen Home Care 16-inch Curved Shelf Grab Bar
This curved shelf grab bar from Moen is so smart, combining a shower shelf and safety grab bar in one. You get added safety by placing this bar right where slippery soaps and shampoos live
Franklin Brass Concealed Mount Bathroom Grab Bar
This 16-inch grab bar from Franklin Brass is meant to give extra support in the shower. It can be installed directly into a tile shower wall. I usually get a set of these and place one vertically at the shower's entrance and another along the inside wall. The vertical placement is most helpful for getting in and out of the shower since it allows your parent to pull themselves up as they step in and out. This Franklin Brass bar is solid, made of durable stainless steel and can support up to 500-lbs, so it's going to hold up.
Here's How to Complete a Simple Grab Bar Installation
Once you have all of your bathroom grab bars ready to go, here's how to complete a simple installation.
Tools & Materials
Step 1: Mark the Grab Bar Location
Determine where you want to mount the grab bar. With a pencil, mark the location of each mounting plate so you know where to drill. Measure from the floor and try to adhere to the ADA mounting locations I listed above.
Step 2: Screw in the First Mounting Plate
If the bar uses a hidden mounting plate, utilize the included hardware and install the plate at one end of the bar. You'll want to mount one side first so you can put the level on top of the bar and mark the drilling location of the second mounting plate at the other end.
Step 3: Attach the Second Mounting Plate
Drill and attach the second mounting plate. If the grab bar uses exposed screws, the install is pretty much the same but it will go a lot faster.
For grab bars with hidden mounting plates, use your screwdriver to secure the bar onto each plate by securing the small lock screw. Many of these bars have a screw on only one side that's meant to face the ground. Pay attention to its location so you install the bar properly.
Step 4: Check the Bar's Ability to Support Weight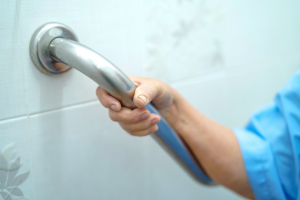 Challenge the bar by placing some weight onto it. This will help make sure that the bar is secure and ready if it's ever needed. If you feel it flex or move, you might need to tighten down the mounting screws or wall screws.
You're Ready to Add Much Needed Safety and Support to Your Aging-in-Place Bathroom
Adding grab bars throughout your aging-in-place bathroom is one of the best upgrades you can make to create the safest bathroom possible. Shop through the grab bars on my list of favorites to find everything you need.
You can add some serious safety to your bathroom in just a few hours this weekend with these bathroom grab bars. Use the comments section below as you go and send me your questions along the way. Good luck with your next aging-in-place home project.  
Like this post? Spread the love!