I talk to experienced aging-in-place DIYers all of the time, and they always tell me the same thing – kitchen renovations are the most overwhelming part of their aging-in-place home upgrade. Even during a traditional kitchen renovation, there are countless design options and decisions to make. When you add in the aging-in-place requirements necessary to keep an older adult safe, it's hard to know where to start. 
Renovating a kitchen for aging-in-place doesn't have to be as scary as it seems. As you begin planning and sketching, think through your 'kitchen triangle' to the best location for appliances and fixtures. With the right kitchen layout, appliances, and professional advice, your kitchen upgrade will be a lot easier than you think.
What is the Kitchen Triangle?
In the professional contractor and designer world, the kitchen triangle refers to the kitchen's three main work areas – the refrigerator, sink and oven. The theory is that by configuring your kitchen so these three areas form a triangle, you're giving yourself enough space to move around without creating too much distance between your primary workspaces.
In an Aging-in-Place Kitchen, the Old Rules of the Kitchen Triangle No Longer Apply – at Least Not Completely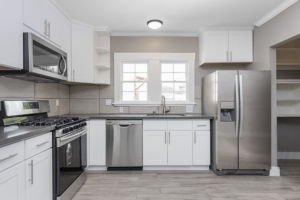 Most of us associate bigger with better when it comes to the modern kitchen layout. Not true in the aging-in-place kitchen. When you're renovating an existing kitchen for an older adult, you want to keep the refrigerator, sink and oven as close together as possible while still giving a wheelchair or walker enough space to maneuver and turn around safely.
The Americans with Disabilities Act, or ADA, includes a long list of criteria for the aging-in-place kitchen. When it comes to creating the safest kitchen workspace possible, here's what the ADA has to say.
In a pass-through kitchen where counters, appliances or cabinets are on two opposing sides, or where counters, appliances or cabinets are on a parallel wall, clearance between all opposing base cabinets, countertops, appliances or walls within the kitchen work area must be a minimum of 40-inches.
In U-shaped kitchens enclosed on three contiguous sides, clearance between all opposing base cabinets, countertops, appliances or walls within kitchen work areas must be a minimum of 60-inches.
The kitchen must have at least one 30-inch wide section of counter space at a minimum.
Ovens must have controls on the front panels and not require you to reach across the burners.
Combination refrigerators and freezers must have at least 50-percent of the freezer space a maximum of 54-inches above the floor.
The takeaway here is that the aging-in-place kitchen needs to account for older adults who struggle with mobility, strength, or both. A kitchen has to be safe for every aging-in-place adult, including adults who are in wheelchairs and who may have difficulty grabbing, lifting, or moving everyday kitchen items like pots of water and hot pans from the oven.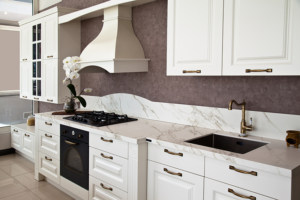 Slips and burns are two of the most common kitchen injuries. Something as simple as putting your sink close to the cooktop can drastically reduce the chance of spilling a heavy pot of water as it's carried to the stove. Similarly, the fewer steps you have to take to walk food from the refrigerator to the sink means fewer chances for slips and falls if water or other liquids happen to find their way to the floor.
Whether you're reconfiguring your current kitchen's layout or starting from scratch, pay attention to the triangle and you'll be one step closer to creating a safe and efficient place for you or your loved-one to cook.
Tips for Configuring Your Aging-in-Place Kitchen Triangle
Follow these 5 tips for configuring your aging-in-place kitchen triangle and check out my picks for the best products to bring your perfectly-configured aging-in-place kitchen to life.
Tip #1. Put Your Sink and Stove Close Together
Aging is synonymous with reduced mobility. Older adults just can't move around the way they did when they were younger. Keeping the kitchen sink and stove close together makes things like filling a pot of water and transferring it over to the stovetop easier. And, in the aging-in-place world, easier almost always means safer.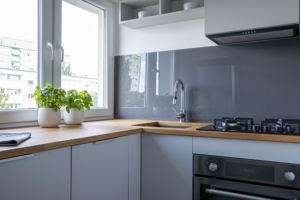 There is such a thing as too close, though. You need enough counter space between the sink and the stove to give pots, plates and other cookware a place to sit. If the kitchen is long and narrow, like a galley kitchen, you can also place the sink and oven directly across from one another. This will get them close together and maintain the triangle for a safe flow in the kitchen.
Pro Tip 1: While we're talking sinks, make sure you choose a shallow one. Shallow sinks are safer for aging-in-place than traditional ones which can be deep and hard to reach into. Shallow sinks – less than 8-inches deep – are best.
A shallow kitchen sink worth considering is:
BAI Shallow Stainless Steel 16-gauge Kitchen Sink
BAI isn't a well-known brand but they make a quality shallow sink worth looking into. At only 5-inches deep, this sink is extremely shallow – and great for aging-in-place. What I like about it is that it's also wide so it can still hold a good number of dishes. This sink will keep an aging-in-place adult from reaching into a deep sink and still handle all of the cooking and cleaning that comes with preparing a big family meal.
Tip #2. Keep Your Oven on the Same Plane as Your Countertop
Designing a kitchen where an older adult has to reach down too low or up too high is just asking for an injury. Most conventional ovens have the stove on top and a large, sometimes heavy, door that opens down. The trouble with this type of oven is that it requires an older adult to bend over and reach into the oven to put a dish in or take a cookie sheet out. This won't fly in the aging-in-place design world.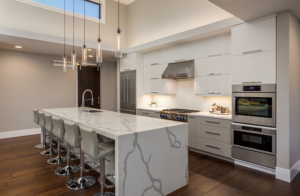 Wall-mount ovens are a much better option. For an oven to be safe and comfortable for an older adult, the plane of the oven rack should be level with the countertop. I can't stress this enough! A fast way to suffer a severe burn, a fall, or both, is for an older adult to try to lift a heavy casserole dish from the oven and up onto the countertop. Having the oven and counter on the same plane means transfers of food to and from the oven are easier, more comfortable, and much safer.
A wall-mount oven that's aging-in-place approved and well worth considering is:
GE Profile 30-inch Smart Single Wall Oven
This wall mount oven from GE is ADA-compliant, meaning it meets the strict criteria stated in the Americans with Disabilities Act, or ADA, listed above. Aging-in-place kitchen faucets, fixtures, and appliances should all be ADA-compliant so you know they're the safest products out there aging-in-place.
Not only is this wall oven ADA-compliant, but it also has an easy-to-operate touch display and a self-clean steam feature to make using and cleaning the oven effortless for older adults.
Tip #3. Choose a Side-by-Side Refrigerator and Freezer with Long Door Handles
Like the stove and sink, the third work area in your triangle – the refrigerator – should be close by. But, make sure you account for clearance space so that your parent can comfortably open the fridge and freezer doors without placing themselves in a tight corner. You'll want to find that sweet spot between enough clearance space and minimum distance required to carry food to the counter.
A great way to cut down on the clearance space needed to open and close the fridge is with a side-by-side. Side-by-sides also make it easier for an older adult to access the freezer. If you currently have the traditional fridge and freezer combo with a deep top freezer, swap it out during your renovation. Designing for aging-in-place means designing for any given number of scenarios as your parent ages. If they find themselves temporarily in a wheelchair in the future, a side-by-side is going to let them access the refrigerator and freezer the way a traditional unit can't.
The fridge and freezer you choose should have long door handles. Again, if you're trying to access the doors in a wheelchair, you need door handles that extend down far enough so you can safely and comfortably open each door.
One of the best ADA-compliant side-by-side refrigerator/freezers out there is:
Frigidaire 36-inch Stainless Steel Freestanding Side-by-Side Refrigerator
Finding a reasonably priced side-by-side that's also ADA-compliant isn't easy. Frigidaire's 36-inch side-by-side checks all the boxes for a high-quality, safe refrigerator great for aging-in-place.
Pro Tip 2: There are other ADA-compliant side-by-side refrigerator/freezers out there. However, most include a bottom freezer and short handles which I definitely do not recommend. These types of freezers still require you to reach down which can cause an older adult to lose their balance and fall forward. The bottom freezer drawers can be tricky to open when you're in a wheelchair, too.
Tip #4. Choose an Electric Induction Cooktop Over a Range
A cooktop stove that's flush with the kitchen counter is perfect for aging-in-place. The flat, smooth surface of an electric induction cooktop lets you slide a pot of water from the counter to the stove – no lifting or carrying required. 
Electric cooktops also cool down faster than other electric or gas ranges. Faster cooling means less time that the stovetop is a potential burn hazard.
Whichever cooktop you choose, the controls for each burner must be at the front of the stove, not in the back. Good aging-in-place design limits reach distance. Controls at the front of the stove keep an older adult from having to reach across a hot burner to turn the stove on and off.
Two electric induction cooktops worth considering:
GASLAND Chef Built-in Electric Induction Cooker
I like this electric cooktop because it has three burners front and center which can eliminate the need to reach over the stove. This one has a timer that you can set to turn off each cooking zone automatically. It's a great feature in case an older adult forgets to shut the cooktop off after cooking.
Empava Horizontal Electric Induction Cooktop
I really like this Empava cooktop's design for aging-in-place kitchens. It has two sets of burners, each with multiple temperature settings. The settings for every pot are controlled by the two burners. This is a cooktop that can definitely help an older adult stay safe from kitchen burns. 
Tip #5. Install a Touchless Kitchen Faucet with a Pull-Down Sprayer
Touchless faucet technology has been a game-changer for the aging-in-place kitchen. These faucets, combined with a pull-down sprayer with a long spray hose, can add a lot of comfort and safety for an older adult.
When your sink and stovetop are side by side, you can use the sprayer to fill a pot that's on or close to the stove. This makes the sink-to-stove portion of the triangle even safer and more efficient.
A few of my favorite touchless kitchen faucets with a pull-down handle include:
Moen Arbor MotionSense Pull Down Kitchen Faucet
Bio Bidet FLOW Motion Sensor Kitchen Faucet
Kohler Sensate Touchless Kitchen Faucet
Moen Align MotionSense Wave Sensor Touchless Kitchen Faucet
Pfister Stellen Touch-Free Pull Down Kitchen Faucet
You can learn more about these quality touchless faucets for aging-in-place by taking a look at my recent article, "The 5 Best Touchless Kitchen Faucets for Aging in Place."
It's Time to Create the Perfect Aging-in-Place Triangle for Your Kitchen
Configuring your aging-in-place kitchen triangle isn't always easy and straightforward. Finding the best place for your sink, oven and refrigerator is like putting together a puzzle that many times works best with a professional aging-in-place contractor by your side.
As you start those initial sketches and plan out your kitchen design, send me your questions using the comments section below. I'm here to help make your kitchen renovation as easy as possible. Use these tips and you'll be on your way to creating a smart and safe kitchen triangle for your aging-in-place home.
Good luck with your next aging-in-place project!
Like this post? Spread the love!