As people begin to age in their homes, there comes a time when either they or their family members start questioning whether staying home is the safest option, and rightfully so.
Traditional homes offer many obstacles such as stairs, slippery floors, high cabinets, less-than-ideal lighting for aging eyes, and numerous other challenges for older adults.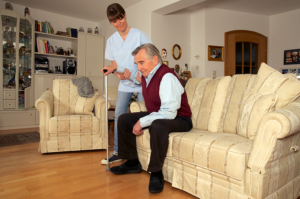 Because of this, many people consider moving to an assisted-living facility or a nursing home, despite their deep desire to stay in the home they love. In fact, 90% of people feel more comfortable aging in their own home than in a nursing home or assisted care facility.  
I've spent my career as a professional contractor making it possible for older adults to do just that – safely age in their home for a longer period of time. And, one of the best ways to make sure your home is safe for your older parent is to renovate their home to accommodate a live-in caregiver.
Renovating your parent's home to house a live-in caregiver and adding upgrades to the rest of the home to make it safe for aging in place will allow them to live securely in the comfort of their own home for years to come.
A live-in caregiver can provide several benefits while allowing your parent to age at home.
Live-in caregivers can provide you with a multitude of different services such as:
Medication reminders
Meal preparation
Help with bathing and going to the bathroom
Help with daily household chores
Companionship
Immediate contact with emergency services if the need arises
Live-in caregivers can deliver a wide variety of care that's specialized to exactly what you need, but you may want to make some changes to your home before hiring someone.
What Renovations Do You Need to Make?
When renovating for aging-in-place, it's best to create a separate living space in the event that you decide to welcome a live-in caregiver into your home.
Utilize the Spare Bedroom
Many people, especially if they've been in their home for decades, tend to use the spare room as a catch-all for random items around the house. If you're in the midst of renovations and have a spare bedroom available, it's best to clear the room out now. This ensures that when you decide to bring in a caregiver, they'll be able to move right into the room and you won't have to spend time preparing it.
Create a Suite for Your Caregiver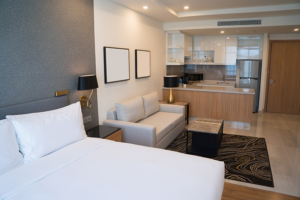 If you want your caregiver to have a bit more separation from you, consider creating a suite for them. Many live-in caregivers are provided with basement bedrooms, but if you're already renovating the rest of the home you may want to create an even more welcoming space for them.
Consider creating a studio space in the basement where they can sleep, socialize with anyone who comes to visit them, and make the space their own. You can also include a bathroom, and a kitchenette so they don't have to come upstairs when they're having their down time. Having this separation will allow them to have a space of their own where they can relax while still being able to help you when needed.
If you don't have a basement, but your property is bigger, you could also consider creating a small studio that's separate from the main house. If your needs require immediate assistance, just make sure you and your caregiver have monitors so that they can see when you need help if they're not in the main house.
These caregiver monitors are worth considering when the time comes.
Smart Caregiver Cordless Call System
This call system doubles as a motion sensor so your caregiver can be by your parent's side within seconds if needed, or simply know when your parent has woken up.
Funrui Home Safety Patient Alert Wireless Alarm
This caregiver alarm is wireless, has a long range and includes multiple alarms letting you customize your alerts. The transmitter can be worn around your parent's neck or by their bed so it's always close by.
AIP Renovations
Of course, live-in caregivers are trained in how to best help you with your needs, but certain AIP renovations will help them do their job more easily.
Bathroom Grab Bars
If you have trouble going to the bathroom on your own, you can install grab bars. These bars will make the bathroom experience easier on both you and your caregiver depending on the level of care you need.  
Here are two grab bars that will significantly increase the safety of your aging-in-place bathroom.
Moen Home 24-inch Bathroom Grab Bar
I always recommend this heavy-duty grab bar to my clients because it can support up to 500-lbs – that's twice the amount that the Americans with Disabilities Act (ADA) requires. Few other grab bars on the market can make this claim.
Keeney Angled Grab Bar
This angled grab bar is a smart add-on to any aging-in-place shower. Not only is the shape conducive to older adults of varying height, but its built-in soap bar shelf gives your parent one less reason to extend their reach in the shower and risk a slip or fall.
For more on the best grab bars out there for aging in place, take a look at my article, "The Best Bathroom Grab Bars for Aging in Place and How to Install Them."
Walk-in Showers
Similarly, if you currently have a bathtub, you can install a walk-in shower instead. Walk-in showers eliminate the need for your caregiver to help you step into the tub, which can greatly reduce the risk of falls. 
Converting a tub to a walk-in, zero-threshold shower is a serious renovation project. If you're a DIY novice, this is a good time to call in a professional contractor. If you have plumbing and structural renovation experience and this type of complex project is something you're ready to tackle, you can check out my article, "Converting a Tub to a Zero-Threshold Shower." I'll walk you through the renovation step-by-step and give you a few tips along the way.
Stair Lifts

If your bedroom is on a different floor than the main living areas and you have trouble getting up and down the stairs, you may want to consider installing a stair lift. Your caregiver will still need to help you in and out of the seat, but the lift greatly reduces the risks associated with them manually helping you navigate the staircase.  
Here are a couple of stair lifts that have a good reputation for safety and comfort, and are worth checking out as you renovate for aging-in-place.
AmeriGlide Horizon Standard Chair Lift
This stair lift from AmeriGlide can easily handle 300-lbs of weight, and has a comfortable seat, footrest and sidearms. When your parent reaches the top of the stairs, the chair swivels out and gives them plenty of clearance to safely exit away from the wall and well in front of the top stair.
Nautilus Custom Stair Lift
Unlike most other standard stair lifts, the Nautilus stair lift is customized to your staircase. They take your staircase's measurements, accounting for any landings or curves on the way up, and custom build you the stair lift that will work best for your home. Each of their custom lifts is easy to use and folds flat against the wall when not in use.
How to Afford a Remodel for Your Caregiver
Depending on if you want to create a brand-new addition or if you just want to include devices that will help your caregiver help you, cost can be prohibitive during renovations. Oftentimes, cost is a major determining factor when it comes to crafting a home that's both good-looking and aging in place and caregiver friendly, but there are options if you're worried about the financial burden.
While most older adults cap their renovation budget at around $17,000, it's not uncommon for renovations to cost more than that. In that case, there are other options available that don't require you to dip into your savings accounts.
Here are three other options to explore:
Medicare doesn't typically fund remodels, but it will fund ways to make your home more navigable by paying for lifts, walk-in tubs, and other accessibility devices. Unfortunately, they typically only cover the device itself, so you will likely have to pay someone else to install it.
There are over 400 programs available throughout the country for elder care. These programs are often funded by the local, state, and federal government, the Department of Veterans Affairs, non-profit and private organizations, and other agencies. To find a program that's right for you, check out Paying for Senior Care.
If your savings accounts are running low, consider a reverse mortgage. This loan allows older adults to get some of the equity they have invested into the home back. You can opt to take the loan in one lump sum or in monthly payments, so it's a great way to fund any renovations you need to make your home work for you as you age.
Investing in a renovation to accommodate a live-in caregiver is an investment in your ability to safely age in place longer.
Whether you're making large changes to your home to prepare for your live-in caregiver or smaller changes that add up, it's comforting to know you have options when it comes to aging in place at home. As you plan your remodel, send your questions my way by using the comments section below.
Good luck with your next aging-in-place project!
Like this post? Spread the love!