If you are looking for style besides practicality out of your kitchen fixtures, black kitchen faucets can help make your kitchen stand out in your home. Black kitchen faucets give an air of modernity to your kitchen and make a strong impression on people when entering the room for the very first time.
A black kitchen faucet especially stands out in an all-white and minimalistic kitchen. A deep matte black color gives a strong character to a fixture than may otherwise seem ordinary.
Things to Know
Cleaning a black kitchen faucet is not too different from cleaning any other kitchen faucet. However, a drawback of such a faucet is that they tend to lose their color and fade as the time passes. Therefore, you need to be careful about what materials and tools you use to clean your faucet.
You should avoid using any cleaning products made from harsh chemicals as that might make your black faucet fade faster. Instead, simply use some water, as it is sufficient most of the time. Moreover, a softer cloth might also help maintain your faucet's color than a more rigid type of cloth while also sufficiently cleaning it.
7 Best Black Kitchen Faucets
Let's look at the seven best black kitchen faucets that can give your kitchen a contemporary look.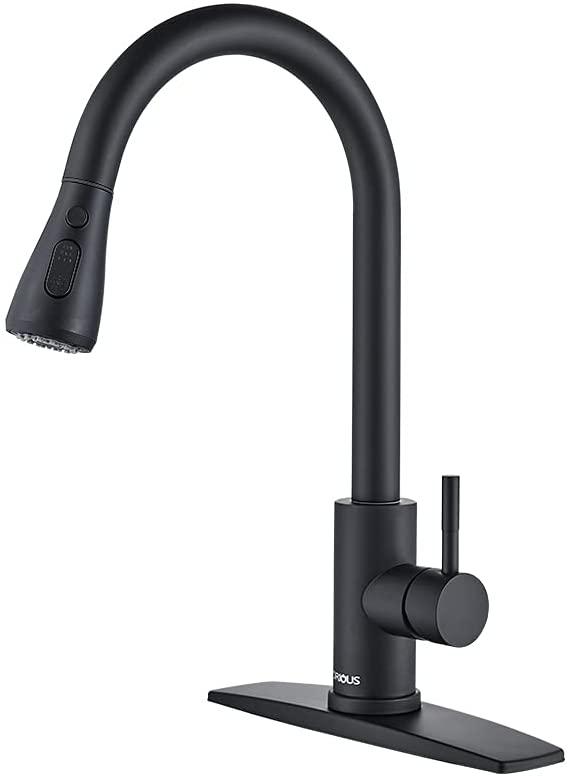 This kitchen faucet is made of eco-friendly stainless steel that ensures durability and longevity. The matte black finish on the faucet also makes it resistant to corrosion and rust. This faucet is also not made with any lead, prioritizing your and your family's health so you safely drink water. It has a flow rate of 1.8 Gallons per minute.
It has a single lever handle with three different spray setting modes (Stream, Spray & Pause) for a power clean. The retractable hose is also very durable and resistant to high temperatures. The sprayer head can swivel 360 degrees, allowing you plenty of flexibility. The hose is straightforward to install on your own in 15 minutes, and the deck plate can fit one-hole and three-hole kitchen sinks.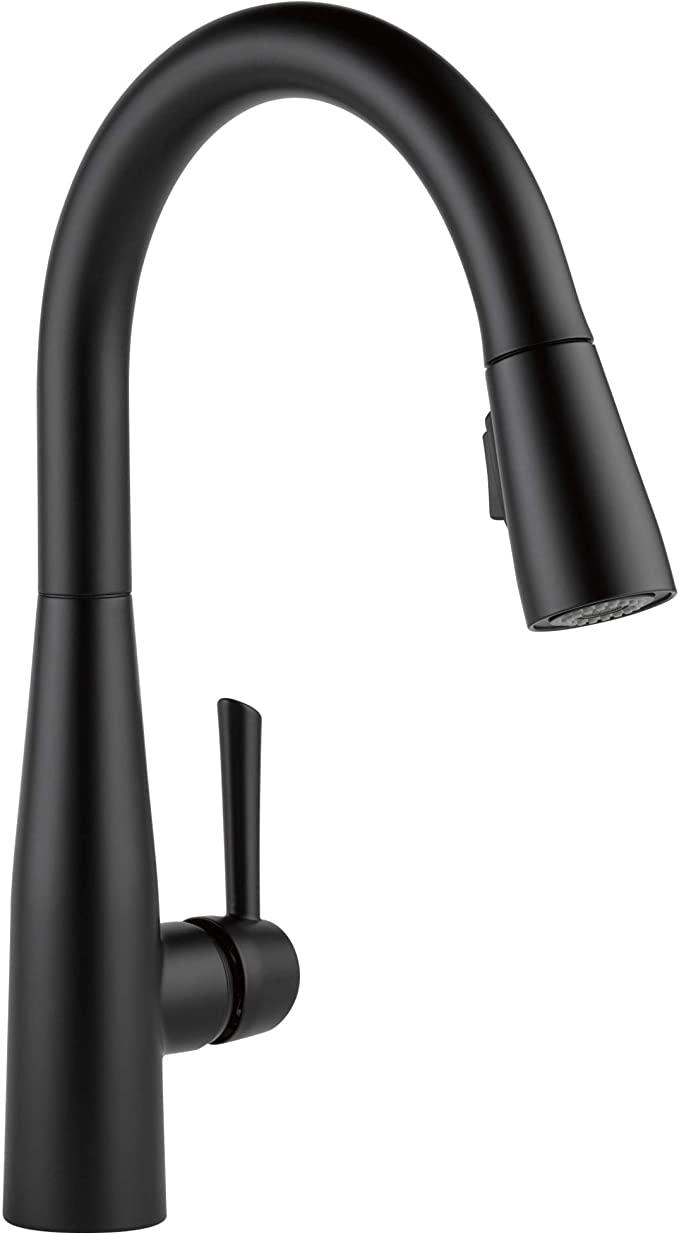 This Essa kitchen faucet has Delta's exclusive Diamond Seal Technology that reduces leak points and prolongs the life of the kitchen faucet by double the industry standard.
The magnetic docking technology of this Delta faucet secures your pull down sprayer into place, preventing any damage to the sprayer or the hose by frequently unlatching and dropping it into the sink.
The installation of this kitchen faucet is effortless as it fits both single-hole and three-hole sinks. It is also very easy to clean, so you do not need to use any cleaning products made of harsh chemicals.
Looking for more Delta faucets? Check out our review of the Best Delta Bathroom Faucets for Aging in Place.

This pull down kitchen faucet has a matte black finish that fills and modernizes your kitchen. It includes a functional but stylish 22.5-inch tall neck spout for easy reach.
The easily retractable pull down hose is four times better than most kitchen faucets on the market, offering flexibility during use. Moen's Power Boost technology allows for more effective cleaning or faster filling by simply pressing the button on the spray head.
Moreover, it features the Duralock quick connect system so that you can install it faster on your own. You can also check the accessories included in the Align collection to see what matches your new stylish faucet.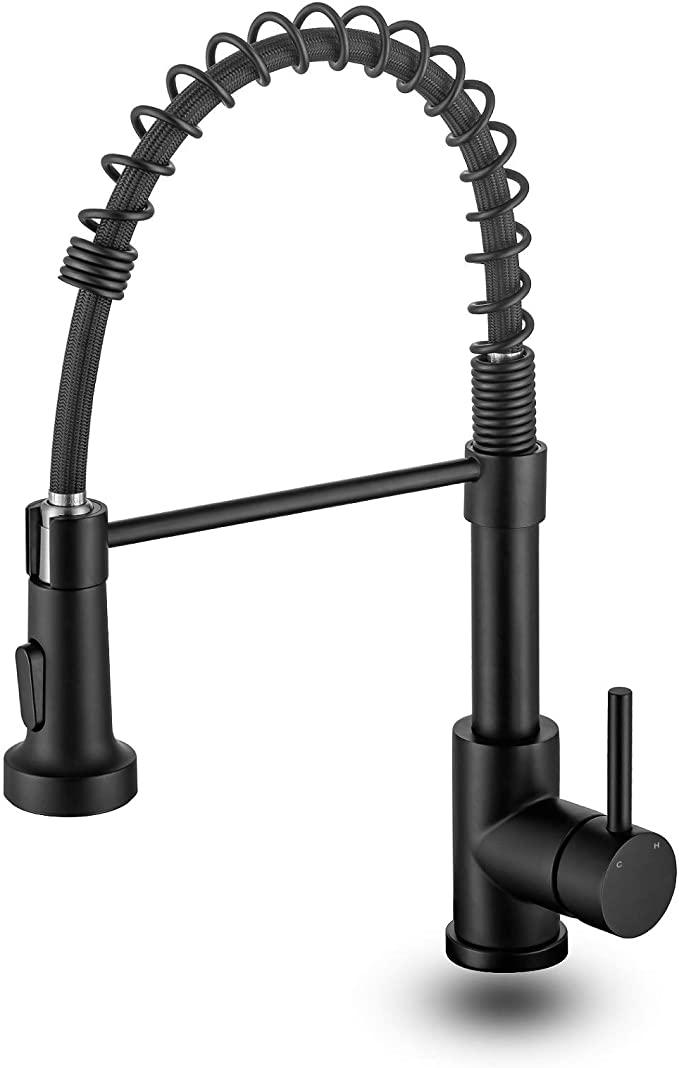 The Bashden pull down sprayer faucet is an extremely practical fixture for your aging-in-place kitchen. It is straightforward to install by yourself and comes with an installation video that will make it an uncomplicated and fast process, saving you money by not hiring a plumber.
This faucet is compatible with most 1 hole and 3 hole basin sinks, and its modern design adds a flair of sophistication to your space. This faucet includes two spray modes on a dual function head, with 360 degree rotation. It also has a single lever handle to efficiently controlling the water temperature and the flow volume. The retractable hose is attachedto a spring sink neck for easy movement.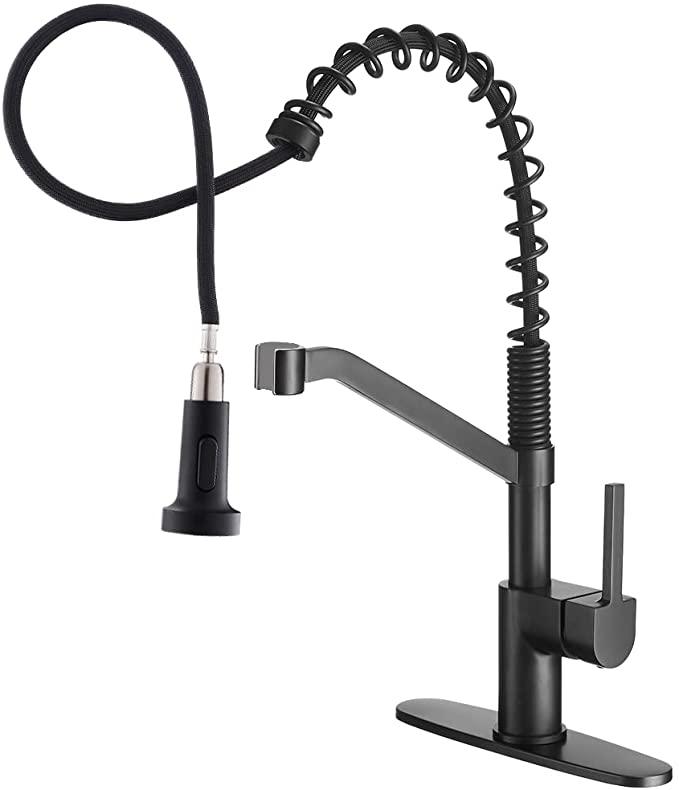 This OWOFAN kitchen faucet has a sturdy commercial-style design that will last you for a very long time. It has gone through several stages of testing to ensure that it will provide maximum performance to the user. The brass stainless steel body is lead-free, prioritizing safety for healthy water drinking.
The high arc hose is made of high-temperature-resistant cross-linked Polyethylene (PEX). The spray head can swivel up to 360 degrees, and the hose's 18-inch reach makes washing dishes an extremely easy process. The single lever handle helps you control water temperature and flow volume easily. The spray head also includes two modes for convenient cleaning.
The multi-layer brushed nickel coat makes your faucet resist rust and corrosion, giving it longevity. It is also very easy to clean.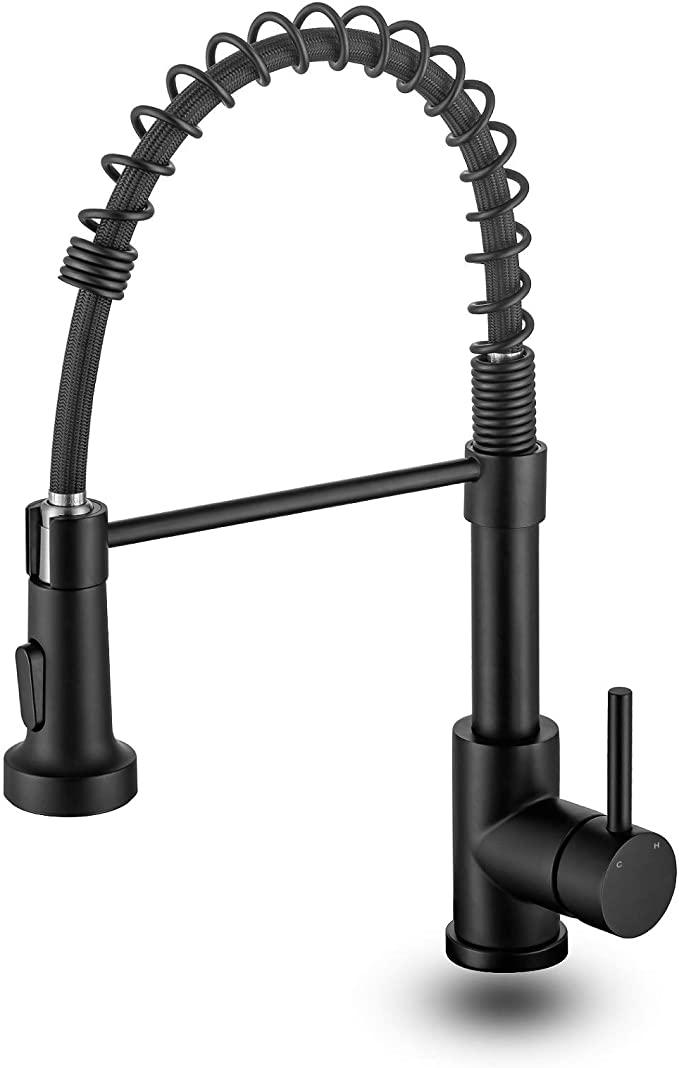 With the Lufeida kitchen faucet, you get a 9.4-inch spout for easy reach with two spray modes (Stream and Rinse) that help you clean quickly but efficiently your dishes without any spluttering. This faucet has been explicitly designed to have a durable build that prevents leakage.
The high-quality braided hose also has a long reach for ease of movement while washing the dishes. Moreover, cleaning this kitchen faucet is a straightforward process.
This professional-style kitchen faucet will give your kitchen a contemporary design to enrich the space.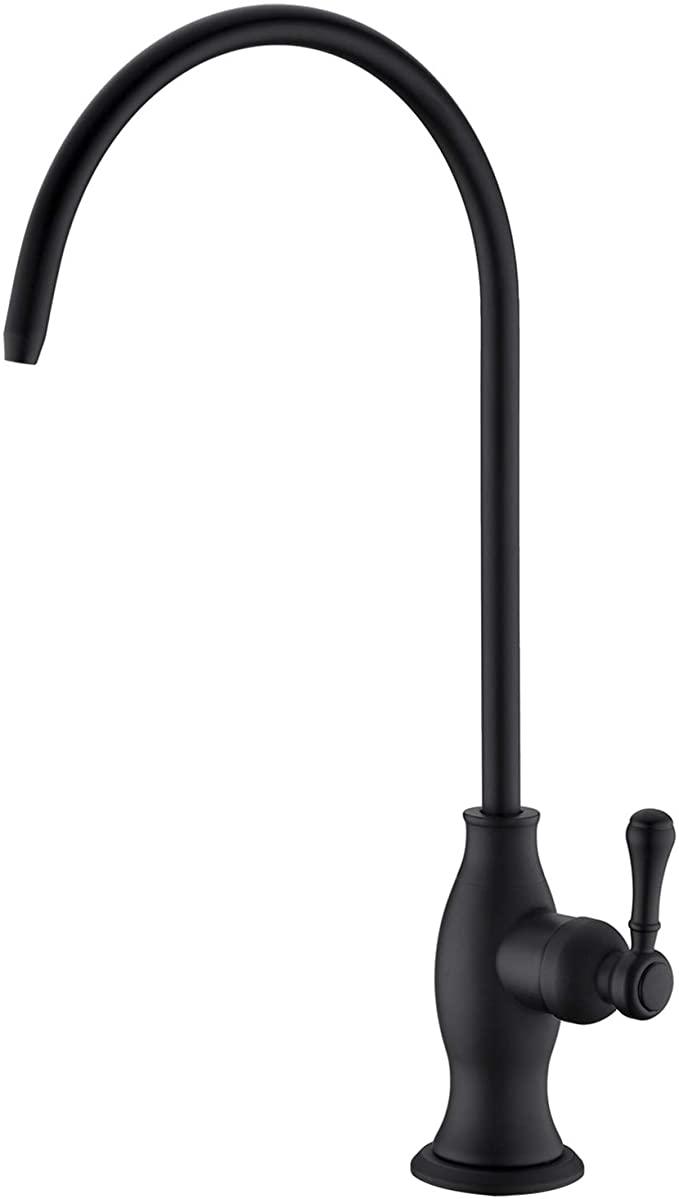 This stylish and unique kitchen faucet will add character to your kitchen. It has a long neck spout with a height of 8.86 inches. The faucet is also very easy to install by yourself.
The matte black finish resists rust and corrosion, and it is lead-free, allowing for healthy water drinking. It also has a ceramic valve core.
This professional water purifier faucet has a water filter system that can be stored under the kitchen sink.
Conclusion
In most aging in place homes, fixtures are mainly purchased based on their practicality. However, when something has to be practical, it does not mean that it cannot be stylish. A black kitchen faucet will give your kitchen a modern and effortless look without sacrificing comfort and ease of use. Based on the recommended options above, you have a wide variety of black kitchen faucets that you can choose from to match the specific design of your kitchen.
Like this post? Spread the love!