When choosing a shower grab for bathroom safety, there are several factors you have to consider. First, the weight, mobility limitations, and cognitive disabilities of the user. Then, the type, mounting style, and material used to make the shower grab.
This article will review our top 7 recommendations for shower grab bars and detail the benefits of each.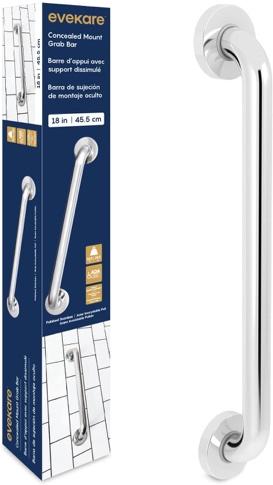 Aside from being used as bathroom or shower grab bars, they can also be used as toilet grab bars or however else you wish.
Durable and sturdy. They are made of quality grade 304 stainless steel. They are 1.25 inches thick with a weight capacity of up to 550lb. Therefore, they are rust and corrosion-resistant.
The Evekare grab bars are available in a wide range of finishes to suit your decor. The finishes include gold, matte black, stainless steel, gunmetal, oil-rubbed bronze, and brushed rose gold. They are also available in a variety of lengths (8″, 12″, 16″, 18″ 24″ and 36″) to suit your needs.
Easy to Install. This bathroom grab bar comes with all the necessary mounting accessories and essential elements you need. In terms of grab bar placement, you can mount them horizontally, vertically, or diagonally. The manufacturer also provides detailed installation instructions. Note that installation may involve a bit of drilling. Therefore, if you are not confident about your handyman skills, hire a professional for the task.

Excellent rating. The Changing Lifestyles Safe-er-Grip 16″ Bath & Shower Handle is highly reviewed and rated on Amazon. It has thousands of reviews, and most buyers are satisfied with it.
Easy to install. The suction cup design makes it easy to mount. It can be installed as a bathtub or shower handle to enable you to enter and use your bathroom safely. It can also be used on the shower wall.
Strong suction. It is designed for a firm grip on the recommended type of walls for suction grab bars. It has a tab lever that further reinforces a secure grip on your bathroom walls or bathtub. Simply flip the tabs to ease the seal if you need to dismount it.
A textured rubber handle offers an excellent grip.
Although the Changing Lifestyles Safe-er-Grip 16″ Bath & Shower Handle is a great product, its suction design presents some challenges. First, it is not an ADA compliant grab bar. Secondly, it has a limited weight and force capacity. Therefore, it cannot bear your full weight. But, it is great as a mobility assist device.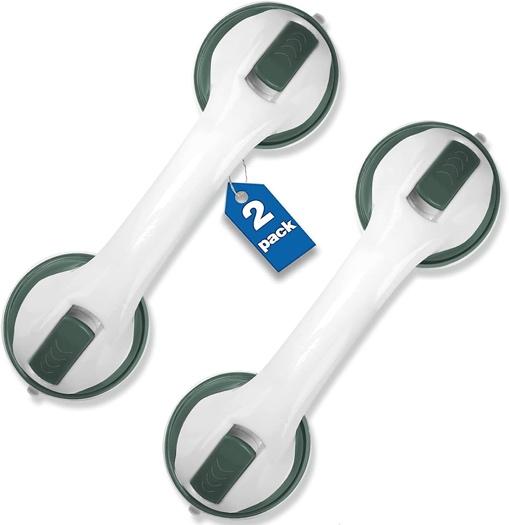 Sturdy and durable. The shower grab bars are made of plastic. Each has two suction cups that offer a strong and firm grip on non-porous walls. They are 12 inches long.
Easy to Install. Like the Changing Lifestyles Safe-er-Grip 16″ Bath & Shower Handle reviewed above, the suction grab bars do not require any drill, specialized tools, or skills. Similarly, they have locking latches that make them easy to mount and dismount.
Super Compact. They have a light, compact design that makes them easily portable. Therefore, you can bring them along to use in your hotel or guest bathroom.
They come as a pack of two. You can use one at a time or both for extra support. They are available in 3 color options -green, black, and grey to suit your decor needs.
We found that they easily fall off the wall requiring that they are re-adjusted regularly. They are best suited for use by kids and lighter people. Even so, you should not place all your weight on them.
Firm and safe. It is made of 304 stainless steel, which is durable and corrosion-resistant. The shower handle can support up to 500lbs. As long as it is properly installed, you do not have to worry about it coming off accidentally.
Other than being used as a bathtub or shower handrail, it can also be used to place towels and clothes. It can also be installed in other indoor locations to reduce the risk of slips and falls, such as stairways, toilets, kitchens, laundry rooms, near the door, etc. It is 12.79 inches long and 0.98 inches thick, offering enough space to hold on to or place items.
Easy to install. Each bar comes with the necessary accessories for mounting, including stainless steel screws, 2.6-inch flanges, a 3-hole flange, and wall covers. You can install them as vertical or horizontal bars.
Come as a pack of two. You can install both in one part of the house or different parts of the house. Backed with a 90-days satisfaction guarantee and 1-year limited warranty.

Built-in Shelf. One of the most outstanding features of the Moen LR2356DCH Home Care is its built-in shelf. The shelf can be used to place soap, shampoo, and body wash for easy reach when bathing.
High weight capacity. It has a weight capacity of 250lbs. However, if mounted on studs or using the Moen SecureMount system, it can withstand up to 500 pounds.
Stylish and durable. It is made of stainless, which is strong and sturdy. It is available in 3 finish options to suit your decor styles – a warm brushed nickel finish, a mirror-like chrome finish, and a rich oil-rubbed bronze finish. The finishes are corrosion-resistant for long-lasting performance. It is backed by the Moen's lifetime limited warranty against leaks, drips, and finish defects.

Adjustable design. The grab bar handle has adjustable width and length that ranges from 14" to 17" and 3" to 7" respectively.
Easy to install. It is designed to fit any style of bathtub. It has a clamp-on-safety stainless steel locking mechanism for easy mounting. The attachment points are lined with rubber pads to ensure the grab does not scratch your bathtub. The rubber pads also ensure a firm and secure grip. You do not need any tools or specialized skills to install it. However, note that this tub rail should not be used on fiberglass tubs.
The frame is made of white powder-coated steel, which is durable and stylish. This bathtub safety grab is backed by a limited lifetime warranty from Drive Medical. It has a weight capacity of 300lbs.
Lightweight and compact design. This makes it easily portable, whether from one bathtub to another or from one place to another. It has an overall height of 22 inches and weighs 7 pounds.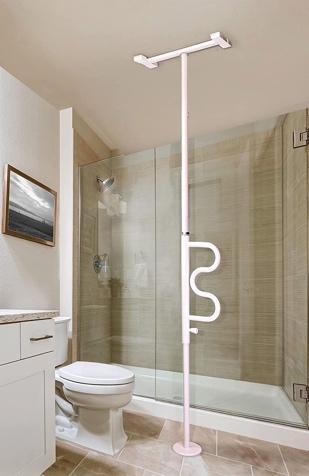 Easy to install. The Stander Security Pole and Curve Grab Bar employ a tension mounting mechanism. You do not need wall mounts, screws, or screws to install it. Set up take a few minutes. It should be installed on a flat ceiling and floor. It should not be installed inside a bathtub, shower, or on slanted or vaulted ceilings. To reinforce the fit, use the wrench included in the package to create further tension.
Ergonomic and non-slip grip. It has a curved grab bar that provides a secure non-slip grip. The grab bar has a ladder-like design with four different sections of the handgrip, offering the user a natural hand-over-hand motion. It rotates all around and locks into place every 45 degrees. You can move around the pole while holding the grab bar.
Adjustable height. Its floor to ceiling is adjustable within a range of 7-10 feet. Therefore, if you move it to a room with a higher or lower ceiling, you can adjust its height accordingly.
Aside from being used as a shower grab rail, it can also be used as a toilet, bedside, chair standing rail, or transfer pole.
Conclusion
Our best shower grab bar selection includes suction grab bars, floor-to-ceiling bars, bathtub bars, and fixed wall mount bars. While suction bars are suitable for mobility support, you should not put all your weight on them. On the other hand, fixed wall mounts or floor-to-ceiling shower safety bars are quite sturdy and can handle up to 300lbs.
Our pick for the best shower grab bar overall is the Evekare 18″ Grab Bars for Bathtubs and Showers. If you want a pair of suction grab bars that you can mount and dismount with ease and one you can bring along on your travels, go for the Budding Joy Shower Handle – 2 Pack.
The Moen LR2356DCH Home Care Safety Grab Bar offers easy access to your bath products, while the Stander Security Pole and Curve Grab Bar has premium quality and can be used in different parts of the house.
All the shower grabs reviewed in this article are high quality and easy to mount. For a more detailed look at selecting the best shower grab bars, read this article.
Like this post? Spread the love!