If you want to make your home or a loved one's home safe for aging in place without drilling, no drill grab bars are a great option for assisted mobility. The most common types of no drilling grab bars include suction grab bars, bathtub rails, and floor to ceiling rails. They utilize suction, clamp mounting, and tension mounting mechanism, respectively.
Suction grab bars can offer extra support with mobility. However, they have a low weight capacity and are not ideal for pushing yourself down or pulling up. A standing pole or bathtub rail is better suited for that.
The main advantage of suction grab bars is that they are light and compact. So, they are portable, and you can bring them along on your travels. However, they have to be installed on a flat surface.
On the other hand, standing poles can be easily moved from one room to another but may be too cumbersome to carry during travel. Bathtub rails are restricted to use on bathtubs only.
This article reviews the best no drill grabs for aging in place in the various categories and why they stand out.
Best Suction Grab Bars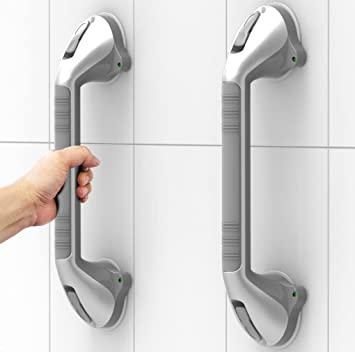 Tool-free Installation. These Aqua Chase suction shower grab bars have a unique design that ensures a firm and stable grip on the wall without requiring drilling or special mounting devices. Each is designed with two strong plastic suction discs that create a strong seal on the wall. They have an indicator that turns green once the seal has been made. For a firm mount, clean the discs and the surface you will be mounting them on thoroughly. Then, press the suction discs hard on the surface until the indicator light turns green. Finish by pressing down the flip-up tab to secure the grip. You will feel negative pressure, and the greater it is, the better the suction. For easy dismounting, they have an installation lever that you pull up to release the grip.
Beautiful dual-tone design. These suction grab bars are available in a wide range of dual-tone designs, including gray, black, dark red, and dark blue, with either white or metallic silver parts to suit your interior decor. They are also available in a 12″ size. You can buy them in pairs or as a single unit.
The suction grab bars have a wide range of applications for balanced assist rather than full body weight support. They can be used as steady handles for balance in the bathroom, toilet, or bathtub. They can also be mounted on the refrigerator, glass door, door panel, car window, etc.
High quality. They have heavy-duty construction. They are made of 90% ABS for sturdiness and durability. The manufacturer also provides a one-year warranty against manufacturing defects.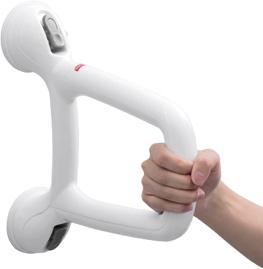 Easy, drill-free installation. The TAILI T-Shaped grab bar is another great option for a suction safety bar. Like the AquaChase suction shower grab bars, it has locking latches to secure the bar sturdily on the wall. It has enlarged suction cups to provide a wide surface area for a firm seal. For optimal safety, it should be installed vertically rather than horizontally.
It can be installed in many places as long as the surface is non-porous, flat, and dry. For example, it can be installed in a bathroom, toilet, bedroom, door panel, living room, etc.
T-Shape Design. The T-shape handle offers a variety of holding positions. It has silicone anti-slip particles on the inside for a firm grip. The suction bar is also available in an L-shape design.

Hassle-free installation. Just like the other suction grab bars highlighted in this article, this Carex suction grab bar does not require any tools or drilling to install. It has dual locking suction cups that ensure it locks in place. They also have an indicator that turns red to green once the seal is secure. It is easy to dismount using the release lever.
Suitable for travel. The 12″ suction grab bar is suitable for travel. Its lightweight and compact design make it convenient to carry. Its small size takes up minimal luggage space and weight. You can easily install it in your hotel or guest bathroom as long as the surface is smooth, flat, and non-porous.
Best Bathroom Tub Safety Rails

Clamp mounting system. The KXT premium bathroom tub safety rail is easy to install and uninstall without requiring drilling or specialized tools. It has a strong stainless-steel locking mechanism that enables you to clamp it on the side of your bathtub. The contact points are lined with rubber pads to enhance the grip and ensure that the clamp does not scratch your bathtub. The clamp's width is adjustable within a range of 3″-7″ to fit different bathtubs.
Sturdy yet lightweight. The bathtub safety rail is made of textured heavy-duty steel to withstand your weight without breaking or bending. It is compact and lightweight – it weighs about 7.8lb for easy portability.
Aside from being made with stainless steel, the KXT premium bathroom tub safety rail is coated with white powder that enhances its corrosion and rust resistance. Furthermore, the white color blends well with most decor styles.

Easy to install. You do not need any tools or specialized skills to install the Drive Medical Adjustable Bathtub Grab Bar. Like the KXT premium bathroom tub safety rail, its design incorporates a clamp-on-safety stainless steel locking mechanism. The attachment points are lined with rubber pads to ensure the grab does not scratch your bathtub. The rubber pads also ensure a firm and secure grip. Although the adjustable clamp width enables you to install it on most types of bathtubs, it should not be used on fiberglass tubs.
Strong and durable. The frame is made of stainless steel for sturdiness and durability. It is coated with a white powder that enhances its durability and aesthetics. Its white and black exterior is stylish and fits well with most décor styles. The Drive Medical adjustable bathtub grab bar is backed by a limited lifetime warranty. It has a weight capacity of 300lbs.
Adjustable width and length. The grab bar handle has adjustable width and length that ranges from 14" to 17" and 3" to 7" respectively.  This ensures that it can be adjusted to suit the user's height for a secure grip and optimal safety.
It has a lightweight and compact design that makes it easily portable. You can quickly and conveniently move it from one bathtub to another or from one place to another. It has an overall height of 22 inches and weighs 7 pounds so that it can be carried separately or fit into your luggage.
Best Floor to Ceiling Rails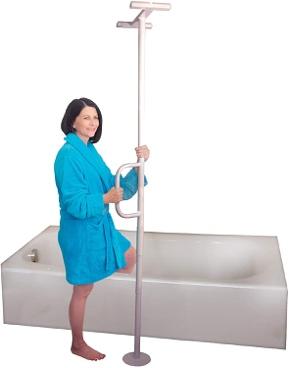 Tension Mounting Mechanism. The Able Life Universal floor to ceiling grab bar employs a tension mounting mechanism. It is height adjustable within a range of 7-9 feet for a secure fit in different rooms. The top and bottom frames are lined with rubber pads to prevent floor and ceiling damage. It can be installed in any room in the house, and you can change its location easily and conveniently.
ADA recommended weight capacity. The safety assist grab bar has a weight capacity of 300lbs., which is within the 250lbs ADA recommendation. It can be used when standing, stepping over a bathtub or shower ledges, standing from a toilet, or getting into a bed or wheelchair. Like other floor-to-ceiling safety bars, it should not be installed inside the shower or bathtub.
Has a grab handle. The handle is ergonomically designed for comfort and efficiency. It is curved to provide a natural and firm grip, whether using the pole to stand or sit.
Conclusion
There is a wide range of no drilling grab bars available. Our top pick for the best suction grab bars is the AquaChase 2-Pack 17" Suction Shower Grab Bar With Indicators. The TAILI T-Shaped Suction Shower Safety Grab Bar and Carex Suction Shower Grab Bar 12" are also great options.
If you want a bathroom grab rail, go for the KXT Premium Bathroom Tub Safety Rail or the Drive Medical Adjustable Bathtub Grab Bar. Our ultimate pick for a floor to ceiling no drill grab bar is the Able Life Universal Floor to Ceiling Grab Bar.
When deciding which type of no drilling grab bar to buy, consider its primary use, whether you want to bring it along on your travels, and the user's level of support.
Also, consider if the type you are considering is compatible with the type of surface you will mount it on. Read this article for more information on how to choose bathroom grab bars.
Like this post? Spread the love!