Crystal cabinet knobs are another great option for revamping your home for aging in place. Like glass cabinet knobs, crystal cabinet knobs come in various shapes, sizes, styles and colors.
The crystal accents bring vintage vibes into your home or bright sparkle elegance into modern and contemporary interior designs. You can use a crystal knob as window hardware, on your bathroom cabinet or even kitchen cabinets.
Difference Between Glass and Crystal Knobs
Glass and crystal door knobs may seem similar at a glance, but they're actually different. Crystal is made of glass, but glass is not crystal.
Glass is made from sand. The sand is mixed with sodium carbonate, calcium carbonate, and recycled glass and then heated at high temperatures in a furnace. Once it has liquefied, it is poured into a mold to form sheets of glass, knobs, décor hardware, plates, glasses, etc.
Conversely, crystals are made by infusing lead oxide and other elements in glass to make silica glass. This process makes the crystal more durable and expensive. It also makes it heavier than glass. Therefore, it feels sturdier in your hand and has better weather resistance. Crystal is clearer and brighter as it reflects light, creating a beautiful ambiance.
On the downside, crystal is softer than glass, so it is more prone to breakage – requiring delicate handling.
Glass and crystal cabinet knob options can be used concurrently. However, if you have to choose between one and the other, consider their functionality, luster, durability, and your budget.
Historically, the glass knob is a predecessor of the crystal cabinet knob. A glass knob was first used as decorative door hardware in 1826. It was pressed, and the machine cut glass knobs of different shapes and sizes.
The most common shapes for glass cabinet knobs were round, oval, hexagon, and other multi-facets. Mass production of glass cabinet knobs started in 1917.
Around this time, the patented doorknob-producing company started to make a crystal cabinet knob. The crystal cabinet knob had a watery appearance and was fitted with a spindle without threads for mounting.
Both glass and crystal doorknobs have been in and out of home decor trends over the years. They are now incorporated as classic or contemporary cabinet hardware. Antique crystal glass knobs are easily identifiable by their fine craftsmanship using solid polished brass shanks. They are more valuable though the price is reasonable.
Types of Glass Cabinets Knobs
There is a wide range of crystal cabinet knobs regarding their color, shape, base, and size.
Most crystal cabinet knobs are clear. However, others are colored, e.g., cobalt, amber, violet, emerald, green-yellow, etc. Those that contain silver nitrate have a mirrored appearance.
The most suitable sizes for crystal cabinet knobs for aging in place range between 30mm to 45mm.
Crystal cabinet knobs come in a wide variety of shapes, including round, flat-headed, size, eight, twelve facets, diamond, square, and fun shapes such as stars, bullets, etc. Round glass cabinet knobs are most suitable for aging in place as they provide a large surface area preventing strain. Multifaceted knobs are suitable, too, as long as they do not have sharp edges.
Since they are heavier than glass, crystal cabinet knobs require a heavy metal base to ensure they are sturdy and well-balanced; for example, polished brass and high quality steel. They can also have an aluminum base. Aluminum is lightweight yet sturdy. With that said, you will also come across other base materials, such as bronze and copper. The base of these different styles holds the knob together and has a mounting mechanism for easy installation.
Best Crystal Cabinet Knobs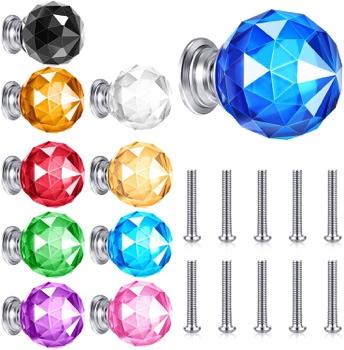 The Youyole artsy crystal glass knobs are beautiful and quality. They are exquisite, bright, and shiny and bring a touch of splendor to your home. They are more suitable for modern home decor.
These drawer knobs come in a pack of 10, 30mm colorful crystal knobs. The base is made of aluminum, which is lightweight, sturdy, and accentuates its luster.
They are versatile and can be installed on your dresser, used as a drawer pull, on your closet, kitchen cabinet, cupboard, bookcase, or as an appliance handle, etc. They come with mounting hardware for easy and quick installation.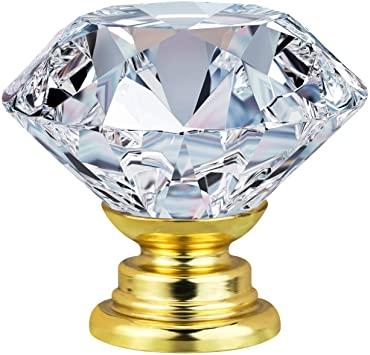 These drawer knobs are diamond-shaped. They are fashionable and beautiful. Each is well-polished for a smooth and comfortable feel in the hands. They have a diameter of 1.18 inches (30mm). Each comes with a 1-inch screw for easy installation. The base is made of a sturdy zinc alloy with a polished chrome finish.
These diamond crystal cabinet knobs are available in different styles, colors and bases, including blue, black, and pink crystals.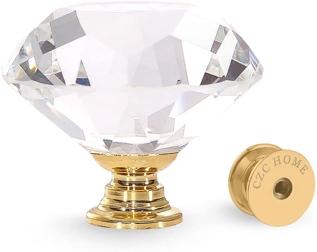 The CZC HOME crystal glass cabinet knobs are available in various sizes, colors, and bases. Regarding size, you can choose between 30mm and 40mm. Color options include dark blue, black, gray, pink, purple, and red.
On the other hand, base finishes are aluminum and gold. Both the crystals and the bases are made of high quality to ensure they are rust-resistant and waterproof. However, the entire weight of the knobs remains relatively low for easy handling.
The crystal glass cabinet knobs are smooth and shiny. They have an avant-garde effect that integrates with various home interior designs seamlessly. When light shines on them, they sparkle with a splendid visual effect in the room.
They come in three different screw sizes (22mm, 25mm, and 30mm) for easy mounting. CZC HOME offers a 30-day money-back guarantee or a 12-month warranty for quality-related issues.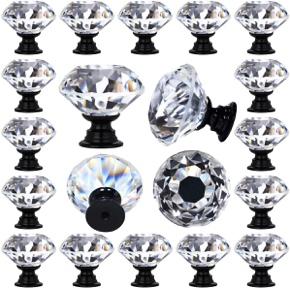 The crystal glass cabinet knobs stand out for the black bases that contrast the sparkling diamond crystals. They are also available in a bronze and silver base. For a pack of 12-pieces, they are affordably priced.
Each is 1-1/4 (30mm) in diameter for ample holding surface area. They are easy to install on dressers, cabinets, drawers, etc. They come with 3-4 mm M4-0.7 Bolts with 1″ in length; for easy installation.
Conclusion
Décor for aging in place does not have to be boring. Crystal glass cabinet knobs can help to add sparkle to your space. You can incorporate them sparingly in a few rooms or throughout the house. Since they are fragile, ensure they arrive in good condition and take care to prevent them from falling. Also, mount them securely in your cabinets and clean them regularly with mild soap, soft cloth, and water.
Like this post? Spread the love!