Doorways can be dangerous areas of the home for older adults choosing to age in place. The slight rise in elevation that the threshold creates is a tripping hazard for those with mobility issues. It can also present an obstacle for those using a walker and can make it difficult to get around the house for someone who relies on a wheelchair.
Despite the challenges they cause, exterior thresholds do serve a purpose. The threshold creates a seal to keep rainwater, snow and cold temperatures from entering the home and causing floor damage. So, when you think about modifying an exterior door threshold for aging in place, it can be a good idea to work around the threshold rather than removing it.
The most common entryway modifications involve a ramp placed over or up against a threshold to eliminate what can be a pretty drastic rise in elevation in the doorway. Some threshold modifications are fairly simple weekend DIY projects. Others, if you're dealing with older homes that have uneven floors, for instance, can get technical pretty quick.
The good news is you have options! I've put together my favorite fixes to get rid of dangerous thresholds in homes where older adults with mobility issues are choosing to age in place.
Add A Portable Threshold Ramp to the Entryway
The easiest way to modify a threshold is to add a threshold ramp to both sides of the door. This is a great option because there's no construction or carpentry work. Just lay down the ramps and you're good to go.
Many threshold ramps on the market are also portable, making them perfect for when older adults who want to be able to travel. Keep a set in your home for when your elderly parent visits and they'll be able to easily get in and out of the house with a walker or wheelchair on their own.
Finding the Right Threshold Ramp for A Doorway
Threshold ramps come in many different widths depending on the size of the doorway. You'll also need to consider the ramp height you need. This will be based on the height between the floor and the top of the threshold. Equally important is the ramp's length. How far the ramp extends in either direction should depend on how steep your parent needs the ramp to be in order to get up the ramp safely and comfortably. If body strength is an issue, having an elderly adult exert too much energy getting up a steep ramp is going to work against their ability to get around the home easily.
Just as important is slip resistance and the quality of the material. Choose a ramp that has some traction. If you're looking for a ramp for an exterior entryway, make sure the surface also has drain channels so you're not tracking in unwanted dirt and water.
Here are some options to get you started. These threshold ramps come in various sizes so it should be easy to find the right ramp for your threshold.
These portable ramps are also great for the inside of the home, too. More on that below!
Install an Exterior Wheelchair Ramp Using a DIY Kit
Sometimes the challenge for wheelchairs isn't just the entryway threshold. It's also getting to the entryway in the first place. If your older parent's home has steps leading to the front door or a landscaped pathway with uneven pavers or rocks, adding a custom ramp over top of or alongside the hazardous walkway is a great option. An inclined ramp is also a safer option for older adults who use a walker and for seniors with moderate to severe mobility issues who want to age in place.
How to Build an Exterior Threshold Ramp Using a Pre-Fab DIY Kit
The beauty of a DIY Threshold Ramp Kit is that they make the process easy with step-by-step instructions. And, most can be built with one or two people in a couple of hours, so it's an easy weekend project that will immediately make a huge difference in the quality of life of the older adult you're caring for.
Check the kit you purchase for its list of tools you'll need to complete the project. For most kits I've seen though, this list of tools should be what you need.
You'll want to have drill bits on hand that can drill small pilot holes and larger bits that can drive-in deck screws.
Most kits provide the brackets and other hardware you need but not plywood, so you may need to add the wood framing to your shopping list. A good kit will tell you exactly the wood type and dimensions you need.
Make sure the kit you choose has a minimum end-to-end width of 36-inches – the width necessary for a standard wheelchair to fit through the doorway. Also, make sure the ramp includes side rails. These will protect the wheelchair from getting too close to the edge and slipping.
One feature that's a MUST when selecting your ramp: A Flush Top Bracket. You want to make sure the top of the ramp is flush with the threshold of the doorway so that wheelchairs can easily glide through. Most quality ramp kits will include L brackets to secure the top sides of the ramp to the threshold.
Don't Overlook Interior Thresholds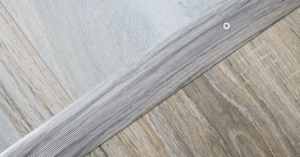 Don't forget about other doorways and thresholds in the interior of the home, too. Shower and tub thresholds are perhaps the most dangerous since they present both a tripping and slipping hazard. Modifying the bathroom with a large, walk-in shower where the shower floor is flush with the rest of the bathroom is the best way to keep older adults safe.
Thresholds throughout the inside of the home – even ones with only a slight rise in the doorway – can be a major hazard for older adults with any type of mobility issue. My preference is always to remove the door completely and add a small ramp on either side of the threshold. If you can't remove the door – if the door is to a bedroom or bathroom – threshold ramps are still my first choice. Like the exterior ramps that we discussed, these are a simple, low-cost way to instantly make mobility easier for older adults in a wheelchair.
If you don't want to stare at rubber or metal portable threshold ramps while inside and decide you want something custom, adding a custom threshold transition that's sloped, like a small ramp, is a great way to create a transition in the floor that's wheelchair friendly and ties in with the existing floor's design.
How to Build a Simple, Custom Doorway Threshold Transition
If there's only a slight height difference between the floors on either side of the current threshold – less than an inch or so – you can add a sloped threshold transition to the shorter floor to raise it to the height of the taller floor. This is pretty straightforward and a DIY project worth trying if you're looking to do the work yourself.
Tools You'll Need:
Table Saw – Your table saw needs to be capable of angled cuts to create a long, beveled edge.
Saw Horse with Clamps – Use a saw horse to secure your wood piece before you cut. This will make sure your cuts are on the money. And, it's much safer.
Electric Drill – You'll use the drill to screw the threshold to the floor. If you don't already have an electric drill, this is a good all-around tool to have on hand.
Measuring Tape – As the name implies, you'll need this to measure the length of the board.
Screws – Depending on the thickness of your hardwood, purchase wood screws that go deep enough into the floor to secure the threshold transition.
Fine Grit Sandpaper – Choose a fine grit paper. All you're doing here is lightly sanding the hardwood before applying your finish.

Wood Glue – A good wood glue will go a long way towards keeping the transition piece secure and resistant to any water damage at the seal.
Stain or Other Wood Finish – Choose the color or stain that best matches the floor to give this a seamless custom look.

Here are the general steps to take to create a sloped transition through the doorway that a wheelchair can glide over.

Step 1: Cut a piece of hardwood the length of the doorway opening

Step 2: Make a tapered bevel cut on one edge of the hardwood. This step determines how steep the new threshold ramp is for the wheelchair so don't go too hard on the angle. Go with a wider piece of hardwood so the slope is more gradual.

Step 3: Glue the sloped threshold to the floor and secure with screws

Step 4: Sand and seal the new sloped threshold

If the height difference between the two floors on either side of the doorway is more than an inch, you may be looking at a more complex project that includes building a ramp. If you're not familiar with anything beyond simple carpentry, this is probably the time to call in a professional.

A word of warning! If you're modifying a threshold in an older home, you may come across uneven, sagging floors. If you decide to create a custom threshold where the transition needs to taper from one side to the other, your day just got a lot harder. The ramp needed for this type of custom transition is called a variable-pitch ramp. It's a complex project that's best left to a professional carpenter.

Don't Stop There! There's Still More to Consider to Make a Doorway Threshold Safe for Aging in Place

Navigating the home's threshold safely is about more than modifying just the threshold itself. Remove other common dangers and modify doorways to keep the older adult you're caring for safe in their home.

Widen Doorways to a minimum of 36" to ensure a wheelchair or walker can easily get through the doorway. Anything narrower will make it difficult to get a wheelchair through. It can also put an older adult with mobility issues at risk for getting their fingers caught between the wheelchair and the doorway when wheeling through. You can read our article, Widening a Doorway for Aging in Place, to learn more.

Add Entryway Half Walls or some other sturdy waist-high surface at the entrance to the home. Older adults who face mobility issues shouldn't be multi-tasking when going in and out of their homes. It's common for aging in place adults to have groceries and household items delivered to their homes. While home delivery services add a ton of convenience to their lives, I've seen too many falls related to bending down to pick up a package while overtop of an uneven threshold. Creating a half wall or other place where packages can be placed is a simple solution to eliminate this hazard.

Adding walls and other masonry work is definitely a job for a professional. Talk to your aging in place contractor about this and any other structural modifications.

Trust Your Judgement and make sure you're comfortable with how every threshold inside and outside of the home works for the older adult you're caring for. If you decide to add portable threshold ramps on either side of your elderly parent's doorway, but the modification just doesn't look right to you – change it. The same goes for any other doorway modification you're looking to create. You know the abilities and limitations of the person you're caring for better than any product manufacturer.

Modifying a doorway threshold in a home for aging in place can span from an easy weekend DIY project to complex undertakings that require a professional. The most important thing is to know your limits and never take on a complex project that's outside of your skillset.

Let me know how you make out and, as always, leave your questions in the comments section below. I'll be happy to give you the answer and help in any way I can. Good luck with your next aging in place project.
Like this post? Spread the love!