French doors are an excellent choice for seniors as these doors serve more than aesthetic purposes; they are wheelchair accessible and allow more natural light into your home. Plus, they are generally easy to install, all of which makes them great for an aging-in-place home renovation.
However, before you embark on this project you'll want to find out exactly how much it is to install French doors. Here's everything you need to know.
Pro Tip: The key to installing french doors is planning because there are always framing and door jam issues caused by floors that aren't level. That's why one of the most important tools to have around when installing french doors is a good laser level.
What's the Average Cost to Install French Doors?
The cost of installing a set of French doors varies widely based on a few different factors, including construction materials, the condition of your floors, the location (interior or exterior door), and where you live.
However, the average range falls between $2,000 and $5,000 to install a set of French doors. Installing a higher quality door can increase the cost to up to $10,000 (or even more) – for example, installing an exterior telescoping French door in a brick wall. On the other hand, standard quality doors cost about $1,000 – for example, installing a single interior vinyl French door with a fixed panel.
The national average to install exterior fiberglass-hinged French doors is around $3,500.00.
Cost of French Doors: Interior vs. Exterior
The location of where you install the doors in your aging-in-place home will affect the cost of installation. Typically, interior French doors are built to be lighter and usually feature thinner glass, while exterior French doors are energy-efficient and heavier.
Also, the cost of installation is impacted by the quality of the door (metal v. wood, etc.).
Average Cost of Interior French Doors
If your project requires installing an interior French door, you should be ready to spend anywhere from $500 to $800 on average. The construction materials for interior French doors are considerably less expensive, unless you have issues like uneven floors, for example.
Average Cost of Exterior French Doors
On the other hand, exterior French doors can cost anywhere from $1,000 to $4,000 due to the extra construction materials you will likely need (stucco or wood repair, anchors, painting, etc.) and the quality of the doors being installed. Many of the door options come with double or triple-glazed glass and lock more securely because of their heavier hardware.
Cost of French Doors: Type of Material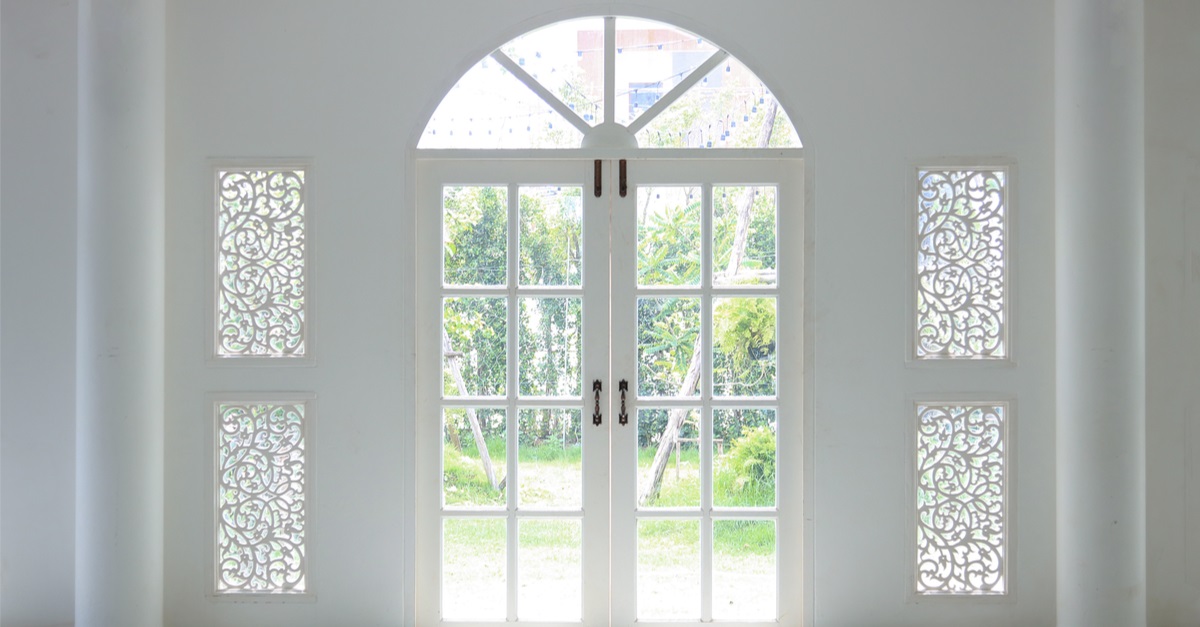 One of the major factors influencing the overall cost of doors is their construction material, and French doors are no different. You can find the frames of these doors in different materials, from vinyl to steel and several others in between.
Here is the average cost range for the different materials (excluding installation cost).
Cost of Wooden French Doors
Wooden French doors come in low-cost softwood options, such as fir and pine. They are usually priced between $500 and $4,000. Hardwood options, including oak, mahogany, and maple, are typically pricier but are excellent for exterior use.
Both softwood and hardwood options are available in different finishes, such as painted, pre-stained, and unfinished.
Cost of Vinyl French Doors
French doors made from vinyl are usually within the range of $500 to $2,000. These are generally not great for exterior use, especially in hot climates, because continuous exposure to hot weather can make them warp.
Also, they are not the best choice if you want a good insulator door. However, they are lightweight and extremely easy to clean, making them low-maintenance doors particularly suitable for interior use.
Cost of Aluminum French Doors
The cost of Aluminum French doors can range from $650 to $3,000. Like vinyl material, aluminum is lightweight and low-maintenance. Although the material does not peel, it can slightly fade over time, so periodic repainting may be necessary to keep it in great condition.
Consider using aluminum for interior use because it is a poor insulator and won't be suitable for external use in extreme climates.
Cost of Steel French Doors
French doors made from steel can cost between $650 and $4,000 on average. The material is durable and less common, making it a more expensive option. Yet, steel doors are not the best choice for external use, especially in extremely hot or cold climates.
Cost of Fiberglass French Doors
Fiberglass provides excellent insulation, and it is very durable and fairly lightweight. It is little wonder that it is considered one of the best materials for constructing French doors. The average cost of fiberglass is around $650 to $4,000. There is no need to repaint fiberglass, and it works great both in hot and cold climates.
Type of French Doors and Their Average Cost
Here is a summary of the various types of French Doors and the average cost for the materials only.
Single In-Swing Door: $300 – $1,000
Single Sliding Glass Door: $800 – $2,000
Double In-Swing Door: $400 – $4,000
Double Out-Swing Door: $400 – $4,000
Center-Hinged In-Swing Door: $1,000 – $1,500
Telescopic Slider Door: $4,000 – $6,000
Average Labor Cost
The labor cost is another factor to consider when figuring out how much to install French doors. This usually costs anywhere from $400 to $1,500, depending on the door type and where you are installing it.
It generally costs more to install heavier double doors than single in-swing models. And it is significantly cheaper to install a new door than to retrofit an existing door and existing opening.
Here's the average labor cost you can expect to pay when installing different types of French doors.
Single In-swing door: $400 – $600
Single sliding glass door: $600 – $900
Double in-swing door: $800 – $1,200
Double out-swing door: $900 – $1,400
Center-hinged in-swing door: $800 – $1,200
Telescoping door: $900 – $1,500
Bottom Line
The exact cost to install French doors will depend on the type of door you use and its location in your aging-in-place friendly home. You can expect to spend about $3,500 to install good-quality budget options, while a higher-end French patio door can cost up to $10,000 or more to install.
Good luck with your next aging-in-place home project!
Like this post? Spread the love!