If you are looking to renovate your kitchen, you will require a high-quality kitchen faucet to provide efficient performance. With that in mind, we have created a list to highlight 10 of the best Moen kitchen faucets for aging in place.
The Moen kitchen faucets in this list are stylish and functional, ensuring that they are suited to the aesthetics of your kitchen. Moen offers some of the best kitchen faucets in a wide range of finishes, colors, and designs.
You can get everything from classic designs to sleek and modern options with this brand. It also helps that you get a lifetime guarantee since the Moen faucets are leakproof and constructed from high-quality materials. These faucets create high-speed water flow providing convenience without any issues.
Let's look at the best Moen kitchen faucets with their features.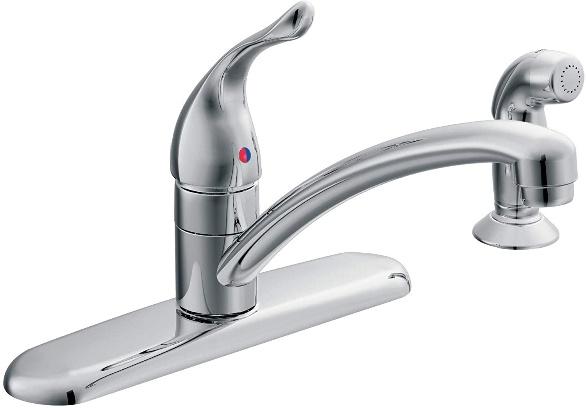 The Moen Chateau kitchen faucet is perfectly placed at any kitchen sink. Installation is easy thanks to the duralock quick-connect system that utilizes 1 or 3 holes. Thanks to the low arc, purchasing this spot resist stainless ensures your kitchen has a rustic yet modern design. This Moen product comes with a single lever handle for easy temperature and water control.
With an aerated stream, regular kitchen tasks are a lot easier. This Moen faucet also comes with a matching side sprayer to make cleaning easier and more flexible. Its high-quality cartridges can handle everyday use.
Pros
Durable
Easy to use
Comes in numerous finishes
Lifetime warranty
Cons
Not best suited for larger sinks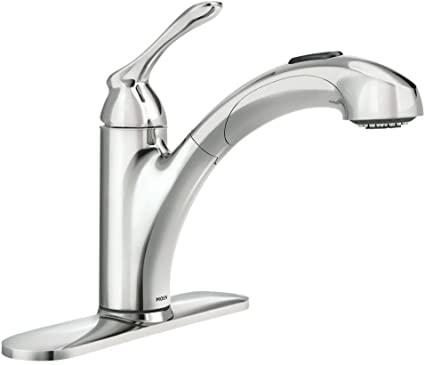 The Moen Banbury faucet is designed with a chrome-plated surface to give it a mirror-like appearance. This spot resist stainless finish is sure to add to the elegance of any kitchen while also ensuring fingerprints are a thing of the past. With this finish, water stains are removed with just a quick wipe to reveal the original luster.
In terms of functionality, you get a pullout sprayer with two functions with this Moen faucet. The sprayer can be activated by clicking a button, providing seamless access to water for improved cleaning. The sprayer can be rotated 120 degrees, while the one-handle lever makes adjusting the water easy.
Pros
Sleek design
Easy duralock-connect installation
Limited lifetime warranty with every kitchen faucet
Cons
The design of this product is not suitable for larger sinks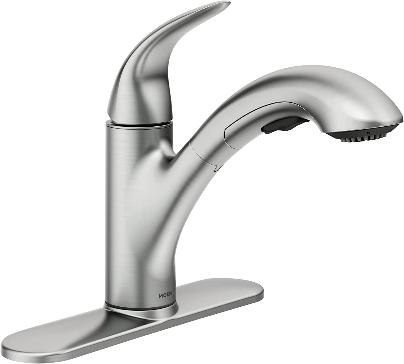 The Moen Medina faucet has been designed to provide dual water flow with its unique spout design. You get a powerful stream for heavy cleaning, and you can use the aerated stream for regular cleaning. As a one-handle lever faucet, users can seamlessly control the water flow.
Like all Moen faucets, you get a product made from high-quality materials coupled with a stain-resistant stainless steel coating that stops water stains or fingerprints. You can seamlessly operate the lever with just the fingertip, a testament to its usability.
Pros
Lifetime warranty
Power clean technology
Easy installation thanks to the duralock technology
Cons
You don't get color options to select from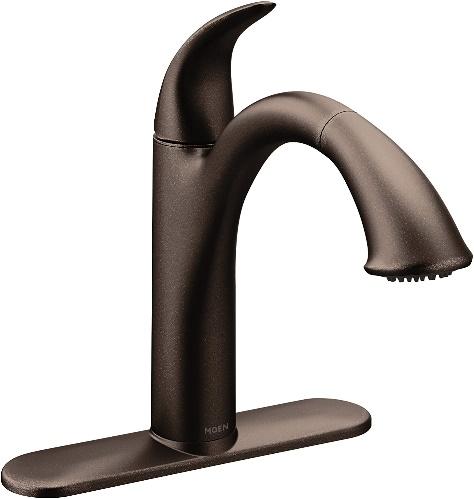 The Moen Camerist faucet comes in three finishes: spot-resist stainless finish, oil-rubbed bronze, and chrome. Each finish ensures that the Camerist faucet doesn't get water stains or fingerprints. The handle design is a low arc pullout want, making it easy to operate. A pause button lets you switch the water flow from spray mode to flow mode.
As a 2-in-1 faucet, it has a retractable reflex system to provide safe docking and smooth operation from whatever angle. You can also get an optional deck plate which you can install from three holes.
Pros
Classy design
Lifetime warranty
Power clean technology
Easy installation
Cons
The spray head is constructed of plastic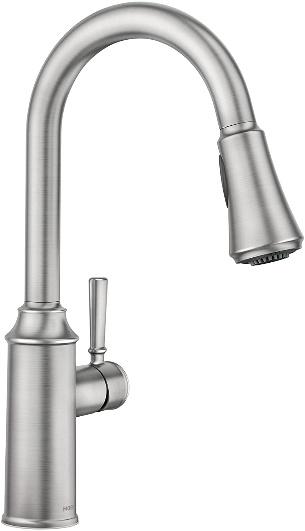 This Conneaut product is one of the best Moen kitchen faucets available on the market. It has two functional spray heads to provide various applications. The faucet comes with a reflex system for smooth and easy operation. Speaking of easy operation, it can seamlessly rotate 360 degrees to provide access to all parts of the sink. The retractable spray head can be docked from an angle.
Pros
Lifetime warranty
Easy to install
Spot-resist finish
Easy to use
Cons
Doesn't come with a power booster button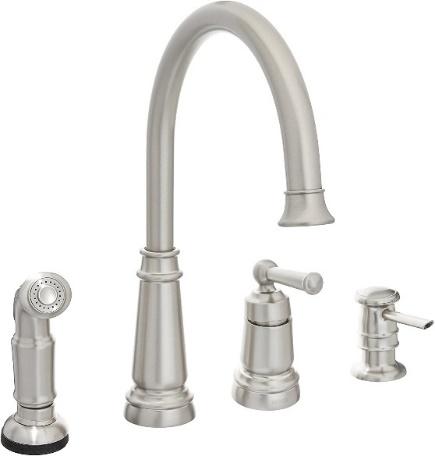 The Moen Edison kitchen faucet has a standard design that enables you to mount it on the countertop or the sink. Its anti-rust coating ensures water stains and fingerprints are a thing of the past. This also ensures the kitchen looks cleaner.
It has a single handle lever design to make water flow adjustment easy. This also helps with cleaning. Unlike other products in this faucet review, you get a soap dispenser and side spray to create a balanced design that is also functional.
Pros
High arc spout design
Included soap dispenser adds convenience
Easy to use and install
Cons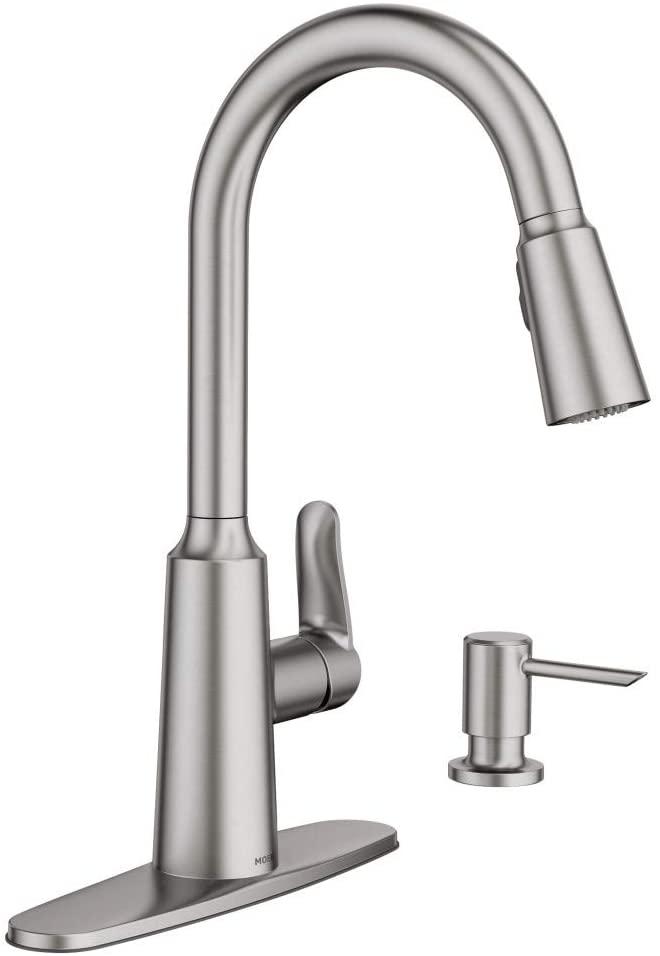 The Moen Edwyn faucet offers a modern design, underlined by its unique spray head. The retractable spray head is wrapped in stainless steel coupled with a reflex system to allow easy movement and cleaning. The spray head can be docked from any height or angle.
The dual spray system enables users to switch between powerful flow and aerate flow, making this one of the best Moen kitchen faucets for aging in place. The high arc design also proves functional as you can seamlessly fill and clean larger pots.
Pros
Durable
Comes with a soap dispenser
Spot resist stainless finish
Cons
It is available in only one finish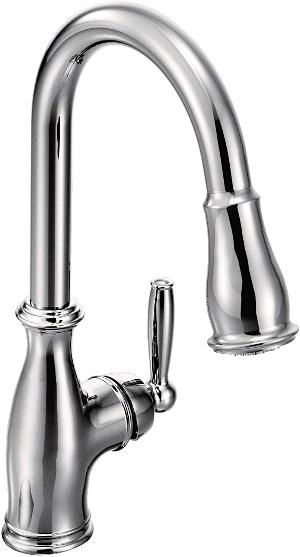 The Moen Brantford 7185C is one of the best Moen kitchen faucets as it comes in a host of finishes that can suit just about any kitchen style. The faucet is easy to install either via three holes or one. It has a retractable hose attached to a spray head that can be docked automatically from any distance.
The high arc spout enables you to seamlessly and quickly fill large containers. To provide even more functionality, you can rotate the Moen kitchen faucet 360 degrees to get a wide range of movement, increasing your accessibility.
Pros
Limited standard warranty
Easy installation
Classic design
Power clean technology
Cons
The cartridge can be damaged by hard water, causing leakage

The Moen Align has a unique design thanks to its pull-down look. It is operated with just a single handle. The inclusion of the duralock quick connect system ensures installation is easy. It has an anti-stain function that helps prevent water stains and fingerprints, while the power clean technology provides cleaner and faster flow all at the touch of a button. The tall neck spout with a retractable hose stands out in any kitchen design when it comes to style.
Pros
Complies with the Americans With Disabilities Act
Lifetime warranty
Range of finishes
Easy to clean
Cons
The spray head is made from plastic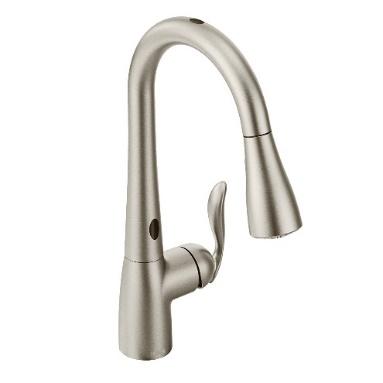 The Moen Arbor is another stylish Moen kitchen faucet. It is a touchless faucet that offers convenience thanks to its dual motion sensors. Included with this touchless kitchen faucet is a self-retracting hose. This feature ensures the pull-down spray is securely docked at all times.
Operating this touchless kitchen faucet is easy; just an object or a simple hand movement can cause the water to begin flowing. Speaking of water, you get a three function spray wand to provide powerful clean technology.
As a deck-mounted touchless faucet, this Moen product can be installed via one or three holes. It also helps that it comes in a range of finishes.
Pros
Flexible
Touchless design
Spot resist stainless steel finish
Lifetime warranty
Cons
The spray hose is prone to leakage
Factors to Consider When Choosing the Best Moen Kitchen Faucet
There is a wide range of kitchen faucets to select from at Moen. Being able to select the right one can be challenging; however, the task gets easier when you consider the following factors:
Spout and Arc Height
Before you purchase a kitchen faucet, you need to consider the type of sink you have and the type of containers you intend to use. Considering these factors can help you select the appropriate spout height. If you purchase a kitchen faucet with too low a spout, it might prove difficult to install in a kitchen sink.
If you have a kitchen with sufficient headroom, you need to consider a faucet with a high arc. A high arc is also beneficial for cleaning purposes.
Touchless Faucet
If you want convenience in the kitchen, you need to look no further than a touchless kitchen faucet with motion sensors that enable you to rapidly turn on and off the water flow by waving your hand. This feature can also ensure the faucet remains clean.
Features
The best Moen kitchen faucet has the right mix of features pertinent to your kitchen needs. These features ensure your kitchen tasks are made a lot easier. You can create your own unique kitchen space by determining the right sprayer, spout height, and handle.
Like this post? Spread the love!