Ergonomics is an important variable that most of us never consider, at least that is until we or someone close to us suffers from arthritis. Arthritis is the leading cause of work disability in America.
Around 13 million adults suffer from symptomatic hand osteoarthritis, while 9 million people suffer from symptomatic knee osteoarthritis. The Center for Disease Control and Prevention views arthritis as one of the various work-related musculoskeletal disorders.
While one of the most effective changes someone with arthritis can make is to exercise, getting an ergonomic handle can help you move around and open doors with limited hindrances. On the one hand, activity aids, especially when losing weight, can help you strengthen your muscles and bones.
Apart from becoming active to lose weight, moving around during breaks or even going on a walk after dinner can help you prevent your joints from stiffening.
If you suffer from hand osteoarthritis, then you need something that can provide you with relief. The wrist and hands are typically affected by arthritis, and simple things such as using an adjustable tray to raise your keyboard or mouse can provide relief.
Alternatively, if you spend a lot of time in front of a computer, you can adjust your keyboard and chair height to ensure your forearms remain parallel to the floor while you work.
You can also get a padded wrist rest to provide you with more support as it can ensure your wrist remains comfortably straight at all times. If you feel discomfort when using a mouse, you can get a touchpad or trackball to use instead of a mouse.
People who have arthritis might have joint restrictions and pain when it comes to the fingers, making opening and closing doors harder. To help alleviate this, you can use assistive aids and ergonomic handles on doorknobs to make the process easier.
With that in mind, this article aims to highlight adaptive arthritis aids for doorknobs to make the elderly or disabled more independent when using a doorway.
Want something with a bit more purchase when you open a door? Read on the best door levers for adults with arthritis.
Automatic Adaptive Door Opening and Closing Tool
Those with arthritis might benefit from using other ergonomic-related products to improve their mobility issues. You can use an adaptive door tool to assist those with arthritis in opening and closing doors. A few of the tools are: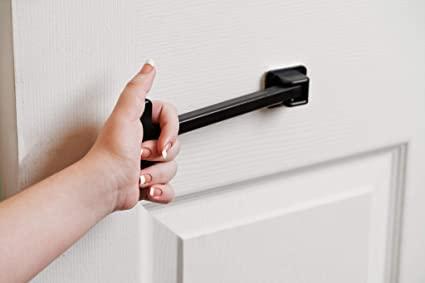 The manual door closer is an ergonomic handle that you can use to open the door easily. It is simply a T handle installed on a door near its hinge. You can install the hand tool either on the inside or outside surface of the door. It offers a handle to help you open the door.
The T shape offers a large surface area for you to grasp, making it easier to close even with arthritic hands. The close placement of the handle right next to the hinge ensures that the door can be seamlessly closed without you having to stretch in to grab the knob.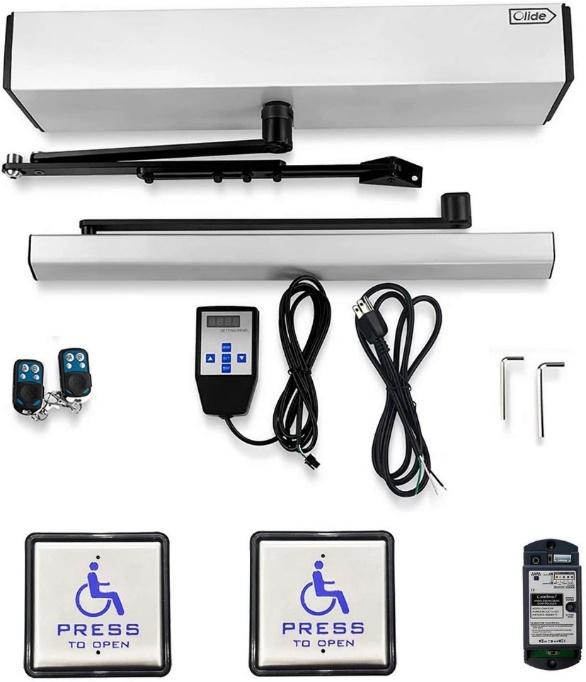 The Olideauto automatic door opener with a remote is the right tool for those that don't have a power grip. There are no sharp edges to this handle. Its ergonomic design ensures that you transform any door into a handicap-accessible entryway.
It works to ensure the door remains open for some time, allowing anyone with a slow gait or mobility difficulty to safely go through the doorway without having the door swing shut on them.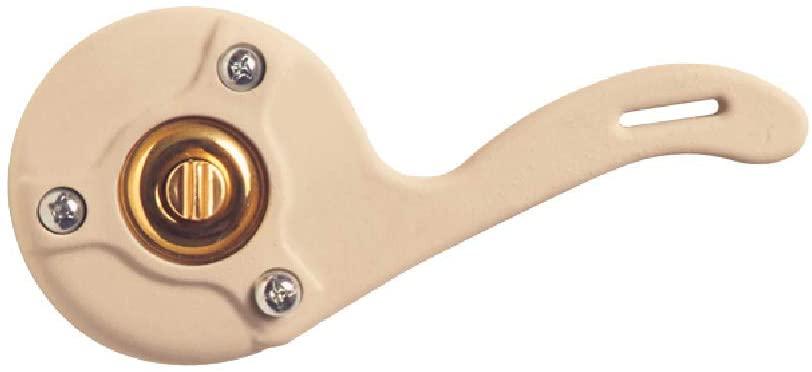 The doorknob extender helps to transform any typical knob into an ergonomic handle. It works by converting a doorknob into a door handle seamlessly installed on the top.
Once the doorknob extender is installed on the doorknob, you can push down on the lever to open the door instead of twisting the knob. This ergonomic handle can be quite useful for those suffering from hand or finger arthritis.
Installing this ergonomic handle requires a bit of know-how, but it is quite easy to do. All you need is a screwdriver to secure the product to a doorknob. Installation takes about 5 minutes to complete.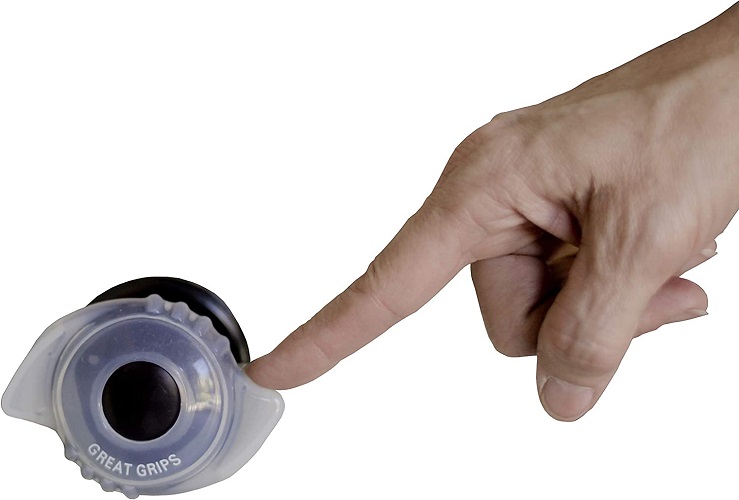 These doorknob wings from Able Life are ergonomic handles that can be used by those who have arthritis to open doors easier without having to grasp the knob. This ergonomic handle should be considered a low-cost alternative to changing hard-to-grasp doorknobs.
The wing-tipped design ensures opening doors is easy, even when your hands are occupied or unable to fully grasp the knob. This ergonomic handle is perfect for advanced arthritis sufferers who cannot use their hands. You can open the wings with their arms or elbows. This ergonomic handle ensures that arthritis doesn't have to affect their mobility.
The wings come with a removable glow-in-the-dark insert to make this ergonomic handle even better. The insert ensures no issues with finding the doorknob at night or in low light.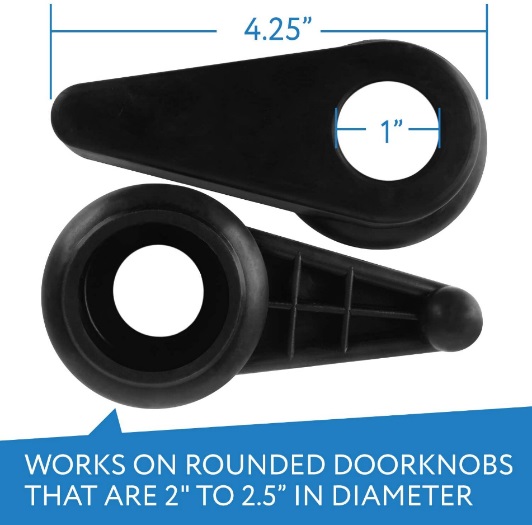 This ergonomic tool enables you to extend the door handle. It is perfect for those that struggle with grasping small knobs. Installing this ergonomic handle is a great way to make doorknobs more accessible.
When adding the rubberized door handle extender to your doorknob, you provide more surface area to hold onto when opening the door. Installing this ergonomic handle is quite easy as it doesn't require any tools.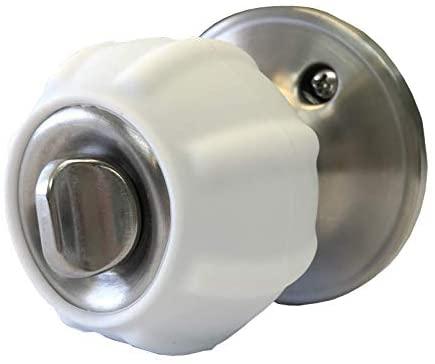 These covers are specialized grips for doorknobs and have ridges or grooves allowing for an easier grip. The covers are typically constructed from rubber, and these coverslips can be placed on just about any doorknob style to provide additional grip. You can use these covers to fit the following styles of doorknobs:
Tylo
Cove
Brandywine
Ball
Regardless of if you are suffering from finger pain, wrist strain, or arthritis, the grooves on this ergonomic handle can help those that struggle with opening typical slippery doorknobs. These grooves can transform slippery doorknobs.
Final Thoughts
As you can see, there are many options you can purchase that makes it easier to use doorknobs when you have arthritis. Arthritis assistive devices like those we have mentioned above are designed so your hands and wrists are more aligned, preventing your nerves from pinching and reducing any pressure there may be.
The door knob extender, for example, goes over an existing doorknob and makes it much easier to grab and pull down, rather than turning. Someone with arthritis may not be able to fully grip the diameter of the doorknob without this kind of assistance. So, tool handles can prove beneficial.
These tool handles require less pressure to open doors, and their ergonomic design is good for arthritis and those with limited range of motion.
Like this post? Spread the love!