Brass hardware can be incorporated in various ways in your home, whether as kitchen cabinet hardware, an appliance pull, drawer pull, bathroom shelves, or doorknobs. Brass knobs fit most home decor styles, including vintage, Victorian, mid-century modern, grand millennial, Scandinavian, and modern aesthetics. They are not limited to only a particular interior style.
Therefore, if you are accessorizing or sprucing up a home for aging in place, brass cabinet knobs may be a great addition. The key is to ensure that they are firm and large enough for ergonomic handling without causing stress on hand joints.
Below is a look at the different brass cabinet knobs and tips for incorporating them into your home decor for aging in place.
Types of Cabinet Brass Knobs
Natural Brass
Natural brass is unlacquered. It is bright and soft with a golden-yellow color. You can easily tell it apart from others because it is heavy. While the heaviness provides sturdiness when opening the cabinets or drawers, it can be taxing for people with arthritis or seniors whose hands are weak.
Although brass is durable, it is prone to tarnishing and darkening as it oxidizes over time. However, it does not corrode or rust.
Satin Brass
Satin brass is matte with a textured finish. It has a golden-brownish color, which adds warmth and character to a room. The color and texture can be paired with bronze and black fixtures.
Since it is not shiny, satin brass cabinet hardware hides water spots and fingerprints better, making it suitable for kitchen and bathroom cabinet door knobs and cabinet pull. The satin finish fits well with most backgrounds, including white, navy, gray, etc.
Satin brass finishes are often confused with brushed brass finishes because both are textured and matte. However, they differ in that satin does not have distinctive brush markings.
The color tone of a satin brass cabinet knob varies from one collection to another. When buying online, the color on the website may vary slightly from the actual color. Therefore, if you are very specific about the color, you may want to buy from a local store.
Satin brass doorknobs are easy to maintain. Cleaning does not require any water, soap, or chemicals. Simply wipe the knobs with a soft, dry cloth.
Brushed Brass
Brushed brass is a type of brass finish whereby the knob or hardware is treated to give a dull and matte look. It makes a statement without having to be shiny. It has a subdued shine, which provides classic elegance.
As the name suggests, the finish leaves brush marks on the cabinet door knobs for a matte effect. The brush marks also create a subtly rough texture for a firm grip on the doorknobs. This finish is durable as it does not tarnish. There is minimal impaction of fingerprints on the cabinet doorknobs.
The finish is easy to maintain. To clean it, use a soft cloth to wipe in the direction of the brushed grain. Do not use rough or abrasive scrubbers or chemicals such as bleach, alcohol, or acidic cleaners for cleaning.
Although brushed brass knobs can be installed on drawers and cabinets throughout your house, interior designs mostly incorporate them in the bathroom. The brushed brass finish can be achieved in various ways, including electroplating, immersion plating, physical vapor deposition, and powder coating.
The main disadvantage of brushed brass knobs is that they are more expensive than other finishes.
Polished Brass
Polished brass has a shiny, mirror-like finish. It is made from solid brass that has been lacquer-coated to prevent tarnishing. It adds a warm golden tone to your house.
It was most popular in the 80s and 90s but still has a place in modern interior design. Therefore, it is one of the most common brass finishes on the market today.
Polished brass cabinet door knobs are suitable for aging in place as they are easy to clean. On the downside, they tend to show fingerprints and water spots.
Antique Brass
Antique brass is solid brass that has been aged chemically and then sealed with a low luster finish. This process gives the brass hardware an antique look. It does not tarnish or change in color over time. Typically, it is brown with slightly golden undertones. This type of brass is heavy.
Antique brass cabinet knobs are excellent if you want to add a vintage feel to your home. Those that were manufactured in the 1900s are highly valuable and collectible as long as they are still in good condition.
Lacquered vs Unlacquered Brass
Unlacquered brass is raw and unsealed, while lacquered brass is sealed with an anti-oxidation varnish. Unlacquered brass has a vintage look but is prone to tarnishing and color changes.
On the other hand, lacquered brass remains the same over the years as the seal prevents oxidation. It is easy to clean and maintain.
Examples of lacquered brass include satin brass, polished brass, and brushed brass. On the other hand, examples of unlacquered brass include natural and antique brass.
Tips for Incorporating Brass Door Knobs and Hardware for Aging in Place
Use Sparingly
Whether shiny or matte, brass is a sophisticated metal that makes a bold statement. Therefore, you want to incorporate it sparingly in your interior design. If you are keen on a Victorian or mid-century style, go for the shiny finishes or antique brass cabinet and door hardware. Otherwise, matte finishes such as satin fit well with modern and minimalistic interior styles.
Mix them Up With Other Metals or Colors
Brass hardware blends well with other metals, e.g., copper, nickel, chrome, and rose gold. If your interior design is primarily black or white, brass cabinet door knobs can warm up the space. They also add contrast to a monochromatic theme. Shiny or matte brass will do.
They also pair up well with clear accessory pieces such as lucite and glass. However, avoid pairing them with bright red, orange, and yellow colors. Rather, pair them with bold and deep colors such as cobalt, turquoise, cold grays, and turquoise.
Incorporate Them Into Natural Backdrops
Brass fits in well with natural backdrops. For example, painted bricks, raw linen, natural wood cabinets, or a room with verdant green plants.
Best Brass Cabinet Knobs
Below are reviews of three of the best brass cabinet knobs and why they stand out.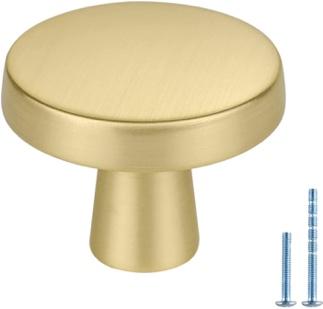 These Homidy brushed brass cabinet knobs are designed for ergonomic handling. Each is 1.27″ wide at the top and 0.6″ at the bottom, providing enough surface area for handling. They do not have any sharp edges, making them suitable for use by seniors.
They can be used on cupboards, drawers, and kitchen cabinets. They come with two length screws – 1″ and 1.57″ to ensure that they fit most cabinets. If the screw is too long, you can use pliers to cut it off.
The knobs are made of high-quality zinc alloy, making them sturdy and rust-resistant. The brushed, lacquered finish prevents oxidation and makes a bold, elegant statement.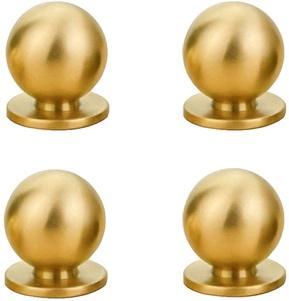 If you prefer shiny mirror-like polished brass doorknobs, go for the RZDEAL 4pcs 19MM Diameter Round Solid Brass. They come as a pack of four, and there are a variety of sizes to choose from.
They are rounded to offer comfortable and efficient handling without sharp edges. They are made of solid brass, which makes them sturdy. They have a beautiful finish and are compatible with drawers, cabinet doors, chests, etc. They are easy to install as each knob comes with a 1-inch long metric M4 mounting screw.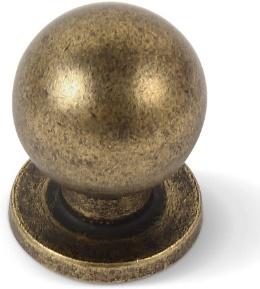 Go for the Khtumeware Round Solid Vintage Antique Brass Cabinet Knobs for a truly vintage style. They have an elegant, smart antique finish. You can use them as statement pieces or mix them up with hardware of similar colors. They fit well with eclectic, Provencal, classical interior styles. Each is 1-inch in diameter and fully rounded for easy handling. They come with screws for easy installation on your cabinets.
Conclusion
Not all of cabinet door knobs are ADA compliant. However, they can still be incorporated into home interiors for aging in place. The key is to ensure they are wide enough and rounded or mushroom-shaped for ergonomic handling.
As discussed above, there are a variety of brass finishes to choose from for your cabinet door knobs for aging in place. Solid brass is heavy and sturdy. Therefore, it is durable and offers firm handling. However, it can be too heavy for people with limited hand mobility or joint pain. If unlacquered, it is prone to oxidation.
Satin and brushed brass offer an elegant, matte look, and it is durable as the lacquer prevents oxidation. Similarly, polished brass is lacquered and does not tarnish. While some people like its mirror-like appearance, others find it too loud. Ultimately, your choice of the type of finish depends on personal preference and your interior décor styling.
Like this post? Spread the love!