Although glass cabinet knobs are not as popular as they were in the 1950s, they can be a great option for sprucing up your kitchen or bathroom cabinetry for aging in place. You can use them to add beauty to your kitchen cabinets, bathroom cabinets, or built-in cabinetry.
Glass cabinet knobs and other door accessories are like jewelry. They refresh and add sparkle and depth to a room. They give a space personality and make it stand out. You can use antique glass knobs to bring back the elegance of the 1950s. They also fit well with ultra-modern and sleek, contemporary designs and home decor.
Types of Glass Cabinets Knobs
There is a wide range of glass cabinet knobs. They vary in size, shape, color, texture, and base.
Glass cabinet knobs comes in various sizes. The most appropriate diameters for aging in place range between 30mm to 45mm.
Glass cabinet knobs come in various shapes, including floral, round, hexagonal, fluted or intricate shapes such as Starburst, snowflakes, lace patterns etc. Floral, intricate, fluted, and hexagonal were popular in the 19th and 20th centuries. Therefore, they have a vintage look. On the other hand, the round and oval glass cabinet knobs are mostly used with contemporary and ultra-modern aesthetics.
You can find glass cabinet knobs in all colors of the rainbow to suit your preference and your décor. Some have less common colors such as cobalt, amber, violet, emerald, mercury, green-yellow, etc. Nevertheless, some glass knobs are also clear.
Most glass cabinet knobs are set in metal. However, the exact type of metal varies from one knob to another, with the most common ones being brass, bronze, nickel, oil and gold and all their finishes, e.g., oil-rubbed bronze, satin, polished, brushed, etc.
They are usually mounted on the base with a bolt that runs through the cabinet and secured with a bolt in the rear. Depending on the thickness of the cabinet, the bolt may protrude, requiring that you trim it. Some glass cabinet knobs utilize a ferrule mount instead of a bolt.
How Can You Tell Acrylic Knobs from Glass Knobs?
At a glance, acrylic knobs look like glass knobs. Both ate stylish and versatile and can be used in place of the other. They can be bent and molded into any shape or pattern. However, if you want to use one type rather than the other, there are ways to differentiate them.
Acrylic cabinet knobs are made of hard, clear plastic, which reflects light exceptionally well, even better than glass. It is lightweight and durable. Acrylic cabinet knobs are more commonly incorporated in modern décor, while glass is mostly used in traditional and vintage styles. They are more affordable than glass.
On the downside, acrylic is more prone to scratching and permanently damaging the knob. For instance, acrylic cabinet knobs should only be cleaned with warm water and soap. If you use other cleaners, they will cause cracking. Besides, the material is porous. Even soft clothes and paper towels can cause scratches on acrylic. Also, acrylic tends to yellow over time.
Conversely, glass is more durable and suitable for use in high-traffic areas. It is scratch-resistant and requires minimal maintenance. It also offers UV protection.
Tips for Incorporating Glass Cabinet Knobs for Aging in Place
Consider if the shape and texture are ergonomic for seniors. When incorporating glass cabinet knobs in a home for aging in place, ensure that they are large and have an ergonomic shape for comfort. Round knobs are more preferable to flat ones.
Clean them regularly. Although glass cabinet knobs do not stain easily, cleaning them regularly is crucial for maintaining their luster and looking new. Use water, mild detergent, and a soft cloth to clean them.
Keep an eye for any damaged glass knobs. Glass knobs may break on their own or accidentally, e.g., if they fall or you knock them against something hand. If you notice a broken glass knob, assess if it can be fixed with glue. Otherwise, you will have to replace it.
Set a budget for buying the glass knobs. The price of glass knobs can vary greatly, ranging from $20 or below or up to hundreds of dollars. Those that are mass-produced are more affordable. On the other hand, handmade glass cabinet knobs are pricier. Antiques have collectible value and can cost up to $500 per piece. Also, the shape of the glass knob can determine its price. For instance, six and eight-shaped knobs are generally more expensive than 12-sided knobs. Also, perfectly round crystal cabinet knobs are pricier than oval or square-shaped ones. The more intricate a glass cabinet knob design, the more likely it will come with a higher price tag. Therefore, decide how much you are willing to spend on glass cabinet knobs and do thorough market research to meet quality pieces that fit your budget and suit your décor style.
Decide on how you would like to style or decorate with the glass cabinet knobs. The options are unlimited. You can decide to use them exclusively in one room or throughout your house. Perhaps choose a theme for one house, e.g., clear round knobs in one room and fluted colored glass knobs in another room. Or use them as statement pieces or on the bathroom vanity. They can be installed in a cabinet door, as a drawer knob.
Note that clear glass cabinet knobs may become purple over time. This is because making clear glass involves using manganese oxide to remove any color, dust, or debris. The residual chemical turns purple over time due to exposure to sunlight. The upper part is more prone to becoming yellow than the inner part.
Top 3 Best Glass Cabinet Knobs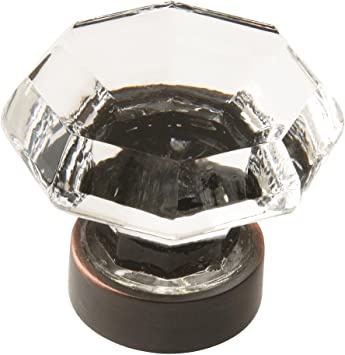 These clear Amerock cabinet knobs are decorative and functional. They are 33mm (1-5/16 inches) in diameter. The base is made of oiled bronze that brings out retro vibes. It fits well with both bright and dark accents. You can install this hardware in your kitchen, bathroom, or the rest of the house.
This clear glass cabinet knob is easy to install and comes with the necessary mounting hardware, including an 8-32 x 1-inch truss head machine screw. The manufacturer offers a lifetime guarantee against material and workmanship defects.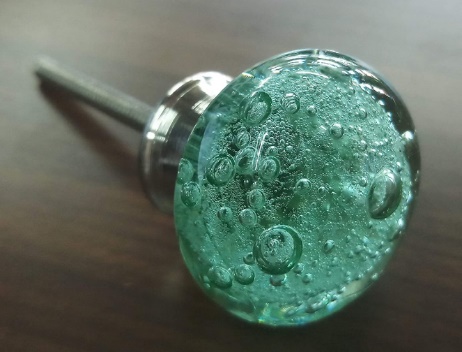 This JGARTS glass cabinet knob has a strikingly beautiful aqua blue color. It is also available in aqua green and clear. The glass knob sits on a brushed nickel base, which complements its stylish look, making it perfect for a drawer slide or as new cabinet pulls in the home.
The knobs come as an affordably priced pack of 12. Each measure 1.5 inches in diameter. The metallic base is 0.75 inches wide. They come packaged independently in a bubble wrap to prevent scratching. They are suitable for kitchen and dresser cabinets.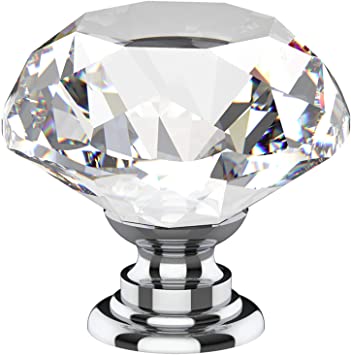 These are 1.38″ (35mm) in diameter. The octagon-shaped crystal cabinet hardware is suitable for a closet, cupboard, drawer, dresser, and other furniture. A pack consists of 10 pieces that are packaged separately.
They come with two sets of mounting screws for each knob. The screws are 1″ and 1.77″, respectively. If the screws are longer than the thickness of your cabinet, cut them off with pliers.
These particular ones have a  base. However, you can also choose from nickel plated or chrome plated. The nickel plate ones are either round or diamond.
Conclusion
There are various glass cabinet knobs on the market to choose from for your aging in place door. They vary in style, size, and color to suit your functionality and home decor designs. Determine where you would like to install them and your preferred style, and then identify those that fit your budget.
Like this post? Spread the love!