Gold hardware trends are ever-changing. They go in and out of fashion over the years, but there are ways you can incorporate them into your home to remain relevant.
Gold knobs are most commonly incorporated in kitchen and bathroom decor. They add a touch of luxury to your home and can be paired with different finishes for a personalized look. They are extremely versatile and fit well with a range of background tones. Gold knobs are good for a bathroom vanity or used as kitchen cabinet hardware.
For instance, you can incorporate them in a monochromatic space to add contrast or as a fun element. They can also be incorporated in neutral tones for a timeless look or to add vibrancy and playfulness. The gold hardware does not have to be the same tone and finish as existing fixtures.
Gold knobs are available in different finishes and variations, including:
Polished brass
Brushed brass
Satin Brass
Antique Brass
Bronze
Polished Gold
Polished Brass
Polished brass is made from solid brass that is lacquered to prevent it from tarnishing. It is bright with a cool gold tone that is bright, shiny, and highly reflective.
Polished brass was popular in the 90s and early 2000s, but you can still incorporate it in your home in 2022. Polished brass cabinet knobs are most suitable for traditional and transitional decor styles.
Brushed Brass
Brushed brass is less shiny than polished brass. It has been treated to make it matte, enhancing its durability by preventing it from tarnishing. It is bold and elegant. Brushed brass hardware has brush marks that add texture to it.
Satin Brass
Satin brass is also matte and textured. However, unlike brushed brass, it does not have brass markings. It is golden-yellow in color.
Antique Brass
It is aged natural brass. It is matte and has a timeless vintage look. If unlacquered, it is more prone to tarnishing. Most antique brass knobs are statement pieces that stand out in the room.
Bronze
Bronze is an alloy. It is primarily made of copper and may contain other metals in low percentages, such as tin, manganese, nickel, zinc, or aluminum. It may also contain non-metals such as phosphorous, arsenic, or silicon.
Bronze is often confused with brass. However, they are different. Bronze is warmer with red hues, while brass is more yellowish, with deeper golden hues. Bronze is also harder, therefore, more prone to breakage as it lacks malleability.
Polished Gold
Polished gold hardware is made by depositing 24-carat gold over polished nickel. The layer of gold enhances the aesthetics of the door knobs or cabinet knobs and makes them corrosion-resistant, enhancing their durability. Note that the gold plating can wear out or flake over time or due to abrasive handling.
Best Gold Cabinet Knobs for Aging in Place
Below is a review of the five best gold cabinets and why they stand out.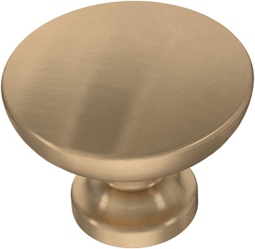 The Goldenwarm brushed brass knobs have an elegant champagne gold finish. They are sleek and add a light touch of luxury to your cabinets. They fit well with most modern decor styles to revitalize your space.
Sturdy structure. The knobs have solid construction. They are made elaborately through electroplating to enhance oxidation resistance. They are then polished to promote rust resistance. The knobs are backed by a lifetime warranty and a 100% money-back guarantee.
Wide range of applications. They are suitable for kitchen cabinets, appliance pulls, closets, cupboards, desk drawers, wardrobes, shelf brackets,etc. They are available in packs of 10 and 25.
Streamlined design for ergonomic handling. They have a smooth, round edge that is comfortable on the hands. Their mushroom shape has a 1-1/4″ diameter to provide a wide surface area for holding. For easy installation, each knob comes with two screws sized 1″ and 1.57″.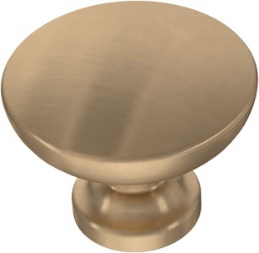 Durable and solid. They are made of durable zinc die-cast. They have a high weight rating of 40lbs to ensure that they can pull a heavy drawer or cabinet efficiently.
Unadorned style. This drawer pull has a golden champagne bronze finish that complements your home decor beautifully.
Easy to install. The knobs have a rear-mount installation. They come with 8-32 x 1- inch screws for quick fitting in predrilled cabinets.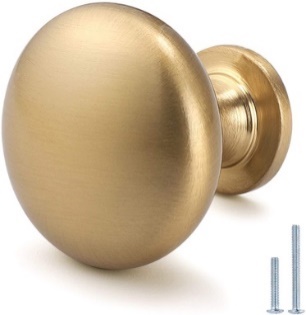 Heavy-duty construction. This cabinet hardware is made of solid zinc alloy, which is rustproof. They are intricately crafted to ensure they are durable.
Warm brushed gold color. The aged brass has a warm gold tone that is stylish and elegant. Each knob comes packaged separately to prevent scratches.
This cabinet hardware has a mushroom-style design with a smooth and round edge that is comfortable in your hands. It has a 1-1/5″ diameter to provide enough surface area for holding. The knobs have a height of 1-1/8″, which leaves enough room for your knuckles.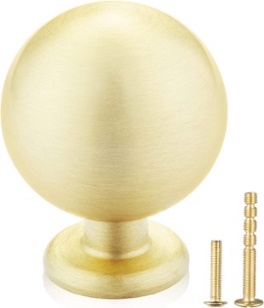 These knobs are made of high-quality solid brushed brass. They are heavy-duty and durable.
These solid brass knobs are decorative and comfortable when handled. They have a comfortable ball design that is easy on the hands and fits well with various decor styles.
Two screw options. Each solid brass knob comes with a 1-inch regular screw and 1-9/16-inch breakaway screws.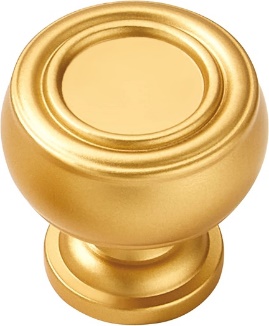 High-quality. They are made of zinc alloy with a satin gold finish. They are anti-corrosion, anti-oxidation, and rustproof.
Easy installation. You will need a screwdriver for the installation process. First, find the right installation location and mark it. Drill holes using an electric screwdriver, then pass the screw through. Use the screwdriver to tighten the thread.
Large enough for comfortable handling. They have an outer diameter of 1.14inch and a base diameter of 0.75 inches. The 1.1-inch height allows enough space for your knuckles.
Conclusion
There are many gold finishes you can incorporate in a home for aging in place. The most common are brass, polished brass, brushed brass, and satin brass. You could also use bronze or gold-plated cabinet door knobs. As mentioned in this article, always ensure that the knobs you choose are large with smooth edges for ergonomic handling by seniors.
Like this post? Spread the love!