Brushed nickel cabinet knobs are matte with a dull shine. Their color ranges from golden to whitish. They work best for more traditional interior designs such as farmhouse, country, Tuscan, or French styles.
Brushed nickel cabinet hardware adds a slightly warm tone to your house and complements wood finishes, tiles, stones, or granite and a wide range of paint colors, including earth and warm tones.
The brushed nickel finish offers several benefits, including hiding fingerprints, water spots, and hiding dirt. On the downside, it tarnishes over time to become a milky whitish color. It tarnishes more quickly in wet and humid conditions.
Therefore, they may not be suitable for use in extremely humid parts of the house. However, the brushed finish is more durable compared to chrome nickel. Remodeling with brushed nickel requires a mid-range budget.
The brushed nickel finish is achieved through an intricate process that involves brushing the cabinet knob with a metal wire. Brushed nickel cabinet knobs are more expensive than satin nickel and polished chrome nickel.
Below is a review of the best brushed nickel cabinet knobs for aging in place and why they stand out.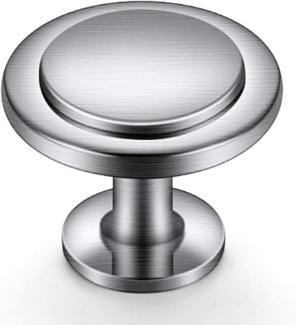 The Ravinte brushed nickel-zinc knobs are 1-1/4 inches in diameter, offering a large surface area for seniors to handle them. The base is 0.75," and the knob is 7/8″ in height. They offer a fine, smooth touch. They are super lightweight, so they do not weigh down your hands.
Compatible with a wide range of decor styles, including farmhouse, vintage, traditional and transitional styles. They come with two screw sizes for easy installation on different types of cabinets, including TV, kitchen, lockers, cupboards, dressers, drawers, etc.
Great value for money. The knobs are affordably priced. They are available in packs of 3,5,10,20,25,30,35,40,45,50,55, and 60 among other options.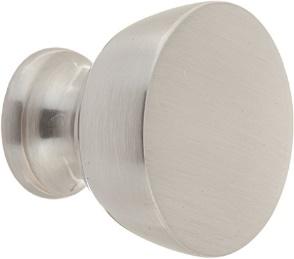 This brushed nickel cabinet knob can be used in a wide range of settings, including kitchen cabinet knobs, bifold doors, dresser knobs, bathroom cabinet or vanity, etc.
Great value hardware. The pack of five is affordably priced. This door hardware has a solid rather than hollow construction, making them sturdy. Each knob comes packaged individually to protect them from scratching during shipping. They are 1.25 inches in diameter and round in shape, which is suitable for seniors.
Easy to Install. They come with two lengths of mounting screws – 1″ and 1.75″. The longer mounting screws make it possible to mount the knobs on bi-fold closets. Their silver brushed nickel finish is compatible with most home decor styles and backdrops.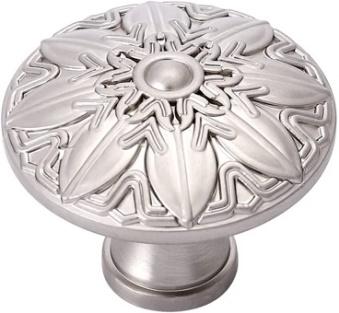 Excellent quality. These brushed nickel knobs are die-cast from zinc alloy, which is super strong and durable. They have a unique clear floral pattern that makes them stand out from other options on the market. The floral pattern is compatible with modern and chic decor styles and some traditional ones. Like the Southern Hills Brushed Nickel Cabinet Knobs, they come packaged independently to prevent them from scratching each other during shipping.
Easy to Install. Each screw comes with free 22mm and 45mm break-away screws for versatility in installing them on different types of cabinet doors. They also come with matching backplates. However, some people found the short mounting screws too short, while the long ones were too long.
Comfortable on the hands. Aside from being beautiful, these knobs fit comfortably on the hands. They are suitable for aging and arthritic hands.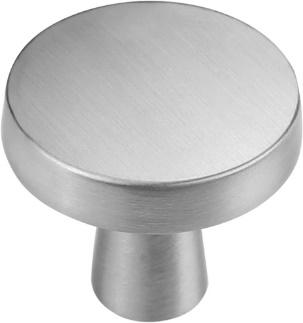 Solid structure. They are made of high-quality zinc alloy for durability. This brushed nickel drawer pull is specially manufactured to ensure it is rust and corrosion-proof and does not fade.
They have a mushroom style, with the head of the knob being 1.27″ wide.
Sleek and stylish. This door hardware has a sleek and laid-back design that adds character to your space. They are compatible with a wide range of home decor styles and backdrops. They can be installed on a kitchen cabinet, bathroom cabinet or cupboard, desk drawer, wardrobe drawer, shoe cabinet, chest, bookcase and much more!
Backed with 1-year after-sale service. Do not hesitate to contact the manufacturer if you encounter any challenges while using these brushed nickel door knobs. They have 1-year after-sale customer service.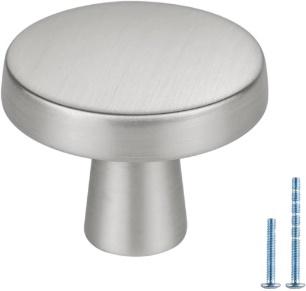 Mushroom style. The mushroom style design ensures that they are easy and comfortable to handle. The knobs are flat at the top and rounded on the side. They do not have any sharp edges that could cause pressure on the hands of an aging person. They are 1.27″ inches in diameter, providing ample surface area.
Come with mounting screws of two different lengths. They are 1″ and 1.57″ M4 Standard slub screws that ensure you can fit the knobs on any cabinet type. If you find them too long, you can cut the mounting screws with pliers to fit your cabinet. On the other hand, if you find them too short, contact the manufacturer to get longer ones.
Strong and sturdy construction. They are solid rather than hollow and are made of high-quality zinc alloy. They are heavy, durable, and rust-resistant. The manufacturer backs the quality of the knobs with a 100% satisfaction guarantee and after-sale service.
Conclusion
Brushed nickel is a classic finish that still has a place in modern décor. When revamping a house for aging in place, you can incorporate brushed nickel knobs.
Round and mushroom-style brushed nickel knobs are most suitable as they are smooth and offer ergonomic handling for seniors and people with joint issues. The knob should be at least 1-inch in diameter to provide adequate surface area for holding. They should come with screws for easy mounting on different types of cabinets and drawers.
Brushed nickel knobs are usually affordable. You can buy them in packs or per piece. Our top pick is the Ravinte 1-1/4 inch Brushed Nickel Zinc Knob. All the options recommended in this article are high quality, sturdy, smooth, and easy to install.
Like this post? Spread the love!