As we get older, mobility becomes challenging for us. This means that tasks that we were once able to do with ease, like walking, become difficult. Limited or impaired mobility means spending a significant amount of time resting in a bed or sitting on a chair.
Sitting for hours on end, particularly among the elderly, can result in more issues than benefits. When we sit, we increase the amount of pressure placed on our back compared to when we stand. This pressure can result in chronic back pain, worsening any mobility issues.
Thankfully, investing in non slip chair pads can work wonders. Nevertheless, with so many couch cushions available on the market, it can be difficult to get the one that best suits your requirements.
This article will highlight the best non slip chair pads for aging in place. Every one of the seat cushions in this article is designed to keep you healthy, especially when you have to sit in a chair for long hours.
Getting older can come with many changes, but that doesn't mean you are at the mercy of your condition. Improve your mobility by getting the best non slip stair treads for people with arthritis.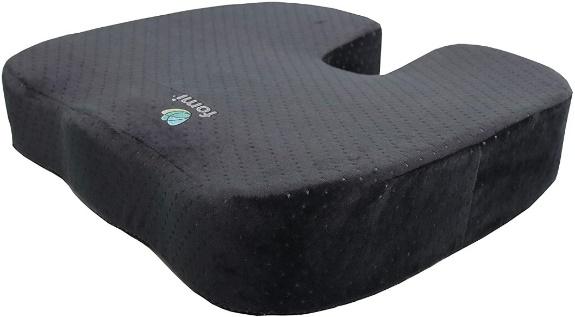 As its name states, the FOMI is an extra thick orthopedic seat cushion designed to relieve pressure from your lumbar back discs, tailbone, and spine. It is constructed from high-density memory foam to ensure your tailbone doesn't contact the hard surface. The heavy-duty thicker memory foam can comfortably support heavier users. The high-density property ensures that it doesn't flatten.
It has a curved surface that supports the thighs, hips, and buttocks. The ergonomic design ensures it gently cradles these parts while evenly distributing weight and promoting proper spinal alignment and posture.
The high-quality cover of this memory foam is constructed with tiny holes to improve circulation while preventing the buildup of sweat or moisture. This feature makes it the ideal featured product for long-term use.
Cleaning is easy since you can simply remove the cover and place it in the washing machine. The nonslip bottom ensures this seat cushion remains in place at all times. The built-in handles make carrying this chair pad around easier.
The Everlasting Comfort Seat Cushion Pillow is one of the best memory foam pads. It helps relieve pressure using your own body heat to adapt the memory foam seat cushion to your curves. The high-quality gel-infused memory foam can uniformly distribute your body weight to provide you adequate back support while you sit, regardless of the type of chair you sit in.
This featured product is suitable for wheelchairs, dining chairs, desk chairs, or any type of hard surface. The foam seat includes ventilation holes that have been strategically placed to provide great lumbar support even while you sit for long periods.
You can count on great support from the first minute you sit on it to the moment you get up. The Everlasting Comfort company is known for great customer service and for producing the best non slip chair pads.
All the materials used to create this memory foam featured product provides comfort without harming its users or the environment. The materials used have been tested by OEKO-TEX and have been certified to be harmless and safe to use.
Compared to cheap memory foam pads, this chair pad will not be deformed after use. The chair cushion will return to its shape once it is not being used. This means that you will get to use it for a very long time.
At 17 by 14 by 2 inches, it is great for use with office chairs and wheelchairs. It has a non-slop button, and at 680 grams, you can be sure that it will stay in place regardless of how many times you shift around.
Included with this memory foam chair pad is a lifetime replacement policy to cover you and the featured product against any defects.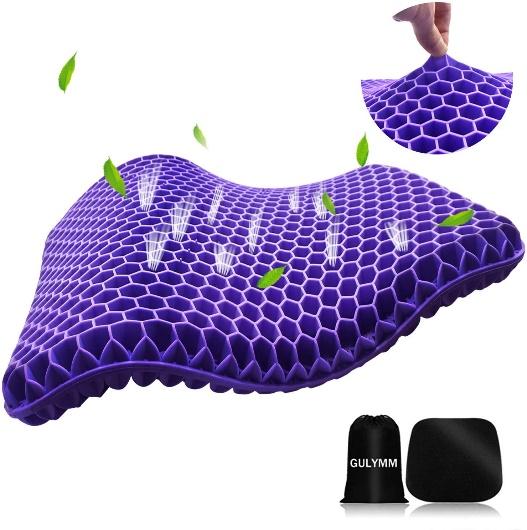 If you spend quite a lot of time sitting in the dining room chair, this seat cushion is perfect. It is a gel egg sitter seat cushion created with gel to provide adequate airflow and breathability. This seat cushion can help reduce the strain of sitting still for long hours while making you comfortable.
The seat cushion has a honeycomb structure that directs blood flow to both legs without negating the comfort it provides. Adequate blood flow is essential in various parts of the body. Furthermore, it can help prevent numbness and edema-like swelling.
The wide cells and honeycomb structure also increase airflow, which can be essential in keeping sweat at bay even on the hottest of summer days. The structure utilizes acupressure to relieve strain, reducing pressure in pertinent areas such as the lumbar, ensuring you are focused and comfortable throughout the day.
The gel cushions can be used with any type of chair, from a dining room chair to an office chair. Cleaning and maintenance are easy; all you need is soapy water and a clean cloth, and your seat cushion will be clean in just a couple of minutes. Furthermore, the gel material used to create this chair cushion is durable. You don't have to worry about it changing its color quickly.
Combining the honeycomb shape and gel material ensures that you have a soft fabric that will never be easily deformed. It is capable of maintaining its shape for a long time.
Apart from the seat cushion, you get a breathable and nonslip cover to provide more comfort and support. To make cleaning easier, the cover of this non slip chair pad is machine washable.
Conclusion
The best non slip chair pads have been created to relieve pain and pressure while sitting. This is great for elderly individuals with chronic conditions that make sitting difficult, those with back pain, or those that sit for extended periods.
Reading this article, you should have discovered which offers the best solution for you and how each differs from the others on the list.
Like this post? Spread the love!