Do you have beautiful hardwood floors in your home that guests tend to fawn over? Installing these floors can be expensive, and the best thing you can do is to preserve your investment. Preserving your investment in this sense means purchasing the best non slip furniture pads for hardwood floors.
Non slip furniture pads provide your furniture with a new design language, but they also act as floor protectors, keeping costly scratches off the surface of your laminate floor. They can also help prevent falls in the home. The non slip pads grip the floor and anchor the items to prevent them from sliding.
If you are reading this, you are undoubtedly interested in preserving the value of your hardwood and want to make the home a safer environment. Read on to discover the best non slip furniture pads for hardwood floors.
And, for those concerned about floor safety in the home, find out how to protect yourself from slips and falls while using the stairs here.
Best Non Slip Furniture Pads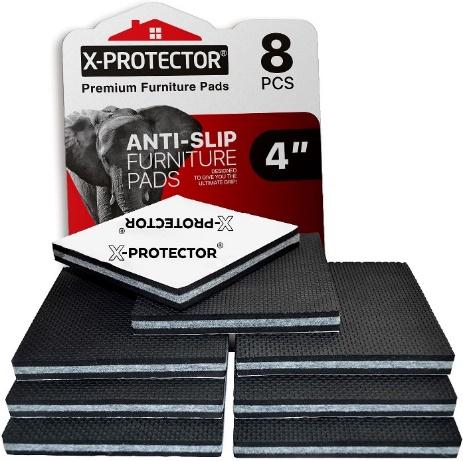 If your sofa slides from one side to another, scratching the floor surface, then you need to consider these non slip furniture pads from X-Protector. This set consists of 8 pieces of 4-inch furniture pads and great floor protectors that prevent your wooden furniture from scratching and sliding on your floor. You can use these furniture pads with vases, stools, plant pots, chairs, table legs, beds, coffee tables, ottomans, and any furniture you want to keep in place.
Installation is easy as you just need to clean the surface of the furniture feet, then peel the non slip pad from the back paper and directly stick it onto the furniture. These floor protectors have one of the strongest adhesives available, ensuring that your furniture feet stick to the pad for a long time.
These rubber furniture pads can work on all types of floors, from laminate, vinyl, and tile, to linoleum, concrete, hardwood, and marble.
Pros
You can use it for heavy furniture
It is a heavy-duty furniture pad that works effectively to prevent scratches on your hardwood floor
It does not slip when you sleep or sit on the furniture
The pad is reliable and sturdy
It can be cut into custom shapes to suit your needs
Cons
It doesn't have multiple color options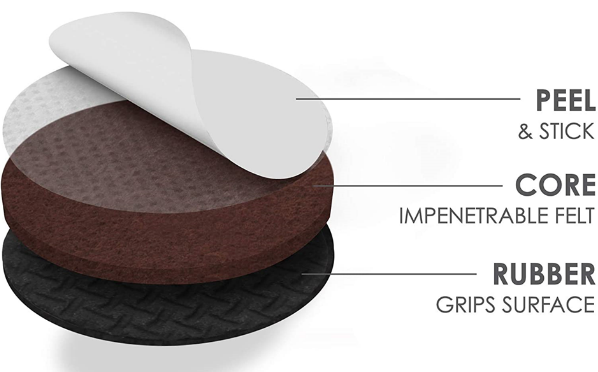 The last thing you want to do is damage your wonderful hardwood floors. Furniture movements can potentially damage all types of floors, not just hardwood floors. The Slipstick GorillaPads non slip furniture pads can help preserve your floors. They are constructed with high quality and durable rubber foam base layer. This layer provides unparalleled grip between the furniture feet and the hardwood floor.
With these non slip furniture pads for hardwood floors, you don't have to worry about your wooden furniture slipping and sliding all over your floor. You also don't have to be concerned about furniture marks and punctures. It has a dark-brown solid felt core to absorb all the pressure your heavy wooden furniture would ordinarily be placed on your floors.
It has a self-adhesive backing that ensures usability and installation is easy. If you need to move your furniture around, the GorillaPads non slip furniture pads come with a peel that lets you remove them easily. Furthermore, you get a 5-year replacement warranty on the pads at no cost.
Pros
These rubber pads come with strong adhesives, which enable them to stick firmly to any piece of wooden furniture
Highly durable
A great choice for large or wide furniture feet
The rubber pad is puncture-proof
Comes with a 5-year replacement warranty
Cons
Some complain that the pads fall off the furniture and need to be put back on
The Amazon Basics Felt Furniture pads offer you a break from the marks and noise that your furniture feet make on your hardwood floors. You can place the self-adhesive felt pads underneath the furniture legs to protect the hardwood. The set includes transparent bumpers for protecting doors, walls, and more.
With this set of felt furniture pads, you can prevent scrapes, paint streaks, scratches, and any other damage. These nonskid furniture pads can also help dampen noise. The soft felt construction offers a gentle barrier and slight elevation to separate hard surfaces from each other.
The adhesive back promotes seamless installation onto flat and hard surfaces. The set comes with 136 felt furniture pads in different sizes and shapes, making them suitable for many home furniture, electronics, and décor.
Pros
The non skid furniture pads are constructed well and are of good quality
They come in various sizes and shapes, making them quite versatile
They are durable, ensuring they will last for a long time
Cons
They might not be great for heavy furniture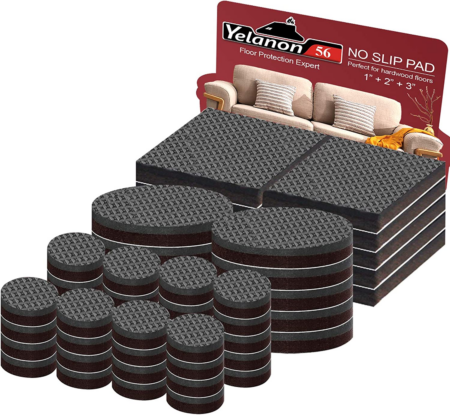 If you're looking to fit multiple pieces of furniture in a home with non slip furniture pads, this pack is perfect! Here you are getting 56 pieces of furniture pads, suitable for different sized furniture. You can use these non slip pads on a multitude of items throughout the home, from small chairs to large couches.
These furniture pads are made of layered rubber foam and felt with an extra strong adhesive to stick to furniture. These pads are designed to keep sloors safe, free from scuffs and scratches. Non skid, they will keep furniture firmly in place.
Pros
Extremely great value for money and affordable
The rubber pads come in multiple sizes to suit varying furniture leg shapes
It provides a strong grip and sticks to the surface of the furniture
Cons
May be hard to remove from furniture once applied
Conclusion
Reading this article, you can discover that non slip furniture pads are for more than just decoration. Furniture protectors can be used to protect your hardwood floors, ensuring they remain spotless for years. Nobody likes having to look at scratched hardwood floors, plus trying to get the floors to their previous immaculate condition can be difficult and even expensive.
To save you from spending an arm and a leg on hardwood floor restoration, you can spend a little money to get the best non slip furniture pads for hardwood floors listed in this article. Hopefully, this review can provide you with the information you require.
Like this post? Spread the love!