Light equals safety when you're aging in place. Older eyes need more light than younger eyes, but it's not just the quantity of the light that matters – it's the quality of light and how it's used around your home.
Quality light also contributes to comfort, confidence and overall wellbeing. If your parent can see where they're going and what they're doing as they move about their home, everything else becomes that much easier – and significantly safer.
You can see why lighting is one of the most important considerations to make when you start planning your aging-in-place home renovation. Before you start shopping, make sure you're adequately planning for the two types of lighting your home needs.
Ambient Lighting. Ambient light spreads out wide across a room and is typically a room's main light source. Think large lighting fixtures and lamps. Ambient light is usually the type of light we think about and plan for during a home remodel.
Task Lighting. Task lighting is the light we use to complete specific tasks. Think reading lights or desk lamps. Unlike ambient lights, task lights are usually smaller and fill the gaps in a room where ambient light doesn't reach. They're hugely important for an aging-in-place home, yet they're easily forgotten during a remodel.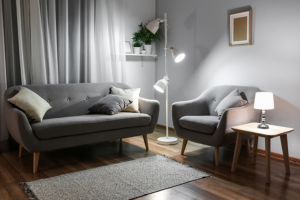 Because task lighting is so critical for a safe aging-in-place home – and so often forgotten – I decided it was time to dig into this topic to help you find the best task lights for your aging-in-place home. Here we're going to cover why task lighting is so important for aging-in-place, the best places in your home to add task lights, and which tasks lights out there are my go-to's.
Why Is Task Lighting So Important for Older Adults?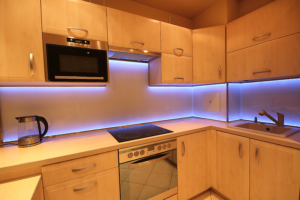 Older homes are known for low ceilings and dark corners, and newer homes can be guilty of these traits, too. Inconsistent light can make seeing objects in a room a challenge for an older adult, which then creates opportunities for trips and falls. Even the best ambient lights can't always illuminate the entire home the way it should for aging in place. Adding light to those dark spots is the perfect job for a task light.
The Wrong Task Lights Can Cause More Harm Than Good
Tasks lights can be a huge benefit for adults who need a little extra help seeing details while reading or working. But, some task lights can also create discomfort or make vision problems even worse. Avoid task lights that:
Create Glare
Get Extremely Hot
Don't Adjust to Brightness or Location Needs
While the wrong lights can do more harm than good, the right lights can make all the difference in the visual safety of your aging-in-place home. Here are some of the key features to look for when searching for the right task lights for an older adult.
Dimmer Switch. Your parent should be able to customize the light's brightness to their needs
Adjustable Position. Choose a light you can move up, down and side-to-side to add even more customization
Cool Light Bulbs. Aging eye lens can start to yellow. Adding cool light bulbs, like LEDs, can help balance the light our eyes take in
Here are the Best Task Lights to Add to Your Aging-in-Place Home
You'll want to focus on adding task lights in the rooms or general areas where your parent spends most of their time. Do this and you'll make doing daily tasks easier and safer. When I'm working with my homeowners, I always recommend adding task lights in the bedroom, kitchen, office and hobby room.
Here's my list of the best task lights out there that you can add to your aging-in-place home.
By the Bed
Acegoo Gooseneck Dimmable Reading Light
Your parent needs a high-quality task light whenever they're reading, especially in bed at night in a dark room. This task light is close to perfect because it's both dimmable and directional – meaning you can adjust the level of brightness and pinpoint its head for the perfect amount of light exactly where you need it. This also helps keep the light from brightening the rest of the room and waking up a partner. Mount this task light right on the wall behind the headboard.
If you need a bedside lamp that casts light wider than a pinpoint beam, this adjustable floor and table lamp is worth checking out. I love this task lamp's versatility. It can stand on its own as a floor lamp next to the bed or shrink down to serve as a large table lamp. You can also change the brightness between one of five dimming levels, and adjust the light color from warm to cool using the panel on its neck. And, you can easily adjust its head to point light right where you need it most.
In the Kitchen
EShine LED Dimmable Under Cabinet Light
This LED strip light for overtop of the kitchen counter has all of the features you need to brighten up your counter workspace. It's dimmable and touchless with cooler, long-lasting LEDs. Its touchless feature is my favorite part! All your parent has to do is wave their hand under the light to turn it on – no buttons for sore, arthritic hands to push.
Another option for kitchen counter task lighting is an adhesive strip light. Check out my recent on "Strip Lighting for Aging in Place" to learn about strip task lighting for the aging-in-place kitchen.
Hamilton Hills Round Flush Mount Ceiling Task Light
If what you really need in your aging-in-place kitchen is added task lighting over an island or other area that doesn't sit under a countertop, check out these ceiling lights from Hamilton Hills. If your parent's kitchen tends to be dark with low ceilings, add a few of these circular lights above your island workspace for targeted light over food preparation areas. They'll make your kitchen much safer for cutting and chopping food and are low-profile so you'll barely notice they're there.
Pro Tip: If you have a taller cathedral-height kitchen ceiling, concentrated task lights like these aren't the right option to brighten a specific workspace. You're going to want to invest in a set of quality recessed ambient ceiling lights that can brighten the entire kitchen.
In the Office
This LED desk lamp is packed with features, all of which are perfect for lighting up your parent's office workspace. First and foremost, this lamp is extremely adjustable with two hinge points that pivot so it can place light wherever you need it to. It's a great addition to an aging-in-place home because of its touch switch, multiple light modules with cool light setting and seven dimming levels. And, it promises to be flicker-free making it more comfortable on the eye.
Omnilight Gooseneck Dimmable Desk Lamp
This task light makes the list for so many reasons. For one, I love the look and design. While aging-in-place should always put function over form, this task light is attractive yet deceivingly versatile. Its gooseneck design gives it a 360-degree range of motion letting you adjust it to any angle as you read or work. It also has three dimming brightness levels, an LED bulb, and won't cause eye fatigue.
At the Craft or Sewing Table
This task light from Brightech is both an incredibly adjustable task light and a high-quality LED magnifying lamp. It's perfect for sewing, crafting or any hobby area where your parent is working with small materials or reading fine print. They'll get the added light they need and won't strain their eyes trying to see and concentrate on the hobby they love.
Otus Motion Activated Architect Desk Lamp
This task light has it all. The Otus desk lamp makes the list because of its motion-activated on and off sensor – perfect for anyone aging-in-place whether they're sewing, crafting or doing any other number of tasks. Its light is bright yet soft with no glare. And, it's dimmable and has a 360-degree rotating head. It seriously doesn't get better than this for aging in place.
Add Task Lights Wherever Your Parent Spends the Most Time
The best places to add task lights in your aging-in-place home comes down to how your parent uses their home and where they spend the most time. If they have a favorite chair in the living room and love reading there each day, make sure the area around the chair is well-lit. Even if there's a side lamp by the chair now, take a look and see if an added task light would make things even safer.
Send me your questions as you figure out the best ways to add quality task lighting to your aging-in-place home. If you're unsure of where to add lighting or just need some advice, use the comments section below. Lighting is one of the most important aspects of safe aging-in-place living so take this weekend and add a few task lights around the house. You'll instantly see what a difference it makes for aging-in-place.
Good luck with your next aging-in-place home project!
Like this post? Spread the love!