Recessed lighting is a relatively cost-effective way to add a beautiful finishing touch to any room in the home. And yet this kind of lighting often gets placed in the home improvement box labeled 'luxury' and ignored by budget-conscious DIYers. The truth is that recessed lights are as economical and practical as they are stylish, especially when you're adding much-needed light to the aging-in-place home.
If your parent is aging, you know that their eyes aren't what they used to be. Old eyes have difficulty recognizing contrast and need more light than younger eyes. This is where recessed lights can really come in handy. You can place a series of recessed lights along the ceiling to brighten an entire room – far more effective than adding brightness using a single room lamp.  And because they're elevated, they're also much safer than floor lamps with a cord and base that can easily turn into a tripping hazard.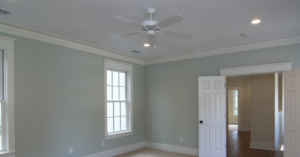 As you plan your aging-in-place home renovation, I strongly recommend including recessed lighting in every room that isn't naturally bright.
Before you start shopping, though, there are some recessed lighting basics you need to know. That's why I've put together this guide on recessed lights for aging in place. Here's what you need to know about the different options along with a list of the best recessed lights out there for aging-in-place.
Make Sure Your Recessed Lights are LEDs
First and foremost, you want recessed lights that use LEDs for several reasons. For one, an LED bulb will last much longer than one that uses a traditional bulb because it draws less power. The fact that they draw less power is also important because it's why LEDs produce less heat. Less heat equals a reduced risk of a fire hazard.
If that weren't enough, the bulbs pretty much last forever which means changing out bulbs happens much less frequently. That's important because when it is time to replace the bulb in a recessed light, you're going to need to climb a ladder to reach it and use tools to pull it away from the ceiling – not a job for any older adult who is aging in place, especially one with balance issues.
So, have I sold you on LEDs yet? Good, I thought so!
There Are Two Types of Light to Consider
A home generally consists of two main types of light: ambient and task. There are additional types that play a more decorative role, but when you're adding light in an aging-in-place home, ambient and task lighting are the two main types of light to consider.
First you need to understand the difference between these two types of light.
Ambient light is usually the primary light source in a room and reaches from wall to wall. When recessed lights are used to create ambient light, they cast a wide net of light throughout the entire room. You'll see recessed ambient lights near the corners of a room where the light can bounce off both the wall and ceiling to add additional brightness.
Task lights are pinpoints of light placed directly overhead of work areas to give you more light when you're performing a specific task. If you have recessed lights over top of your bathroom sink or kitchen island, they're serving as task lights.
There are a few attributes of a recessed light that make it one worth considering.  Start by looking at these features.
Thin vs Thick
The thinness of the light refers to how thick or thick the lip of the light and how flush it sits against the ceiling. Design trends place thin recessed lights as more desirable. However, this feature does not speak to the quality of the light you're adding to your aging-in-place home. Since safety always weights out over aesthetics when you're designing a home for an older adult, don't let this feature drive your decision. The exception could be if you're planning on a resale in the near future.
Dimmer vs Static
I'm a fan of dimmer lights in my aging-in-place homes. Light can be a tricky thing for older adults. Too little light can be just as dangerous as too much light. Recessed lights on a dimmer make sense for aging eyes, giving your parent complete control over how bright they make the room. Unless there's a need not to, opt for recessed lights with a dimmer.
Shallow vs Deep
We tend to think of recessed lights as lights with bulbs that sit right along the plane of the ceiling. Some recessed lights, however, recess the bulb above the plane of the ceiling so the bulb actually rests a few inches above it. These baffled recessed lights look like cones with the bottom edge of the cone laying against the ceiling and the top of the come holding the bulb.
Most homeowners don't opt for this type of light simply because they're not as trendy as lights that sit flush. However, deeply baffled recessed lights are worth a serious look when you're designing for aging-in-place. Because these cone-shaped lights are recessed deeper into the ceiling, their shape and depth give off far less glare than their flush counterparts. Glare can be uncomfortable and unsafe for an older adult aging in place.
Here are Some of the Best LED Recessed Lights I've Found for Aging in Place
When you're ready to shop, start with this list of my favorite recessed lights for the aging-in-place home.
Best Deep Baffle: Energetic Smarter Lighting LED Color Changing Recessed Light
As I mentioned, a deep baffle recessed light with the bulb tucked up into the ceiling several inches from the ceiling plane is going to help reduce some of the glare that these lights can cause. Of all of the deep baffle options I've found, I like this one from Energetic for several reasons.
For one, it offers a dimmable light in several color-changing options. Your parent can select if they want soft, warm or cool white light, as well as daylight or cool daylight options. Essentially, this lets them move from cooler during the day to warmer light at night when their eyes need to rest. Or, they can keep the lights soft throughout the day to keep blue light out. There are a ton of options here, all of which can make the overall house more comfortable for aging-in-place eyes.
Deep Baffle Runner Up: Hyperikon 6-inch LED Recessed Light
This deep baffle light from Hyperikon allows the bulb to sit a couple of inches from the ceiling plane which is a good depth for effective glare reduction while still giving the space under the light lots of added brightness. They also come with what Hyperikon called 'smooth dimmability.' I like these lights because of their simple, easy-to-use dimmer. They're easily adjusted so your parent gets just enough light to make the room safe and comfortable.
Best Thin Recessed Light: Ensenior 12-Pack Ultra-Thin LED Recessed Light
When my aging-in-place homeowners want the clean, modern look of a flush recessed light, this is my go-to. The absolute best feature of these ultra-thin lights is their frosted lens. They give you the best of both worlds – a flush, modern look with an anti-glare lens. Your parents won't have to worry about any glare bouncing off of walls or countertops.
Even with the frosted lends, these LED recessed lights pack a lot of lumens into a thin, minimal light fixture. Because it comes as a 12 pack, this one set can typically provide enough light for a large living room, making for a much easier DIY install.
Thin Recessed Light Runner Up: TORCHSTAR Ultra-Thin LED Recessed Light
This thin light option from TORCHSTAR is a close second and a great option for any aging-in-place recessed lighting project you have planned. The advantage of this model is that it only needs a couple of inches of ceiling clearance. The junction boxes on a lot of recessed lights you'll find are pretty thick and require several inches of clearance space above the ceiling to install. If you're dealing with minimal ceiling space, this TORCHSTAR light is a rare find in that it only requires 2 inches of ceiling clearance.
It's not only a space-saver, though. It's an excellent recessed light option in its own right, giving you a bright, dimmable option. It also has a thin but effective baffle to reduce some potential glare – another big reason it's worth considering during your aging-in-place upgrade.
Best Smart Recessed Light: Philips Hue LED Smart Recessed Light
I'm a huge fan of smart home technology for the aging-in-place home. Because we can automate tasks and control our homes with our voice and smartphone, there is absolutely no need for your parent to have to get up to turn on the lights.
If you're going to incorporate smart tech tools into any part of the home, the lights are the place to start. Why? Because older adults need bright light to see and safely navigate the home. But in order to turn on the light they need to stay safe, they many times have to find it in the dark… You can see the backward nature of our traditional system. Eliminate the need to navigate your house in the dark and you're going to make a big difference in the safety of your aging-in-place home.
The smart recessed light I like to use is the Philips Hue LED Smart Light. This light has all of the benefits of the recessed lights already on this list with added Bluetooth-enabled voice control capabilities., You'll need to sync this light with your Alexa to make the connection and start using the voice control feature.
As a DIYer, don't be concerned about the set-up. These smart recessed lights are easy to install. The process isn't different than any other similar-type light. The last step of the process is screwing in the Hue Bluetooth downlight and downloading the Hue app to connect directly to the bulb.
Smart Recessed Light Runner Up: HALO Recessed Smart LED Light
This smart recessed light from HALO is another excellent voice-controlled lighting option for aging-in-place. It makes my list of favorites because of its baffle. This smart light has a deeper baffle than most other smart recessed lights, making it more comfortable if your parent is sensitive to glare. Like the Philips model, you'll need an Alexa to connect this to your home and a mobile app to control the light's brightness, color temperature and turn it on and off from a smartphone.
If You Have Basic Electrical Experience, Installing Recessed Lights is a Great DIY Project
Once you have your recessed lights ready to go, installation is a pretty straightforward process. If you're new to the world of DIY home upgrades or if you haven't done electrical work before, consider hiring a contractor or electrician. While the process isn't difficult, you should never mess with electrical work if you don't have the experience to do the job safely.
If you do decide it's safe to tackle this DIY job yourself, you can read my article on "How to Install Recessed Lighting for Aging in Place." Here I walk through the installation step by step, giving you the tips and tools you need to do the job right.
Now It's Time to Brighten Up Your Aging-in-Place Home
Take this weekend and add some much-needed light to your aging-in-place home. You'll be amazed as the instant improvement in brightness and visibility it'll create. Not to mention the immediate safety upgrades recessed lights will give your home.
If you need more information on my favorite recessed lights for aging-in-place or have questions as you get started with the install, use the comments section below and ask away. I'm here to do everything I can to make your aging-in-place home safe and comfortable.
Good luck with your aging-in-place home project!
Like this post? Spread the love!