If you are organizing an aging-in-place home renovation, you should know that every detail you add as a part of your renovation master plan matters. You need to carefully consider every product you will use to make your home safer and allow easier access to every space.
Of course, one of the most essential spaces in your home is the kitchen. In an accident-prone space, you need to be especially careful of how you build your kitchen and make it more comfortable and easier to use for older adults.
An essential part of every kitchen is the faucet, and when choosing one, it is best to aim for a faucet of excellent quality, which provides practicality to an older adult. Moen kitchen faucets are highly regarded as practical products that require little to no effort to use or clean.
The History of Moen
The Moen product line started thanks to the creations of Al Moen, who invented the single-handle faucet in the early 1940s. Since then, multiple new and innovative designs of kitchen and bathroom faucets, showerheads, and bath safety products have been added to its diverse selection, offering safety and practicality to every customer.
Today, Moen is considered one of the best faucet brands in North America. The Moen kitchen faucets are carefully designed and include practical features for your every need. By purchasing a Moen kitchen faucet, you invest in a product that guarantees you high value for decades.
The 5 Best Moen Kitchen Faucets for Aging in Place
It should be noted that Moen's products are created specifically to comply with the Americans with Disabilities Act (ADA) specifications. Let's look at the top five Moen kitchen faucets you should consider when planning an aging-in-place home renovation.
This extremely practical and touchless kitchen faucet offers effortless use for any homeowner who likes to spend a lot of their time in the kitchen. One of the best Moen kitchen faucet models in the current line, the Moen Align Motionsense Kitchen Faucet, is also included in our five best touchless kitchen faucets list.
The MotionSense wave single-sensor allows you to do as you like by simply waving your hand. This is an essential feature for many people who may find it challenging to use conventional faucets with knobs. The faucet also has a single-hand lever as an alternate option to turn the water on/off for your convenience.
This kitchen faucet is also designed with a high arc spout that allows you to easily reach the running water without stretching your hands too far. The retractable hose will also enable you to pull it down to the level you prefer for everyday tasks such as rinsing fruits and vegetables or cleaning your kitchenware. The pulldown hose also makes it easier and more comfortable to clean your sink after use.
The main drawback of this kitchen faucet is that it is generally quite pricey, so its cost might prevent some interested individuals from purchasing it. However, due to the practical design and valuable features, the Moen Align Motionsense Kitchen Faucet is worth the investment.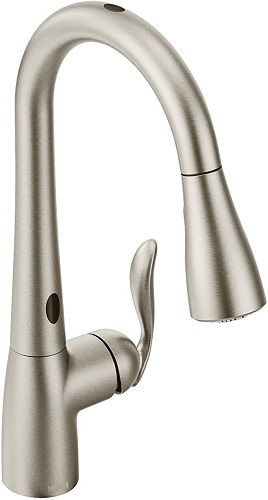 This is another great option from Moen that puts your comfort first and foremost. This model includes two sensors (one on the top of the spout and one on the bottom front) for your convenience, allowing you to turn the water on/off with a single hand movement. While there is a single-hand level on this faucet, you won't even need to use it most of the time. Therefore you will not need to put extra stress on your hands during use.
This Moen Arbor Kitchen Faucet includes the Power Clean spray technology, which provides extra spray power for easy cleaning. The spray technology on this faucet model is superior to most of the other Moen models.
Moreover, the spray hose is retractable, which allows you the ease of movement during use. You can adjust the spray settings as you like and based on the task you want to complete by pressing the button on top of the hose. The hose can easily be disengaged from its base, requiring almost no effort from you. Some older adults might consider this a great feature.

This Moen faucet model is the standardized version of the first entry on our list. It is included because even without the touchless technology, its main features still make it a high-quality kitchen faucet.
The one-hand lever makes it very easy for you to turn the water on and off, while the 10-inch high-arc spout makes it even more functional as it allows you to reach the running water with no effort easily.
The pulldown hose gives you flexibility during use and even more reach. The hose retracts with ease, and it requires little to no effort from your part as well. With this model, you also get Moen's signature Power Clean spray technology for easy cleaning.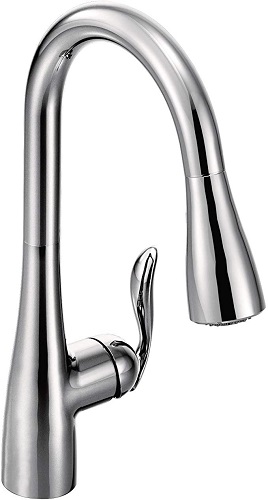 This model is the standardized version of the second entry on our list, which is still a great kitchen faucet to consider at a more affordable price.
It includes an easy-to-use single-hand lever for conveniently running cold or hot water, and the Power Boost technology allows you to clean your dishes better and faster.
The pulldown spray head, designed with the Reflex system, helps you move quickly during use and allows you to reach as far as you need. Then, the hose can be safely secured back at the end of the spout. The high-arc spout also allows easy reach and can rotate 360 degrees.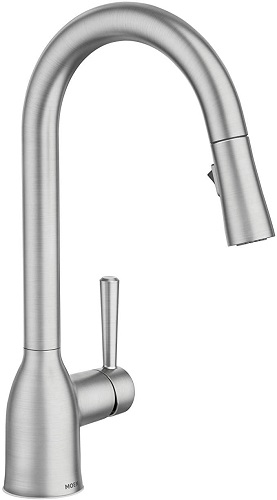 This Moen faucet model includes most of the features an older adult needs but at a more affordable price. It offers you convenience and comfort while using.
Like some of the previous models on this list, this kitchen faucet has a Reflex system that allows you to easily use the pulldown spray head and reach every corner of your sink. The hose also automatically retracts with ease.
The signature Power Clean spray technology makes cleaning an easy process. You can also change the spray settings between the two offered functions: An aerated stream for simple cleaning and a strong rinse for heavy-duty cleaning of high resistant stains.
Conclusion
Moen is a great kitchen faucet brand, perfect for anyone looking to do an age-in-place home renovation. The brand's helpful features make it very easy for older adults to effortlessly use these kitchen faucets making their daily routines easy.
While some of the kitchen faucet options above might be deemed too expensive for some people, other more standard versions can still offer a lot of convenience to the user. Ultimately, Moen is a high-quality brand, and selecting any of their products will guarantee you long-lasting value.
Like this post? Spread the love!