Bathroom faucets are typically decided in a hurry compared to other more expensive items in the bathroom, such as the shower, shower wall, tub, and sink. Not thoroughly considering the quality of the bathroom faucet could lead to some issues in the future.
For this reason, homeowners need to search for a high-quality bathroom faucet that doesn't have any of the frequent issues. It is also important to consider the style of the bathroom sink faucet. With that in mind, this article will highlight 9 of the best Moen bathroom Faucets for aging in place. Let's begin!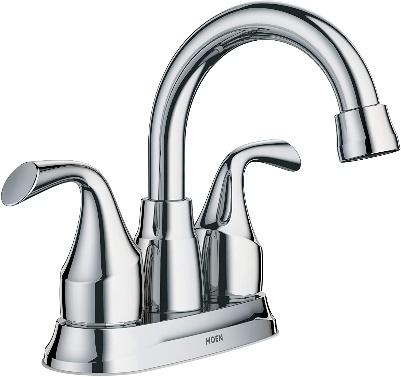 The Moen Idora is a two-handle centerset bathroom sink faucet designed for easy use. Its chrome finish ensures that it can be used in any bathroom regardless of the design language. The two handles come with PosiTemp Valves to maintain the water temperature. Faucet installation is easy as with other Moen bathroom sink faucets. You can coordinate the Moen Idora with other accessories found in the Idora Collection.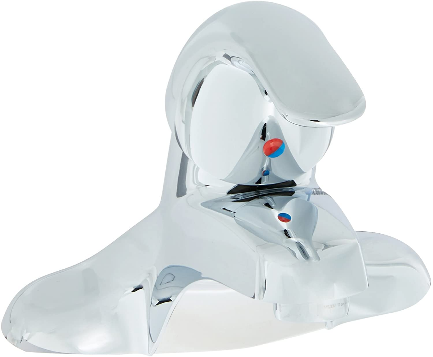 The Moen Adler is a one-handle, low arc bathroom faucet created to add style to any bathroom. Its chrome finish is capable of resisting water spots and fingerprints. Installation is easy thanks to the 4-inch centerset design.
As with all single-handle lever designs, it offers temperature and pressure control. It is also ADA compliant, ensuring it can be operated seamlessly. It also comes with the Moen Standard lifetime guarantee.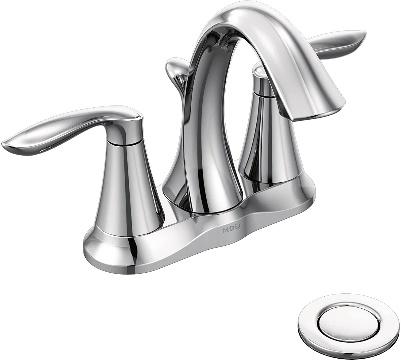 The Moen Eva is a two-handle bathroom faucet with a highly reflective chrome finish. This finish is designed to be highly reflective, ensuring that it can work with just about any decorating style. The two-handle levers make controlling the water pressure and temperature easy.
The Moen Eva is one of the best Moen bathroom faucets as it combines style and function without damaging the environment. The EPA WaterSense certification underlines this philosophy. As it is the theme with other Moen bathroom faucets, you can use this faucet with accessories and faucets from the Eva collection. With a lifetime warranty and ADA compliance, this is the Moen bathroom faucet for you.
This single-handle faucet is one of the best Moen bathroom faucets available. The Moen 6702 Genta comes in 3 finishes: Chrome, Matte Black, and Brushed Nickel. The pictured Chrome finish is extremely reflective, providing a mirror-like look suited to just about any design language.
The design is flexible as you can install it on a single-hole bathroom sink or a 3 hole one. To ensure installation is easy, it comes with an Escutcheon. The single handle design makes adjusting the pressure and water temperature quite easy.
Its single-hole mount helps create a cleaner look when used with custom countertops. You can also use this bathroom faucet in combination with accessories and faucets from the Genta LX collection.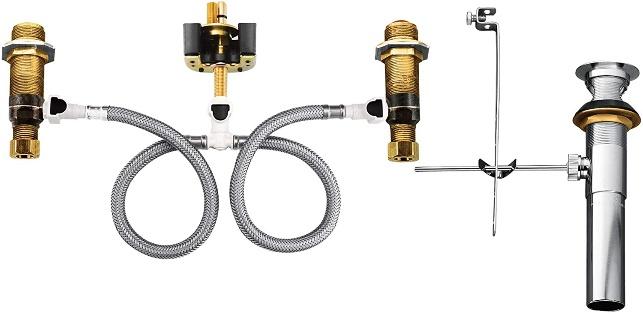 The Moen 9000 is a widespread bathroom sink faucet built on the Moen M-PACT common valve system. This system enables you to update the style of the bathroom faucet without having to replace the plumbing in the future. Installation is easy thanks to the patent Moen design.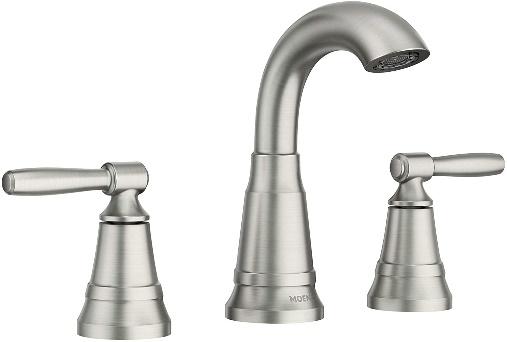 The Moen Halle offers a unique two-handle design with its spot resist nickel finish. It is perfectly suited to a widespread bathroom sink, and the finish ensures that it can resist water spots and fingerprints to provide a clean-looking bathroom.
The faucet installation is easy as you can install it between 8 inches and 16 inches to provide a widespread customized look. You can coordinate it with other bathroom accessories in the Halle Collection.
The aerated flow rate GPM offers convenience for everyday use. Also included with this package is an easy installation drain assembly.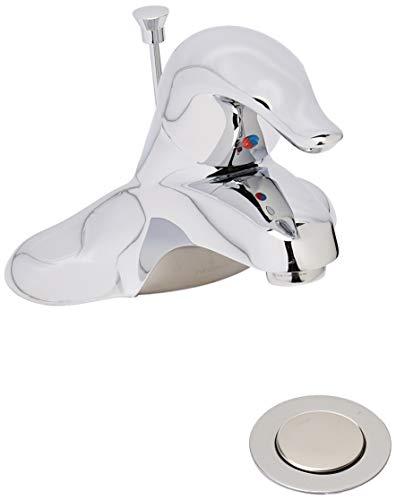 The Moen Chateau is a one-handle, low-arc bathroom faucet designed to provide elegance to any bathroom. It is available in 3 finishes: Chrome, Brushed Chrome, and Polished Brass. This ensures that this bathroom faucet fits any design language and decorating style.
The single handle lever is designed to provide easy temperature control and use. Its aerated flow is great for use every day in regular bathroom tasks. As with most Moen bathroom faucets, this faucet installation is easy, and it can conserve water without sacrificing performance, thanks to the EPA WaterSense certification.
The Moen Gibson Two-handle bathroom faucet is available in 3 different finishes: matte black, brushed nickel, and chrome. The choices of finishes can add a touch of class to any bathroom sink. You also get an EPA WaterSense rating to show that this Moen bathroom sink faucet is functional without damaging the environment.
The dual handles provide accurate temperature control, ensuring you can seamlessly adjust the water. Its design also complies with the ADA or Americans with Disabilities Act.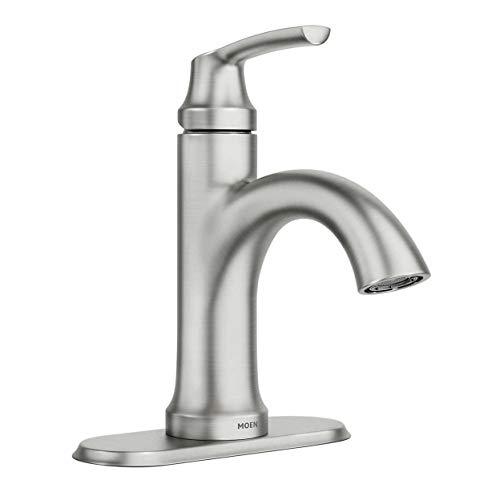 The Moen Wellton Bath Faucet has a spot resist brushed nickel finish designed to handle water spots and fingerprints, resulting in a cleaner-looking bath. Its one-handle lever design makes operation, particularly temperature control, easy.
Its installation design suits a single-hole bathroom sink mount which helps it create a cleaner look against custom countertops. The aerated flow ensures it is ideal for everyday tasks such as washing hands and brushing teeth.
This bathroom faucet doesn't sacrifice function for style, which is evident in its EPA WaterSense rating. The rating means it successfully conserves water.
Selecting the Best Moen Bathroom Sink Faucets
When it comes to selecting the best Moen bathroom faucets, there are a few factors you need to consider. They are:
Durability
The way a Moen bathroom faucet is built and designed, plus the material used, can determine its durability. You need to select a Moen bathroom faucet to handle pressure, damage, and daily use. It should offer an extremely streamlined style that goes with your bathroom's design language.
It should be something that lasts for a long time. This means it should simply break down after a little bit of use. Thankfully, Moen bathroom kins faucets all come with some form of warranty.
Ease of Use
When purchasing a showerhead or a bathroom faucet, you must consider its ease of use. How easy the product is to use can determine its performance. This article has listed the best Moen bathroom faucets for aging in place, and usability is a key determinant.
Furthermore, the last thing you want is to feel constrained or uncomfortable when using a bathroom faucet. Thankfully, various Moen bathroom sink faucets offer comfort, control, and stability.
Ratings
Most people tend to consider what others think about a product before purchasing it, and Moen bathroom sink faucets are no different. The reason for this is that reviews and ratings are a way to see if a product is great without purchasing it first.
The reviews a bathroom faucet get can be a great indication of its quality or lack thereof. And while not everyone will like the same thing, reviews and ratings can greatly reflect how good the product is.
Design
There are so great Moen bathroom sink faucets with varying designs to select from. The design of the bathroom faucet is an important factor to consider, alongside the color scheme and finish. Considering all of this can help you get the best out of your widespread bathroom sink.
Specifications
Before you make the final purchase decision, you need to consider the specifications of the product you intend to purchase. This means considering the bathroom faucet's design, capabilities, and finish. Since so many options are available, picking the right one is vital. You have to consider features, affordability, and performance when considering specifications.
Branding
Bathroom faucet brands like Moen, which are known for making high-quality products, are always the go-to when searching for American standard bathroom faucets. Great brands are typically made with extreme precision and care. Additionally, these brands have great customer service answering any inquiries or correcting product flaws, if any.
Cost
Cost is an important factor to consider when purchasing a Moen bathroom faucet. Costs can be linked to performance, and in certain instances, you get what you pay for. Selecting a Moen bathroom faucet means automatically improving your quality and performance.
Nevertheless, getting the most expensive bathroom faucet doesn't always mean getting the best. Various low-cost models, particularly from Moen, provide excellent comfort and performance.
Conclusion
When it comes to selecting Moen bathroom faucets, there is a variety of factors that need to be taken into account. Durability, ease of use, ratings, design, specifications, branding and cost are all important considerations when choosing the best Moen bathroom faucet. Taking all of these factors into account will ensure you get the best bang for your buck and a Moen faucet that will last a long time.
Like this post? Spread the love!