A lot of the contemporary kitchen faucets currently on the market have a lot of features that focus on providing maximum comfort to the user. User-friendly kitchen faucets have become more popular than traditional faucets because they make cleaning dishes a quick and straightforward process.
Therefore, many big-name brands specializing in manufacturing faucets have made it a standard practice to include these helpful features in almost every new faucet model.
Of course, these features have become particularly important for older adults that want to age in place. Aging in place is the ability of older adults to continue living in their own homes safely for as long as they wish or can.
To create safe-to-use products for people, including older adults, faucet manufacturers are regulated by the Americans with Disabilities Act (ADA). ADA-compliant products include three crucial features, a high arc spout for effortless reach, a single lever handle for turning the water on/off, and a pull down sprayer for easier cleaning.
Pull Down Kitchen Faucets: Things To Keep In Mind
Pull down kitchen faucets are important fixtures in homes meant for aging in place. These faucets should provide ease and comfort to an older adult during use. However, there are a few essential elements that pull down kitchen faucets should include if they will be installed for aging-in-place homes specifically.
Pull down kitchen faucets need enough cabinet space underneath the sink for the retractable hose to fit in. While the hose should not cover an excessive amount of space underneath the sink, it will still need enough to fit the entire length of the hose, including the part of the hose that is not visible.
If your kitchen does not permit you to fit in the rest of the retractable hose under the sink, you might need to consider this part of your aging in place kitchen renovation.
Your pull down kitchen faucet should also have a locking mechanism that secures your spray head at the end of the spout. Many brands equip their kitchen faucets with magnetic docking systems that automatically lock in the spray head of the hose. This will ensure that the spray head will not fall off the end of the spout and prevent any damage to the hose.
Finally, a pull down kitchen faucet requires a tall, high arc spout. A pull down faucet has a longer neck, bringing the spray head more in the middle above the sink and closer to the user. The length and shape of the neck mainly differentiate a pull down from pull out kitchen faucets.
The Difference Between Pull Down and Pull Out Faucets
Pull out kitchen faucets have shorter necks, most of them being attached to or being very close to the faucet's base. As their names indicate, with a pull out kitchen faucet, the user needs to pull out the retractable hose towards themselves. In contrast, with a pull down faucet, the user must pull the retractable hose down towards the sink.
Generally, pull-down faucets are preferred by aging-in-place homeowners because pulling the hose down requires less strength and puts less pressure on the hands than pulling out the hose. Moreover, with the high arc spout, the hose in a pull down faucet is much closer to the user than the one in a pull out faucet, making the actual act of pulling the hose much more manageable.
Pull out faucets also require more cabinet space underneath the sink as most of the hose is stored there. This is unlike pull down faucets in which a significant part of the hose is within the elongated spout on top of the sink.
5 Best Pull Down Kitchen Faucets
Let's take a look at the best pull down kitchen faucets for aging in place.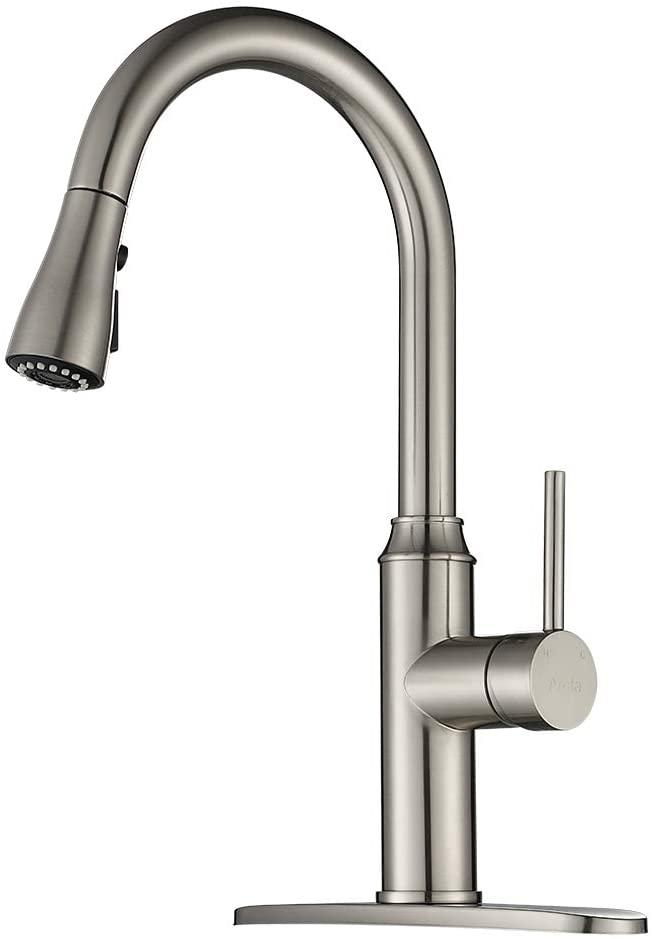 This great pull down kitchen faucet is a great choice for your aging-in-place home. It fits most sinks in the market, and it is very easy to install, even on your own.
The faucet features a high arch spout, making it easily accessible. The single handle allows you to easily turn on/off the water and control its temperature effortlessly. The spray head also retracts automatically back to the end of the spout.
The kitchen faucet has a brushed nickel finish that is easy to clean and makes it resistant to corrosion. This pull down faucet will be the most reliable and durable fixture in your kitchen.
The Arofa A02BY is another great choice for a pull down kitchen faucet. It includes three spray functions for a variety of cleaning tasks. The spray head can rotate a full 360 degrees, giving you the ease of movement.
The standard single handle lever and the spout with the high arc design are also included. The convenient retracting system allows the spray head to lock in back to the end of the spout.
The matte black finish makes the kitchen faucet very easy to clean and prevents fingerprints or watermarks from appearing. The faucet is made from stainless steel, making it very durable over time.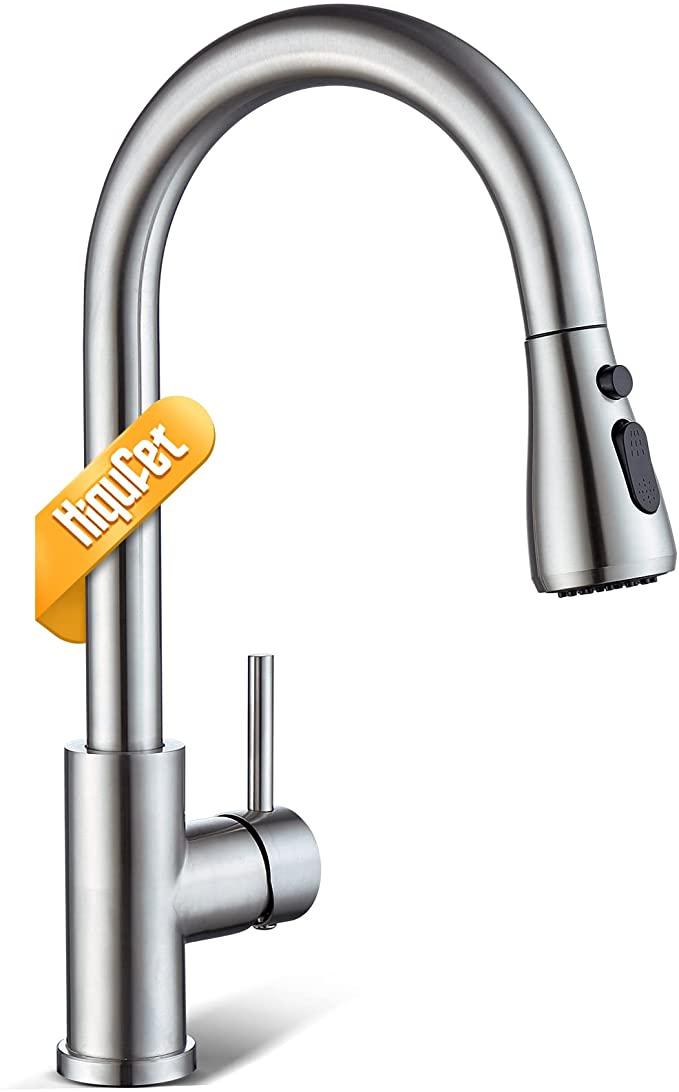 This kitchen faucet is very easy to install on your own, without hiring a plumber. It also allows for a straightforward cleaning process.
The spray head can rotate up to 360 degrees, allowing flexibility during use. Three spray functions will enable you to perform a variety of cleaning tasks. You can change between the different spray modes with the rocker switch on the sprayer head.
There are also some extra design elements included that are meant for greater safety. By turning the lever to the front, you get cold water first as a precaution to prevent any accidental burns with hot water.
Moreover, the materials used in making this kitchen faucet are resistant to corrosion. This makes sure that your health is maintained by drinking clear water, but it also ensures the durability of your faucet.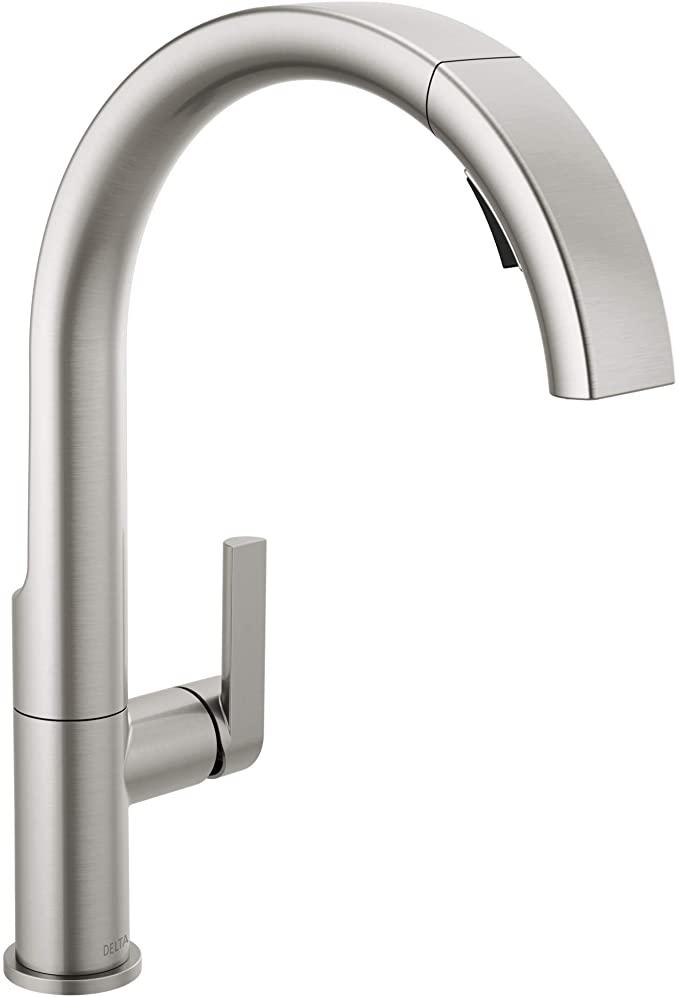 This is a great modern and ADA-compliant kitchen faucet that is easy to install and clean. It is a stylish faucet with a ribbon-like spout and offset blade handle, giving your kitchen a great modern vibe.
This faucet includes a high arc spout with a 20-inches retractable hose and a spray head that can swivel 360 degrees, allowing you great convenience during every kitchen task. The magnetic docking system automatically secures the spray head in its base, preventing damage to the spray head or the hose. It also includes two spray modes for a variety of cleaning tasks.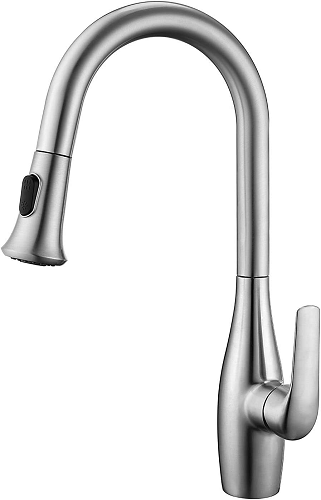 This kitchen faucet has a classic design and all the modern features that you will need for aging in place. It has a very simple structure and can be installed in as little as 20 minutes. The brushed nickel finish resists scratches and is rust-resistant, providing extra durability.
All the necessary features are included, like, a single lever handle for easy control, two spray functions (stream and spray), a high-arch spout, and a spray head that can rotate up to 360 degrees for extra convenience and ease of movement.
Conclusion
Pull down kitchen faucets are essential for every kitchen in an aging-in-place household. The included convenient features make this fixture a necessary purchase for anyone looking to do an aging in place renovation.
Thankfully, there are a lot of kitchen faucet manufacturers that keep making products that are ADA-compliant and put the comfort of their potential customers first, doing your search for a pull down kitchen faucet an easy process.
Like this post? Spread the love!