As we get older, protecting ourselves becomes even more important. Even the slightest slips and falls can be quite dangerous to our health. With that in mind, it is important to limit the risk of falls and slips by installing non slip runner rugs, particularly in areas with heavy foot traffic. Doing so can ensure we limit the risk.
A non slip runner rug can be useful in certain areas such as an entryway, hallway, living room, or kitchen. Non slip runner rugs come in various sizes, so selecting the right one can be important. To help you in your search, here are the 6 best non slip runner rugs for aging in place.
The stairs can also be a high-risk area; however, you can protect them by getting the PURE ERA Bullnose Carpet Stair Treads. Find out which other non slip stair threads you can get to safeguard your mobility here.

The Maples Rugs' Vivian Runner Rugs is an area rug that combines the traditional scroll design with a vintage style. It is a dual-colored design that provides a great luster-like sheen. This carpet runner is so stylish that it can be the focal piece of any room, matching your wall décor to the hilt. This carpet runner is available in various sizes, from 7 by 10 to 1'8 by 2'10.
You can choose from six color patterns ensuring that you have the right carpet pad for your living room or hallway. This non slip runner rug has been constructed from 100% nylon pile for enhanced fade resistance and added durability. At just 0.44 inches, it is a low pile runner that can be placed in just about any setting.
Cleaning this entryway runner rug is easy thanks to it being machine washable. You don't have to worry about the rug moving around, thanks to the non-skid rubberized backing. The print on this hardwood floor runner rug can resist discoloration, spills, and stains, making it the perfect choice for areas with heavy foot traffic.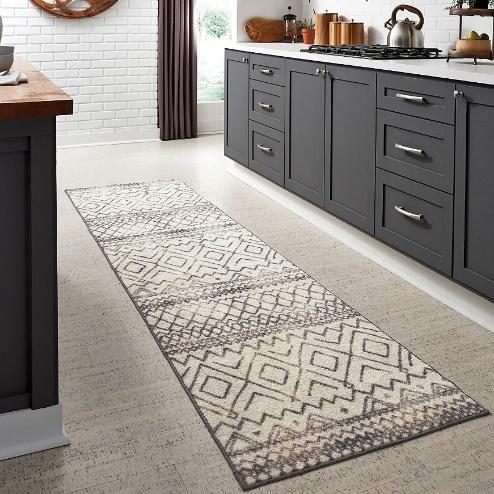 The Maples Rugs Abstract Diamond Rug features a neutral geometric pattern that will be a great update to any room in your home. There are numerous size options to select from, ensuring that you can find the right non slip runner rug for each room in your house, be it your home office, dining room, living room, bedroom, kitchen, or hallway.
This machine-washable rug runner has been crafted using 100% durable nylon. It has rubberized backing to ensure it remains a non slip runner rug. The non-skid rubber backing keeps the area rug in place and protects the hard floors. Thanks to this feature, you don't need to purchase an additional rug pad.
Thanks to its timeless designs and distressed patterns printed in subtle and neutral colors, the Maples rug is versatile. It measures 0.44inch, making it a low pile. This ensures that you don't have to worry about tripping over the rug when placed in the entryway.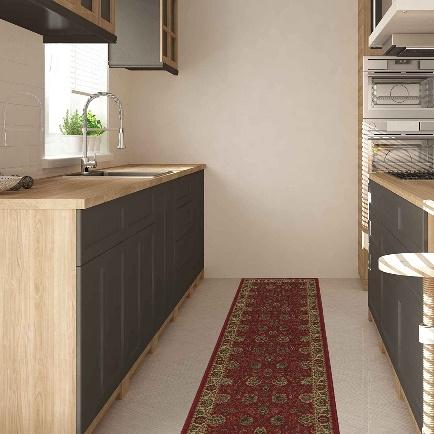 Transform the hardwood floor in your living room by getting an Ottomanson kitchen runner. This runner rug has a floral motif in red, green, and beige hues. The design has been delicately placed to accentuate any wall décor.
This rug runner looks so luxurious, so much so that it can transform your space. Hallway runners from the Ottomason Ottohome Collection are known to be both decorative and functional, and this non slip runner rug doesn't disappoint.
It can provide a trendy compliment to your home while preserving your hardwood floor from scratches, dirt, spills, and wear and tear from foot traffic. The Persian-style oriental rug is quite budget-friendly even though it looks stylish, thanks to its delicately arranged flowers. This runner rug is resistant to stains, shedding, and fading. Its durability is underlined by its approval for use in heavy foot traffic areas like playrooms, living rooms, entryways, hallways, and kitchens.
This runner rug is machine woven using 100% nylon low pile. This ensures the rug can remain flat while lasting for a while. A non slip runner rug has a rubber backing, which provides additional grip, ensuring the rug remains in place while in use.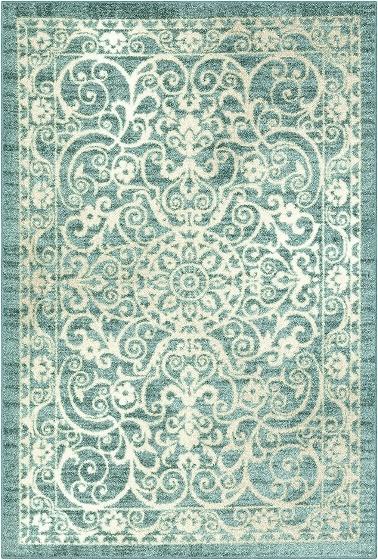 The Maples Pelham vintage area rug is perfectly suited for the living room and the bedroom. Protect your hardwood floor by getting this 3'4 by 5 area rug. It presents a traditional vintage-style thanks to its dual-colored design.
Constructed from 100% nylon pile, it is fade resistant and has increased durability over rugs. As with other Maples rugs, this rug runner is low pile and is the perfect rug for smaller areas. This is a machine washable rug as you can place it into the washing machine without damaging it. It also has a skid-resistant latex backing to ensure you don't need any rug pad.
The Distressed Tapestry Rug by Maples is one of the best non slip runner rugs available on the market. It offers a modern style with clear inspiration from the traditional oriental design. The great thing about this carpet pad is that it comes in various sizes and color palettes to ensure it can go with just about any wall décor.
It has a high-quality nylon construction which bolsters its durability. Cleaning is easy as this runner rug is machine-washable. This feature ensures it can handle heavy foot traffic in an entryway, living room, or laundry room.
When it comes to safety, it has a skid-resistant latex backing included. This means you don't need to get an additional rug pad. The Distressed tapestry rug can handle spills, dirt, and anything regular hallway runners handle without looking worse for the wear.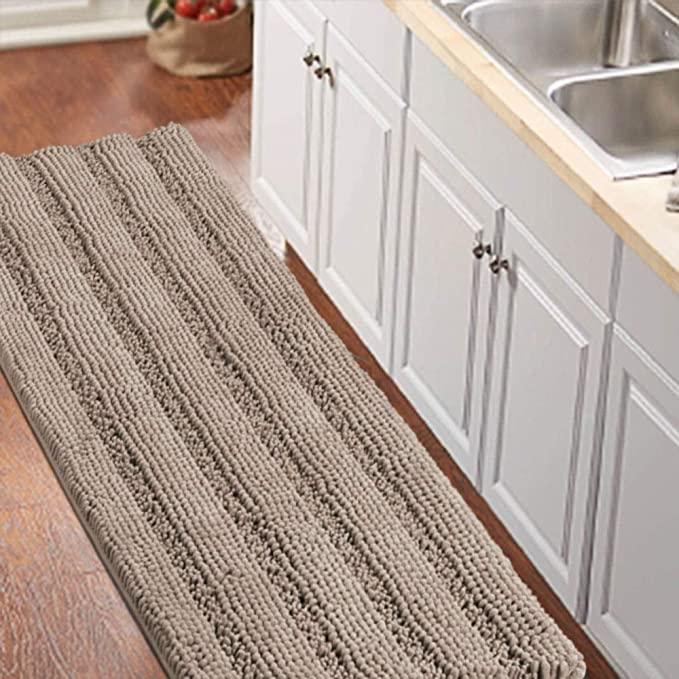 The Turquoize non slip runner rug is constructed from super fluffy and soft chenille fabric microfiber. It is extremely thick as it has been designed to rapidly absorb water, making it suitable for both the kitchen and the bathroom. The high technology SBE melt spray on the bottom ensures anti-skid protection. This feature will continue to work even after the mat is wet.
It has 13 patterns to select from and 4 sizes, ensuring it is never out of place regardless of where you keep it. You can place it in an entryway, or anywhere heavy foot traffic occurs. Maintenance is easy as you can wash it with a washing machine.
However, you need to wash it cold and airdry it. Refrain from using softener or bleach as that can damage the fabric. Brath new life into the rug by shaking it up. This ensures it will continuously protect your hardwood floor while making it safe for you to walk.
Conclusion
Overall, there are many great non slip runner rugs available to choose from. Whether you're looking for a traditional oriental design or a modern tapestry print, you can find the perfect rug that will provide both style and protection to your home.
The Persian-style oriental rug is especially budget-friendly due to its durability and stain resistance, while the Turquoize Non Slip Bath Runner is ideal for heavy foot traffic in the bathroom or kitchen. Regardless of your needs, these non slip runner rugs will help preserve your hardwood floor from damage without sacrificing style.
Like this post? Spread the love!