The kitchen is one of the places we spend a lot of time standing. Therefore, it makes perfect sense to find a non slip kitchen rug that is comfortable, relieves pressure from our joints, and is secure enough to eradicate slips. With that in mind, here are the 5 best non slip kitchen rugs for aging in place.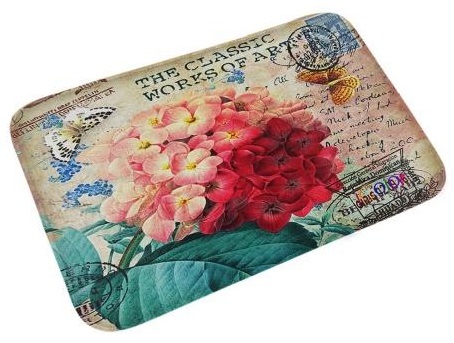 If you want to make a statement with your kitchen runner rug, you need not look any further than this floor mat from Icolor. It comes with a bright and bold design, incorporating colors such as neon, indigo, and blue tones.
This floor mat from Icolor is sure to breathe life into any kitchen. You can place it right at your kitchen entrance as it offers comfort, functionality, and style. You get 0.23 inches of broadness in this non slip kitchen mat, and while that might not be the thickest on this list, it can provide you comfort.
The thickness offers a low profile while still being durable enough to withstand heavy foot traffic. The soft coral velvet fiber gives the kitchen runer rug a premium feel, making it comfortable enough for you to walk barefooted.
Cleaning the rug is easy as it is machine washable. It has a non-skid rubber backing that protects your kitchen from water damage. It also ensures you don't have to worry about accidentally tripping.
It is available in 2 sizes: 19.7 by 31.5 inches and  16 by 24 inches, with 16 different patterns and colors. This means you will find the right non slip kitchen mat for you.
Pros
16 different patterns and color schemes to select from
Its vivid colors are sure to last for a long time, even after a couple of washes
Cons
It can get dirty at times, so it will require frequent cleaning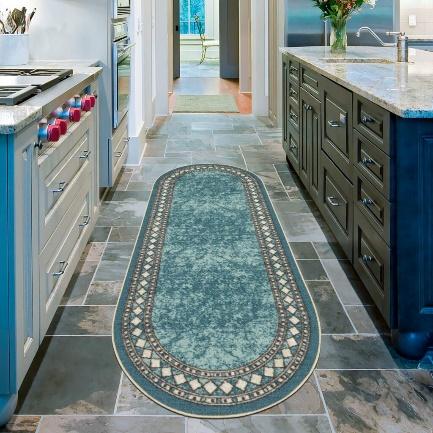 The Antep Rug's Alfombras Modern Bordered Rug offers a timeless and colorful design. The anti fatigue mat is low pile, soft and versatile. Despite its low profile, it offers consistent levels of cushioning, made from durable fibers that are sure to stand the test of time. While the price of this best kitchen mat is on the high side, it offers great value for money. Its unique design is sure to get the attention of your guests.
Like others on this list, this kitchen runner rug has a non slip bottom that ensures that this rug stays in place while you cook. It has been tested to work on every floor surface, even hardwood floors. While other mats are available in various colors and sizes, you can get this floor mat in various shapes as well.
Pros
It has been designed to handle heavy foot traffic
The colorful patterns won't fade over time
It is available in an oval shape
Cons
One of the most expensive non slip kitchen rugs on this list
Not machine washable
If you live in a multistory house, then you know how dangerous stairs can be for anyone, much more for the elderly. Protect yourself on the stairs with these non slip stair treads.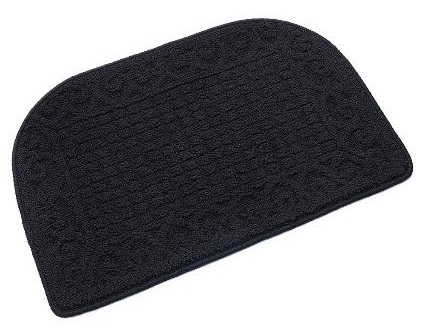 The Cosyhomeer is one of the least expensive non slip kitchen rugs, but that doesn't mean it isn't well made. It doesn't have the frills as other kitchen rugs on this list. The mat is light yet thick and sturdy, providing a second layer for your kitchen floor.
Its polypropylene construction gives it an anti-fatigue feature with longevity relieving pressure from joint pain. This means you can stand much longer using the Cosyhomeer Anti-fatigue kitchen rug.
The polypropylene surface is extremely soft to the touch, and the underside is made from PVC material which offers improved durability over the standard rubber bottom found in most non slip rigs. The PVC construction also ensures continuous friction between the floor and the non slip kitchen mat, thus giving it its non-skid element.
You can get this anti fatigue kitchen rug in two sizes: 32 by 20 inches and 27 by 18 inches. Both non slip kitchen rugs are available in eight varying colors: grey, navy, green, burgundy, brown, blue, black, and beige.
Pros
Great for minimal kitchens
Durable and soft
Inexpensive
Cons
Some colors, such as burgundy and beige, are darker than the pictures show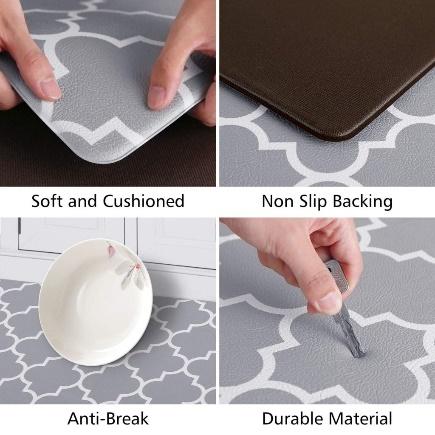 The Kmat Cushioned anti-fatigue kitchen rug comes with everything you require in the best non slip kitchen rugs. It is comfortable, versatile, and durable, ensuring that you do not feel any discomfort when you spend hours on end on it.
It provides ample cushioning thanks to its 0.4-inch high-grade PVC material. This support helps to relieve pressure on your knees and feet. This non slip kitchen mat is also phthalate, latex, and odor-free.
While your kitchen might be a high-traffic area, this eco-friendly area rug can handle it. This is because it has been constructed with premium materials to ensure its longevity. Thanks to its slow rebound feature, it doesn't flatten after hours of use. This feature can also protect dishes if they are dropped on its scratch-resistant surface.
This kitchen mat is non slip like others on this list, thanks to its non slip bottom. This feature ensures that the rubber mat will stay in place for safety and stability. With a kitchen rug, you no longer have to worry about slips.
The set comes with two non slip kitchen rugs measuring 17.3 by 28 inches and 17.3 by 47 inches.
Pros
Super soft surface to stand on
Great for high foot traffic areas
Easy to clean
Anti-fatigue cushioning ensures pressure from your knees and feet is relieved.
Cons
Some users might feel it is too thin
No color options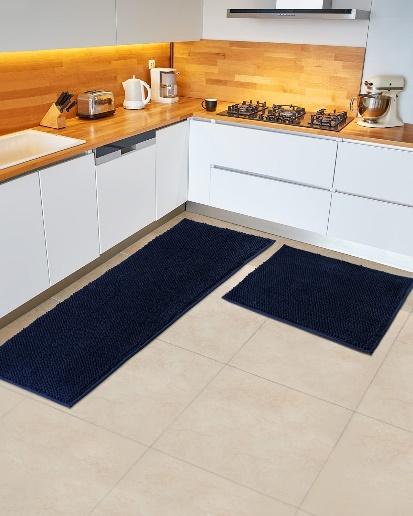 The Pretigo kitchen rug set is extremely absorbent thanks to microfibers that can soak up a large amount of water. It can do this quickly to ensure that your kitchen floor doesn't suffer water damage.
This kitchen runner rug is machine washable since both the top layer and the chenille microfiber used to create this runner are designed to be washed using a washing machine. To achieve the best results, you need to wash on cold and air dry. Alternatively, you can also use the dryer, but it should be on low heat.
The extremely super soft surface of this set of floor runners is comfortable to stand on as they provide the right amount of cushioning. The rubber backing utilizes Thermoplastic Rubber, or TPR, to ensure it is a non slip kitchen mat. You can rest assured when you step onto this kitchen rug.
This set comes with two non slip kitchen rugs measuring 17 by 24 inches and  17 by 48 inches. You can purchase the set in 5 different colors: navy, grey, brown, black, and beige. These color choices can help provide contrast to your kitchen hardwood floors.
Pros
Comes with a lifetime warranty and moneyback guarantee
Washing machine safe
Extremely absorbent
Easy to clean
Cons
Food crumbs and dirt can get stuck onto the surface requiring frequent washing.
Conclusion
The Kmat Cushioned Anti-Fatigue Kitchen Rug and the Pretigo Kitchen Rug Sets offer great options for non slip kitchen rugs. Both sets of kitchen mats feature a durable, soft surface with anti-fatigue cushioning to ensure that your feet and knees are supported properly.
Each set also comes in various sizes and colors to match the décor of your kitchen. With these non slip kitchen mats, you can be sure that they will stay in place while providing comfort to help reduce pressure on your feet and knees from long hours in the kitchen.
Like this post? Spread the love!