The bathroom is one of the most dangerous places to be in. Certain floor surfaces, when wet, become especially slippery. This danger is exacerbated when you aren't as agile or mobile as you once were. It is important to have the best non slip bathroom rugs handy with that in mind.
Finding the right non slip shower mat can be difficult, considering that so many choices are available on the market. With that in mind, we have taken the time to do the leg work for you, so you don't have to worry about reading never-ending customer reviews.
Here are the best 5 non slip bathroom rugs for aging in place without further ado.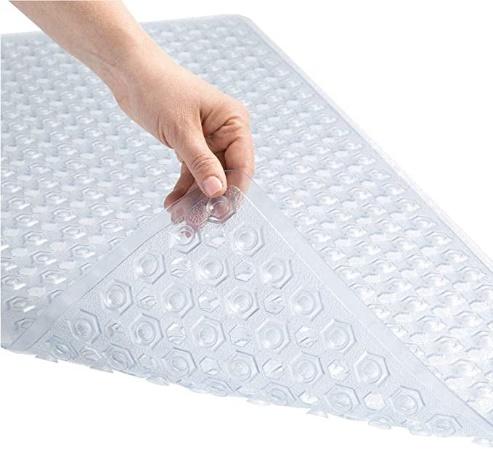 The Gorilla Grip patented shower tub mat features 324 suction cups to provide stability and ensure the bathroom mat is secured in place. Installation is easy; you simply need to place it on a smooth and clean surface in the bathroom.
This bathroom mat comes with a patented design to offer maximum comfort. Its unique hexagon design and soft textured topside ensure your feet are comfortable once you step onto it.
This bathroom rub has a rubber backing with various drainage holes located throughout. The holes enable air and water to circulate, which lowers the amount of moisture on the bathroom mat, preventing mildew buildup.
Cleaning this bathroom mat from Gorilla Grip is easy; you simply have to place it in the washing machine to remove any slippery and oily buildup from soaps.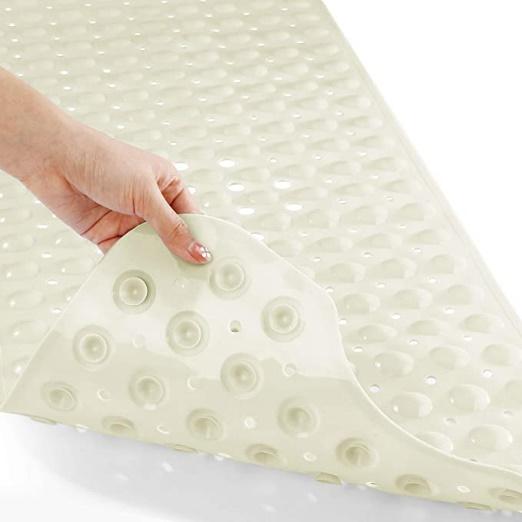 The Yimobra non slip bath mat is constructed from PVC. It features 200 special suction cups, with the larger ones offering increased suction and stability to the mat when placed on clean and smooth surfaces. You can select from various color combinations to fit any bathroom décor. This non slip bath mat measuring 40 by 16 inches, is large enough to provide adequate coverage when getting out of the shower.
This bath rug is latex-free, BPA-free, and phthalate-free, making it an environmentally sound product. There are more than 170 drainage holes in the mat to get water out rapidly while keeping the bath rug clean and dry.
The non slip mat from Yimobra is machine washable, making maintenance easy. You have to simply place the bathroom rug into the washing machine to get clean. It is imperative that you clean and secure the suction cups before use. The bathroom non slip mat can only attach to smooth surfaces. You shouldn't use it with non-smooth, tiled, or textured surfaces.
Getting down the stairs can be challenging for those with arthritis; however, non slip stair treads can help make stair climbing secure and stable. Find out the best non-slip stair treads for those with arthritis here.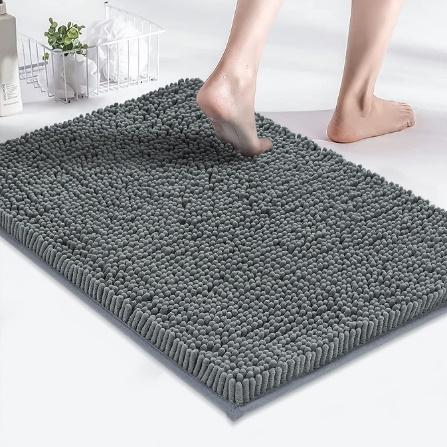 The MayShine Soft Plush microfiber bathroom rug has been constructed from 100% ultra-soft 1-inch plush chenille microfiber. This ensures your feet are kept warm and nice, with your floors dry. You can also count on this non slip mat to live up to its name, ensuring you don't slip once you get out of the shower.
The bathroom floor remains dry with this rug even when used by the clumsiest person. This is possible due to the machine-washable PVC backing. This backing ensures minimum fiber loss as well as long-lasting use.
A 6mm sponge foam layer located inside helps relieve fatigue and pressure on your feet while ensuring the non slip bath mat keeps your feet insulated from the cold floor. Apart from using it to help you get out of the bathroom safely, you can use its textured surface as a cushion for your feet to save you from fatigue while you brush your teeth, shave or do your hair.
The mat is easy to clean; you simply have to place it in a laundry bag and then put it in the washing machine. When washing, you should only use cold water. While it is machine dryable, you should only use it on the lowest setting.
It is available in 5 sizes and 14 colors.
This memory foam bath mat is great for not just bathrooms but vacation homes, kids' bathrooms, vanity, or guest suites. It comes in a variety of sizes and shapes. You can also get it in a vast array of colors designed to fit every bathroom design language.
The Genteele memory foam bath rug is well designed and constructed, ensuring that it lasts for years to come. This bathroom mat is constructed in OEKO-TEX standard certified factories. The independent certification system ensures that every rug mat is created using high environmental and safety standards.
This memory foam bath rug mat gives you luxurious cushioning and support. Your feet get massaged every time you step out of the bath or shower. You get almost a full inch of high-density polyurethane foam coupled with a low pile of velvety microfiber to wrap your feet with comfort every time you step onto the textured surface.
Maintenance is easy as you can simply throw it in the washing machine to become clean. It is also machine dryable, ensuring you don't have to wait too long to reuse it. You get durable and effective PVC dots underneath the rug in terms of protection. The PVC dots are there to prevent skidding. They are also durable enough to not fall off in the washing machine or dryer.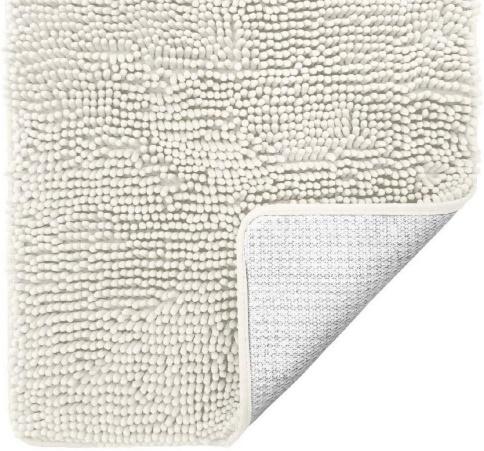 The Gorilla Grip soft, absorbent non slip rug is available in 10 sizes and more than 30 color and pattern configurations. It is constructed from soft and plush chenille, ensuring your feet and toes are kept separate from the cold floor below.
It is extremely absorbent as a non slip bath mat, with the dense chenille material capturing additional moisture. This ensures your floors are kept clean while you step out of the shower or bath.
The premium microfiber is capable of drying quickly to ensure mildew doesn't set in this rug. It has a textured surface and a rubber back to ensure it really does hold up to its role as a non slip shower mat. The heavy stitching ensures its durability even with everyday use.
Conclusion
In conclusion, the MayShine, Genteele, Gorilla Grip and Yimobra brands are all highly recommended non-slip bathroom rugs that provide comfort, safety and convenience. They have all been designed with durability and ease of use in mind to ensure you get maximum value for your money. Whether you need a rug for your elderly family members or just want something luxurious for yourself, these three options are sure to meet your needs.
Like this post? Spread the love!