There have been many misconceptions about older adults preferring more traditional fixtures for their homes. While it is true that older adults like simplicity in their kitchen fixtures that allow for easy use, the truth is that the products that have the most convenient and practical features are the more modern ones. This is especially true for people interested in aging in place.
Modern kitchen faucets can be a great addition to your kitchen for various features and design value. A high-quality designed kitchen faucet can bring an air of contemporary style and sophistication into your home.
Things to Know
While people can easily find a kitchen faucet with a very modern look priced lower, most recommendations below are higher price-wise as more expensive kitchen faucets include unique and high-quality features.
If you are willing to make an investment, it is worth purchasing a more expensive kitchen faucet that will give you better performance, include more convenient features, and add more style to your home.
Of course, the brand plays a big part in terms of the value you will get back from purchasing your kitchen faucet. Quality standards vary between brands, as some are more esteemed than others. Some brands are known for specializing in certain features that make them top on the market, while others are respected for manufacturing specific types of faucets.
No matter what brand you end up choosing, it is recommended that you first do your research before purchasing so you can decide exactly what your needs are and what faucets would best fulfill them.
Another thing to consider is also the warranty. Warranties differ from brand to brand, so it is best to know in advance what those are before finalizing a purchase.
7 Best Modern Kitchen Faucets
There are many options currently available on the market for modern kitchen faucets. No single type of faucet can be considered the very embodiment of modernity. A modern kitchen faucet can vary in colors, have more unique features, or even have an overall excellent design.
Below we have gathered our recommendations for the best modern kitchen faucets based on innovation, features, and practicality.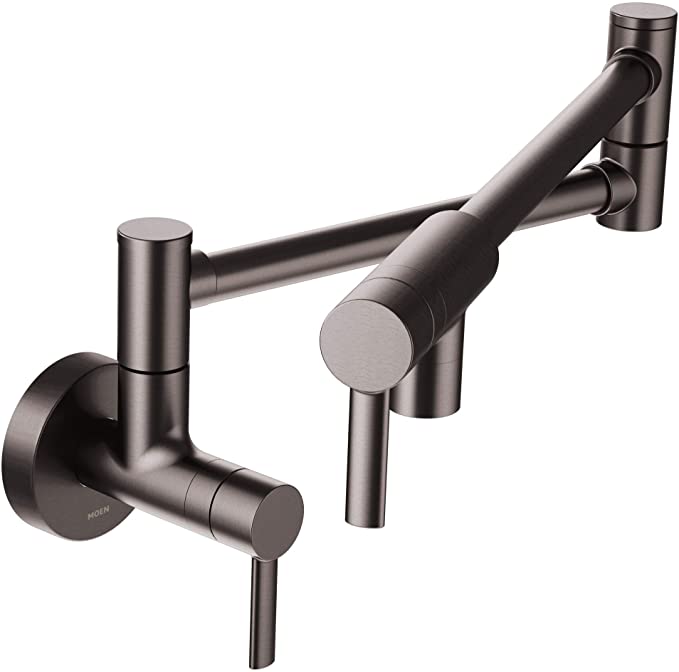 This very unique kitchen faucet is perfect for those that always need more space in their kitchen. The Moen S665BLS is mounted on the wall and has a swinging arm that can fold as well, giving you the ability to fold it towards the wall when you need to use more space around the ktichen sink. It also gives you the flexibility to perform specific tasks such as filling a large pot with water.
The black stainless steel immediately adds more character to your kitchen, but the swinging arm makes the sink faucet a more discreet presence within the space. It is also resistant to fingerprints and water spots, giving your sink faucet a cleaner look.
The dual joints reach up to a maximum of 24-3/8 inches from the wall, allowing you to conveniently perform several different tasks with it in many different ways.

This Semi-Pro kitchen faucet is a minimalistic fixture in your kitchen that gives an element of luxury to your space without overtly taking over the entire space. This faucet offers you functionality and effortless use.
The AXOR faucet's all-brass finish is resistant to corrosion and tarnishing over time. The stylish and thin spray head has a few different spray modes for more versatile use. The water flow is 2.2 Gallons per minute.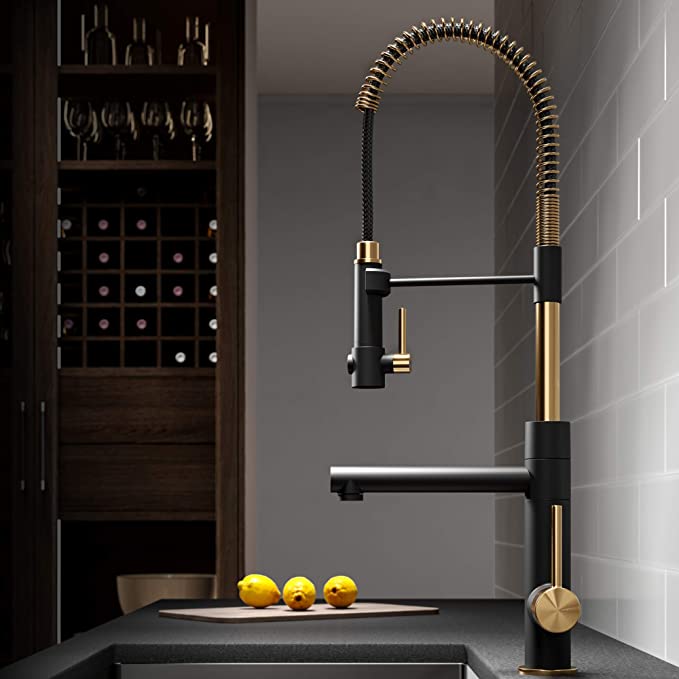 This faucet is a striking new addition to your kitchen, providing luxury and style. It is inspired by commercial faucets, but the design has incorporated some more modern elements. The double brushed gold/black matte finish will not fade or tarnish with time. This model is available in both single-tone and two-tone finish options.
The most crucial element of this faucet is that it has two main functions. It has a regular spring spout and a high arc spout that can swivel up to 360 degrees. The retractable sprayer has two spray options: an Aerated stream for filling large containers and a strong rinse mode for faster and more efficient cleaning. Thanks to a magnetic docking system, the spray head is secured back into place.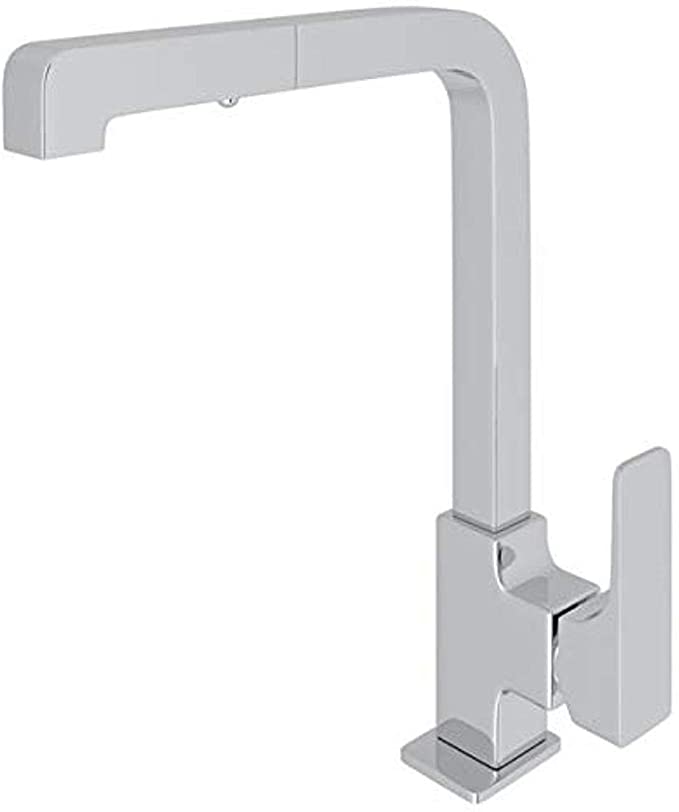 This modern kitchen faucet is a perfect choice for those who want a stylish element in their kitchen but do not wish to overwhelm it with one single statement piece.
This pull down sprayer has a polished chrome finish that communicates style, but its functionality as a product is what distinguishes it. It is a great pull down faucet with a sprayer with two spray settings and locks on spray mode. Its brass construction makes it durable and resistant to rust and corrosion.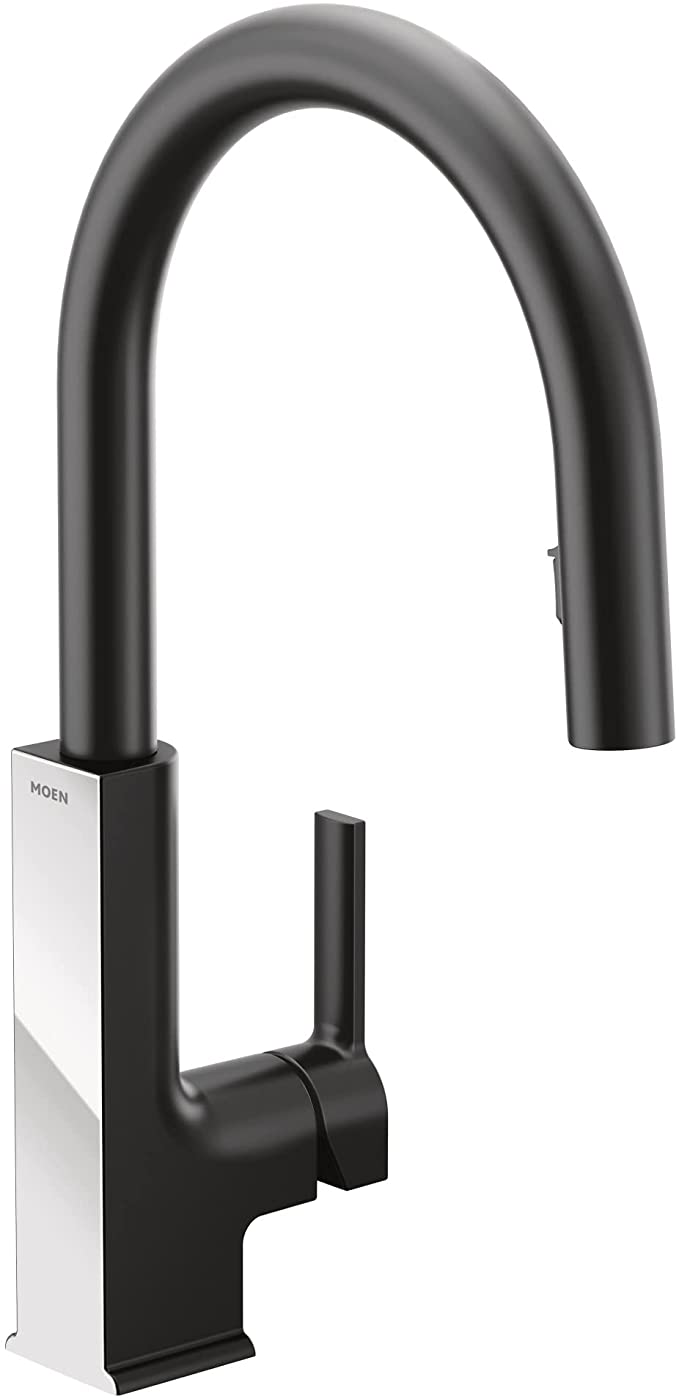 Another great dual-tone kitchen faucet, this Moen model has a matte black and polished chrome finish that provides not only style but also high durability against stains and corrosion.
Thanks to the Reflex system, you get a retractable hose for more flexibility, while the spray head locks into the dock safely, preventing any damage.
The Power Clean spray technology provides 50% more spray power than most other pull down or pull out faucets in the Moen line. This allows you to clean your dishes sufficiently quickly.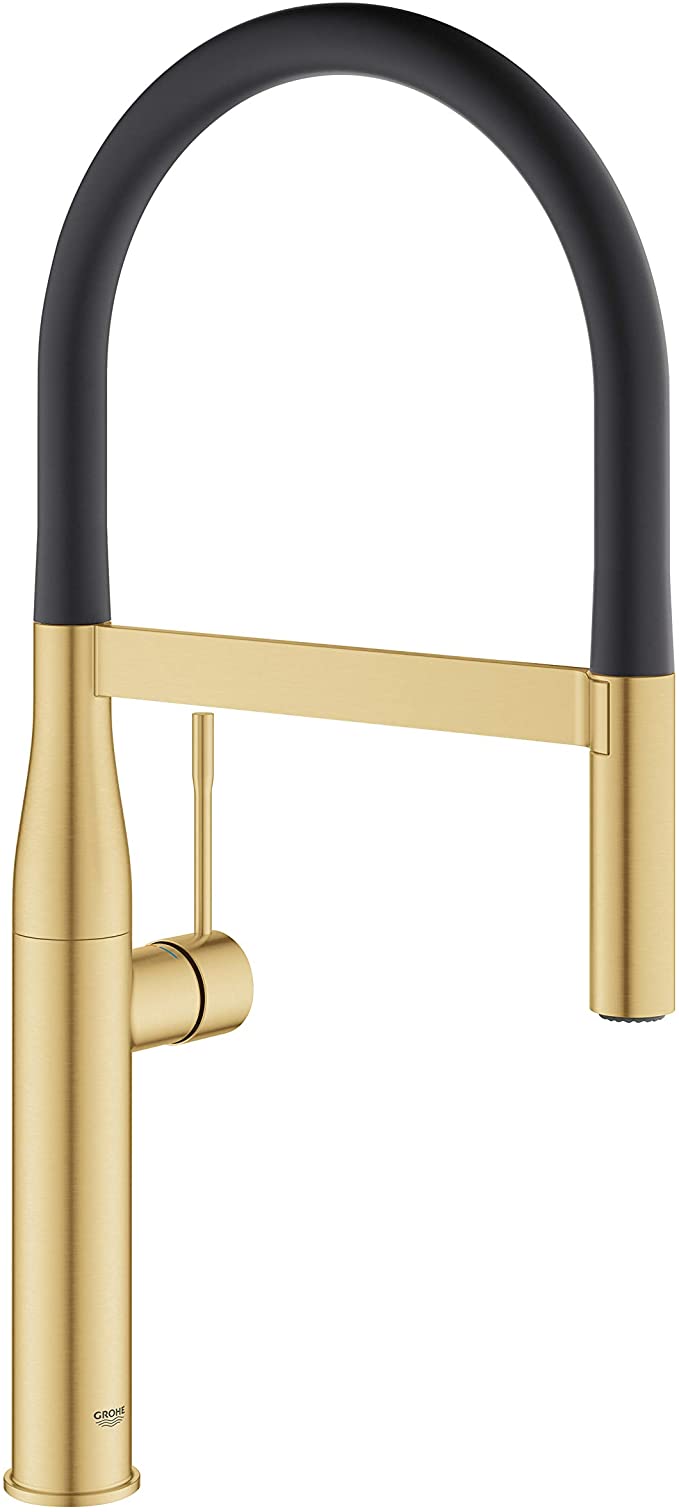 This luxurious gold and matte black faucet will make your kitchen brighten up all day long. The Groche Starlight coating makes the faucet more durable and stain-free.
The metal dual-function spray head has two modes, a regular water flow, and a spray mode. With the SilkMove technology, you can easily control both the water temperature and its volume with the press of a small button.
The high arc spout allows for easy reach, and the flexible hose has a smooth surface and can lock into place thanks to the integrated and seamless docking system. The spray head can turn up to 360 degrees.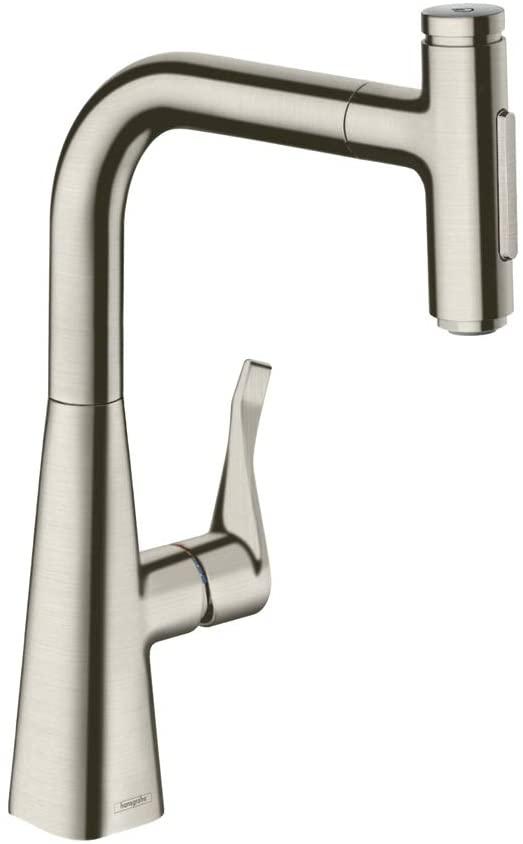 This kitchen faucet has a solid brass construction that offers durability, and the ceramic cartridge prevents any leakage from happening during use. It is elementary to clean, and its functional configuration allows it to be mounted over various counter configurations.
The long and retractable pull out hose is part of a 150-degree swivel spout and has two spray modes (laminar and needle spray), offering diversity in the performance of different cleaning tasks. The Select technology allows you to simply tap the button on top of the spray head to pause your water flow.
Conclusion
No matter what faucet you choose, a modern kitchen faucet will undoubtedly add more style to your space. Think about what style you like, what function and features you are looking for, and what actually matches your space.
If you are doing a home renovation for aging in place, consider carefully what you want out of your new faucet and how it would fit the rest of the changes you are preparing in your kitchen. Once you know all this, you should research what brand can give you everything you need. This process will help you make your selection much quicker and easier.
Like this post? Spread the love!