From holidays to birthdays to special occasions to the everyday meals you make for the ones you love, the kitchen is where the heart blossoms and memories are made. Choosing to age in your home does not mean these traditions need to be tossed aside.
The right countertops can bring a lot of added safety to your aging-in-place kitchen. And, just the same, the wrong countertops can create safety risks for older adults, especially for those with eyesight and mobility issues.
I've seen what works and what doesn't when it comes to aging-in-place countertops. Finding the right one for your parent's kitchen is much easier when you know what to look for and how to plan for their needs in the kitchen. Below is a round-up of the insight I share with my clients about how to approach countertops for aging in place. These considerations are aimed at securing your safety and your comfort, while also making sure your kitchen continues to be the heartwarming place it has always been.
Countertop Material and Color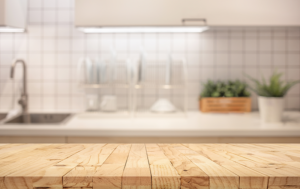 While just about any counter material you choose has its ups and downs, some are more practical than others. For example, a polished granite countertop may look fantastic, but as our eyes age, the glare from the stone can create problems. The texture of your counters can also impact their ease of use. For example, smaller textures can be difficult to keep clean. Color, too, can have a big effect on what works well for aging eyes. Having a countertop with a neutral color will make sure kitchen knives don't get lost on the surface, and it will make sure crumbs and spills don't get overlooked during cleaning.
Counter Height
When it comes to deciding on the height of your kitchen counters, you should first measure your comfort range when working in the kitchen, and gauge what you can and cannot reach without straining yourself. Even before choosing material and color, this should be one of the first steps you take when engaging in kitchen renovations. Here are some of the specs you should be looking at:
Most countertops are positioned at around 36 inches in height. To help you, however – particularly if you require or will require wheelchair accessibility – you should lower that height to 34 inches. If you are more comfortable sitting than standing, you may consider lowering the height even more.
In homes where there are multiple generations or different levels of physical ability, adjustable counters, which range in height from 28 inches to 36 inches, might offer a good choice. As a general rule, your workspace should be about 30" wide and between 28 inches and 34 inches above the floor.
You should also make sure that you have knee and toe clearance. This means removing or relocating base cabinets that might obstruct your ability to easily move around your kitchen.
Remodeling or removing 90-degree angles and open shelves in your kitchen cannot be overstated. In fact, removing corners can actually save your life, so consider rounded edges when choosing your countertop style. Besides being eminently safer, rounded edges can actually add a very nice look to your kitchen, as well.
Change Your Workspace to Fit Your Needs
Incorporating certain elements into your kitchen that can meet all of your needs is crucial when renovating your kitchen for aging in place. What should you consider adding to the design?
Consider a slide-out work surface. This will grant you additional counter space when needed, but it can be tucked away when it is not.
Product Suggestion: Slide-out Wood Cutting Board. An added cutting board hidden underneath your kitchen cabinet gives your parent a good amount of extra workspace without taking up room in the kitchen when it's not in use.
Pullout shelving coming out of the countertop is another way to have easy access to items you need on a regular basis, and it leaves you room to create a larger workspace.
Product Suggestion: Base Cabinet Pull Out Organizer. This is a great base cabinet pull out that fits right underneath your countertop. This wide cabinet shelf will keep your parent from having to reach in and lift heavy pots stored in their cabinets.
If you are living with family or friends, another idea is to try a temporary adjustable table in the kitchen. This way, you can determine which countertop heights are the most beneficial to each person or group. Alternatively, you may consider multi-layer countertops in the long run. Multi-layer or multi-level countertops offer heights that work for everyone.
Kitchen countertops should allow for ample maneuvering space with clearance space below in places such as the sink, and underneath your work stations. Be mindful of wheelchair accessibility.
Make Safety a Priority
A kitchen is a busy and sometimes dangerous room. Making sure your kitchen has adequate safety features is essential. Here are some items you should consider when making your kitchen as safe as possible:
Consult a professional when designing your new kitchen. They will give you input about how you can configure your counters to avoid clutter from small appliances, dishes, etc. (The less clutter, the less chance of an accident.)
Another protection against injury is to color-coat the edges of your countertops. This may help stave off accidents – particularly if your kitchen is not particularly well lit. The contrasting color may also help to orient yourself when need be.
"Grab-handles" along the counter's outer edges are another feature you could incorporate. You may opt for one long handle spanning the length of the counter, or several interspersed handles that run along the edges.
Product Suggestion: Kitchen Multi-purpose Grab Bar and Towel Bar. This sturdy grab bar can support up to 250-lbs for added kitchen safety. It's also a convenient towel rack so it'll provide added function and fit right into your design.
Think About Your Appliances
Another important aspect of remodeling your kitchen is to take the height of your other appliances and where they are located within the room into account. These are some scenarios you may encounter:
You may be tempted to put your stove next to your sink. It sounds convenient, but if you don't leave counter space between the two you may be forced to carry a large and heavy pot for longer than what is comfortable for you.
Product Suggestion: Wall-Mount Pot Filler. If you're working with a small kitchen and restricted on where you can position your sink and stove, add a pot filler faucet over your range. This option from Delta folds flat against the wall and will eliminate the temptation for your parent to carry large pots of water across the kitchen to the stove.
One handy appliance we all know and love is the microwave. Whether it's free-standing or built-in, your microwave should optimally be at counter height. If that option is not available to you, consider placing the microwave under the counter. It not only takes away from clutter, but it's far easier to place a heavy plate or container into the appliance when you're able to crouch, rather than extend your arms above your head.
Product Suggestion: Shelf Rack Microwave Stand. This wall-mount bracket set lets you securely fasten the microwave along the wall at whatever height you choose.
You may also want to consider conforming all of your appliances to the level of the counter. This advice includes your sink. Depending on your budget, you may arrange for your sinks to be electronically raised or lowered. Another option is putting in a shallower sink so that you don't have to lean over it as much as you may do now.
Product Suggestion: Shallow Single Bowl Sink. This stainless steel kitchen sink is a shallow 5-inches deep, much less than the 9-inches + depth of most traditional kitchen sinks.
Make sure you're considering not just your individual appliances, but how they'll work together. Your parent's kitchen layout should allow for smart and safe use of what's called the 'kitchen triangle' – the configuration of your sink, refrigerator and oven in relation to one another. You can read more about the importance of the kitchen triangle for aging in place in my article, "Configuring the Kitchen Triangle: Relocating Appliances for Safely Aging in Place."
Your kitchen countertops deserve careful consideration as you plan your aging-in-place kitchen remodel. There are a lot of issues to take into consideration, many of which you may be thinking about for the very first time.  Just remember that you have resources available to you that can help you navigate important kitchen decisions that can impact your safety.
I'm here and ready to be one of those resources as you plan and execute your aging-in-place remodel. Use the comments section below to send your questions my way and I'll be happy to guide you through the process.
Good luck with your next aging-in-place home project.
Like this post? Spread the love!