There are a variety of toilet grab bars for aging in place available in the market. They mainly vary according to style. The most common ones are standalone rails, fixed wall mount rails, floor-to-ceiling rails, and flip-up rails.
We review the top 7 toilet grab bars for aging in place on Amazon and why they stand out.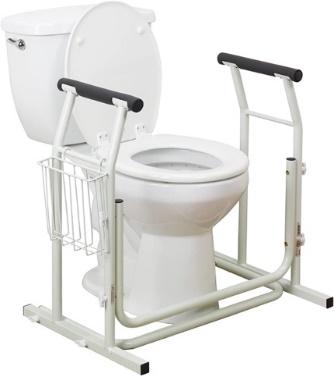 Sturdy and durable construction. The freestanding handrail has a stable and sturdy construction. It is made of durable aluminum. It is also equipped with a steel locking mechanism. It has a weight capacity of 300lbs.
Easy installation. Since it is freestanding, you simply have to place it around the toilet. It fits well on most toilets, including standard and elongated ones. The grab bar's handle can be adjusted from 3 to 7 inches in width. It is 22.5 inches high, and the handlebars are 21 inches wide. The base is fitted with non-wearing rubber pads for scratchproof installation.
Removable magazine rack. Like the Vive standalone toilet bar, this Drive Medical Handicap grab bar has a removable magazine rack. It enables you to conveniently store your favorite reading material.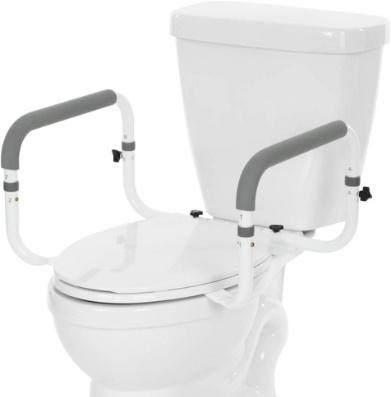 The Vive Toilet adjustable grab bar offers safety, whether sitting or standing. It can support up to 300lbs. It is suitable for seniors, people with arthritis, or if you require additional support when using the toilet to prevent slips and falls.
Fits most toilets. This toilet grab bar can be used with most standard, oval, or elongated toilets. The width of the rail handles can be easily adjusted for a customized fit. They have an adjustment range of 17" to 20". However, note that while the rails have a nearly universal fit, they may not fit on all toilets.
Lightweight and compact yet durable. The frame is made of aluminum, which is light and corrosion-resistant. The manufacturer backs up its durability with a lifetime guarantee.
Ergonomic, comfortable, and non-slip handles. The rail handles are designed to offer superior support and a non-slip grip. They are textured and padded with soft foam. They are sturdy to offer adequate support without breaking.
Easy to Install. The Vive toilet safety rail is easy to assemble and install. You do not require any tools, cementing, or drilling. Installation utilizes the toilet seat bolts. It comes with a detailed, easy-to-follow instruction manual to enable you to install the toilet grab bar with ease.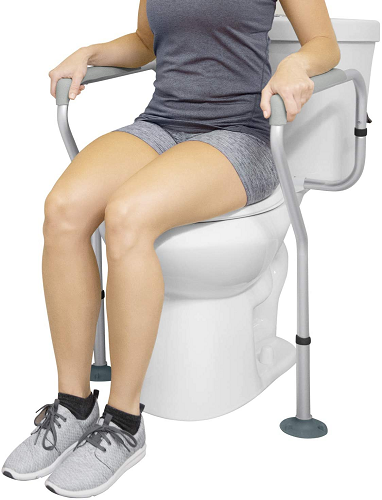 Offers sit and stand safety. Like the Vive Toilet adjustable grab bar, the Vive Standalone toilet bar offers support whether standing or sitting. It supports up to 300lb.
Easy Installation. This product is easy to set up and can be built and installed tool free, utilizing your toilets existing seat bolts. This design is compatible with most toilets.
Comfortable and non-slip handle. Like the Vive Toilet adjustable grab bar, the rail handles are padded with soft foam. The padding offers a comfortable grip. The handles are also asjuatable from 26" to 31.5" in height.
Freestanding design. The Vive Stand Alone Toilet Rail has a freestanding design that enables an easy, tool-free installation. The base is sturdy and stable. It is 26.5″ wide. The bottom rail is 19″ deep to offer tip-proof disability. All you need to do is place the rail strategically around your toilet.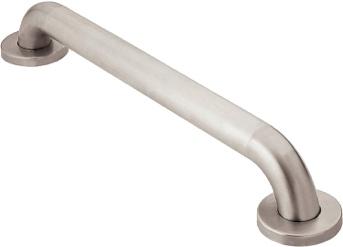 Available in a variety of sizes. This bar is available in 7 size options to suit your support needs and the space available in your toilet. The size options include 18-inch, 24-inch, 30-inch, 32-inch, 36-inch, 42-inch, and 48-inch.
Sturdy and supportive design. The ADA grab bar can support up to 500lbs when installed with secure mounts or a stud. It has a 1.5-inch diameter, which provides reliable support whether you are standing or sitting.
Fits in with most bathroom/toilet decors. You can choose between 3 colors – stainless steel, glacier, and peened.
Easy to install. It has a secure mount design, enabling easy installation at different angles. Therefore, it can be used as a fixed horizontal, vertical, or diagonal bar.
The secure mount enables you to anchor the bar with or without studs. The grab bar has a patented flange design for easy connection with studs at different points. The concealed screws offer a tidy look once the bar is installed.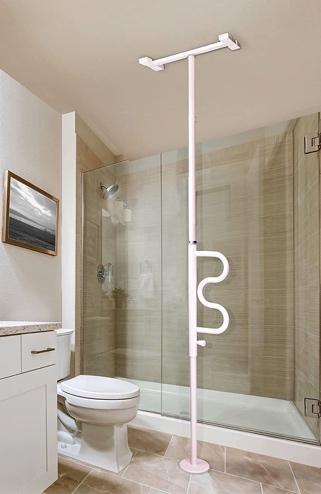 This security pole can be used in various settings to provide safety and stability. Aside from being used to sit on and stand from a toilet, it can also be used to step in and out of the bathtub, hold on to as you shower, get into bed, or as a wheelchair transfer pole. It is slim and lightweight, making it easy to move around for installation in different parts of the house.
Ergonomic grab bar design. It is fitted with a curved grab bar that offers a sturdy grip. The bar has a ladder-like design with 4 handgrips that provide a natural hand-over-hand motion. The bar rotates and locks in place every 45 degrees for all-around support. It meets the ADA requirements as it has a weight capacity of 300lbs.
It is height adjustable and easy to install. This enables you to adjust it to fit your floor-to-ceiling height. It has an allowance of 7 to 10 feet. It has an easy-to-install tension mounting mechanism that fits on most flat floors and ceilings. Therefore, you do not require specialized skills or tools to install it. It can be installed in any room in your house without causing any damage as there are screws or wall mounts needed. It comes with rubber pads to protect your ceiling and floor.

Space Efficient. The Moen 30-Inch Flip-Up grab bar provides safety while using up less space. It flips up against the wall and out of the way when not in use, ensuring space efficiency even in smaller bathrooms. It mainly serves as a horizontal bar. It can also be installed in your shower or bathroom.
Sturdy and Durable Construction. The flip-up toilet grab bar is 30 inches long and 1.25 inches in diameter. It accommodates hands of all sizes and offers a firm grip to support up to 300lbs. It is ADA compliant and meets all safety standards for aging in place or use by people with disabilities.
Complements most home decor designs. The bar is available in two finishes – stainless steel and glacier. The glacier finish brings out a bright and clean in your bathroom or toilet, while the stainless-steel finish offers a sleek and classic look. Both are durable, stylish, and reliable.
Backed by a Limited Lifetime Warranty. The warranty covers against leaks, finish defects and drips.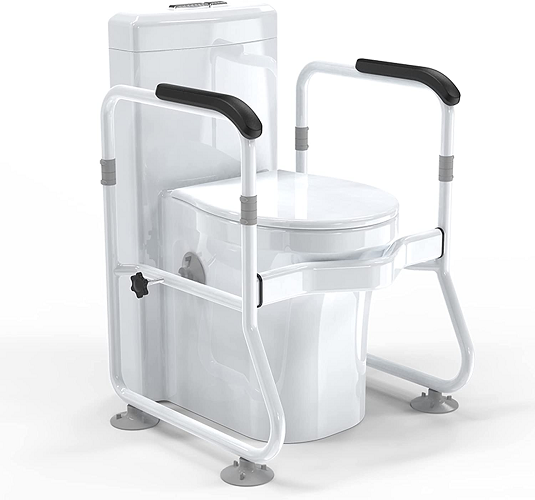 Super easy setup. This toilet safety frame is compatible with most toilets, and can be installed with no tools. Simply put the frame in place around your toilet and use suction cups to grip frame in place. Suction grips goes on both the toilet bowl and floor.
This safety frame can be used for both sit and stand use. Perfect for use for seniors, those with arthritis, surgery recovery, or anyone who needs more stability.
Durable and comfortable handles. The armrests are made of durable foam to ensure that they can withstand repeated usage and high weight capacity over time. The foam is soft and offers a comfortable grip whether you are standing or seating. It is ADA compliant with a weight capacity of 300lbs.
This toilet rail has four different height adjustment and width adjustment levels, spanning 25"-30".
Conclusion
Standalone toilet frames and rails are the most common type of toilet grabs. They are stable, sturdy, and convenient to use. You can also bring them along for your travel. Our top picks for standalone toiler safety bars are  Drive Medical RTL12079 Handicap Grab Bar for Toilets, the TKING Store Toilet Safety Frame & Rails and the Vive Toilet Rail Bathroom Safety Frame.
However, if you have limited space, consider a fixed wall mount horizontal or vertical bar such as the Moen R8918P Home Care Concealed Screw Bath Safety Bathroom Grab Bar
or a flip-up bar such as Moen R8960FD 30-Inch Flip-Up Screw-In Bathroom Grab Bar.
For further guidance on how to choose a toilet bar grab for aging in place, take a look at our detailed guide to bathroom safety bars.
Like this post? Spread the love!