Our job as aging-in-place builders and designers is to make life easier, less painful, and more comfortable for older adults. Something as simple as a smart storage solution that makes everyday household items easier to reach can help us make big progress towards this goal.
Let's take a look at the bathroom – the room in the home where avoiding slips and falls is the main objective. By reducing the distance we have to reach to get bathroom towels and toiletries, we can reduce the likelihood of an elderly adult losing their balance and slipping in the process.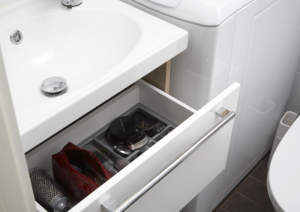 In this article, we're talking about all things 'bathroom storage;' how to think about storage in the aging-in-place bathroom, the most important types of storage to add, and my picks for the best storage products out there to make your parent's bathroom safer as they age.
Safe Aging-in-Place Bathrooms Find Clever Ways to Hide the Essentials in Plain Sight
Smart bathroom storage doesn't have to mean hiding your essentials behind cabinets and in drawers. Many times, it means just the opposite – finding storage options that let you display or design around the things your parent needs so the essentials are always within reach.
When I'm working on any aging-in-place bathroom remodel, I pay attention to every detail down to the safest place to store the toothbrush. That's because every aspect of an aging-in-place bathroom is an opportunity to care for your parent and make life easier.
As you're getting started, focus on three main areas within the bathroom to make the biggest impact – the toilet area, sink and vanity, and the shower.
Bathroom Toilet-Area Storage
Side Slide-Out Toilet Storage Drawer
Slide-out drawers that sit next to the toilet keep toiletries easily accessible and at a safe height and distance from an elderly adult. This particular drawer is great because it's narrow and can squeeze into small spaces and not be in the way or create a tripping hazard. Unlike some other drawers, it has a wide handle making it easy and painless to open and close.
Storage organizers that give you shelf space above the toilet are a great way to add a good amount of storage space to the aging-in-place bathroom. Here's what I like about this option from UTEX. One, there are no cabinet doors to open. Cabinet doors built into a shelf unit look great. But, they create an unnecessary barrier between an aging adult and the things they need. The small knobs or pulls on the shelf's cabinet doors are one more thing to open with the risk of causing pain for older hands that are already sore to begin with.
Second, this shelf keeps all of its shelving above the toilet so reaching down to grab items isn't an option. Even when using the toilet, an older adult shouldn't have to reach behind them to get to extra toilet paper or toiletries. With this over-the-toilet shelving unit, there's no temptation to use bottom storage and risk a fall.
Freestanding Toilet Paper Holder
The toilet paper roll is an accessory that's often overlooked when designing an aging-in-place bathroom. If your toilet is against a long wall, the toilet paper roll is probably located along the wall as well, making it hard to reach. This is not good for aging in place. A simple freestanding toilet paper storage holder is the perfect way to make this fix. This holder from Umbra includes storage for a few additional rolls as well to make storage that much easier. It also has a simple bar for slipping a roll on and off. Avoid traditional spring-loaded toilet paper holders that can cause pain to sore hands.
Pro Tip #1: This type of toilet paper holder is a huge improvement over a hard-to-reach wall-mounted holder, but it will have your parent reaching down when they need a new roll. Use your judgment here. If their mobility is severely limited and reaching even a few inches is going to potentially create a fall risk, opt for a Single Roll Freestanding Holder instead.
A word of warning. If your parent's mobility is severely limited to the point where a toilet holder with storage is an unsafe option, you need to give the entire toilet area a safety check. Safe use of a toilet is essential to an adult's ability to age in place, so safe toilet accessories are a must! You can check out this article I wrote on "5 Aging-in-Place Toilet Products That Will Keep You Safe" for some great options for better bathroom safety for aging in place.
Bathroom Sink and Vanity Storage
This one is a no-brainer. Find a quality, customizable drawer organizer set for your aging-in-place bathroom vanity. It may be the simplest, easiest and least expensive way to keep everyday bathroom items organized and within reach. This organizer is a 7-piece set that can be configured however you'd like. Each piece in the set is easy-to-clean and lightweight so an older adult can easily keep each piece clean without too much extra effort.
Floating Shelf with Towel Rack
If you're limited on floor space on either side of your vanity, you can get storage off the floor and onto the walls with a set of floating shelves. I'll often add these shelves on either side of the vanity to hold spare hand towels or extra soap. This shelf set in particular is a favorite of mine for the hand towel rack on the bottom shelf. It gets the hand towel at eye level so there's no bending down. Smart, simple and safe – everything you should be looking for in quality aging-in-place storage.
Pro Tip #2: For very small bathrooms or powder rooms where the toilet may sit right next to the vanity, these floating shelves work great as an alternative to the over-the-toilet organizer I mentioned above. With this, you can still take full advantage of usable wall space above the toilet and next to the vanity.
Toothbrush Holder with Automatic Toothpaste Dispenser & Sanitizer
If you thought a toothbrush holder couldn't be that cool, you'd be wrong. Toothbrush storage has come a long way since I first started designing for aging in place. What was once a toothbrush cup on the side of the sink has evolved to a toothbrush storage unit with brush sterilization and an automatic toothpaste dispenser.
Beyond this being just a cool, unique storage concept, it also couldn't be better for aging-in-place. First, toothbrushes can attract and harbor germs from staying wet in a humid bathroom. And, older adults with weakened immune systems are particularly susceptible to illness. This Puretta toothbrush holder helps solve this issue by sterilizing each brush with UVC and photocatalyst light. Second, the automatic toothpaste dispenser is genius. Squeezing toothpaste from a tube can be tricky and painful for arthritic hands. This little tool makes a big difference. Just place your toothbrush under the dispenser, press slightly, and you have the perfect amount of toothpaste.
Shower and Tub Storage
Freestanding Floor Shower Caddy
This shower caddy organizer sits perfectly next to a shower bench or seat. If your parent needs to sit in the shower, keep shampoo and soap at eye level or below so they don't have to reach far for what they need and risk a fall in the tub. There's nothing flashy about this caddy from Tenby but it has everything you need for safe shower storage. It's also mold-resistant and easy-to-clean so you don't have to worry about dangerous mold invading the shower.
If your parent stands in the tub or shower, you'll want a caddy that's mounted to the wall at about chest level so everything they need is within reach. Some shower caddies are too small to hold standard shampoo or soap bottles. This Vdomus caddy is my go-to for aging-in-place because of its height and how many bottles and shower necessities it holds. You have two installation options – wall-mount hardware or powerful suction cups. Suction cups are great for easy installation. If you're willing to drill into your shower tile or wall, the wall-mounted option will give you a bit more peace of mind that the caddy won't loosen and fall over time.
A towel rack should be mounted near every aging-in-place shower or tub. You want to reduce the distance your parent has to reach when they're grabbing their towel after taking a shower. If you add a towel rack to your aging-in-place bathroom as a way to store ready-to-use towels, a heated towel rack is a wonderful nice-to-have accessory. Remember, designing for aging in place is also about comfort. Heated towel racks are a simple and relatively low-cost way to make your parent more comfortable as they make their way out of the tub.
This heated towel rack includes space for multiple towels so it can act as your main towel storage rack. What I like most is its programmable timer. You can start the timer when you get into the shower and it will turn off automatically once you're out – a nice safety feature and one less thing your parent has to remember.
A large shelf or cabinet as a central location for bath towels, washcloths and other bathroom linens is a smart storage accessory to add if you don't already have a dedicated linen closet. I love this iWell cabinet/shelf combo for a few reasons. It's tall with plenty of storage for large towels. The shelves are also adjustable so you can place them up higher if you're concerned about your parent bending down. Or, spread the shelves out to make space for less frequently used items on the bottom.
Pro Tip #3: Place the linen cabinet close to the shower or tub with a safe, low-threshold bathmat in between. We all forget to grab a bath towel from time to time. Keep bath towels close by to avoid falls if an adult should ever need to walk from the shower to the linen cabinet to grab a towel.
Time to Get to Work
Each of these bathroom storage products will make an instant improvement in the safety and comfort of your aging-in-place bathroom. And, no matter what your level of DIY experience, you can confidently tackle each of these storage solutions in just a day or two.
If you have questions on these storage items or any aging-in-place product, use the comments section below and fire away. I'll be happy to answer your questions and get you on your way to a successful aging-in-place renovation.
Good luck with your next aging-in-place home project.
Like this post? Spread the love!