For older adults aging in place, especially those living with arthritis, simple tasks like opening and closing doors can be extremely painful. Swapping out door knobs for easy-to-open door levers is a great way to immediately reduce the discomfort older adults with arthritis experience in their home.
Installing a new door lever is almost always an easy weekend project that's perfect for the DIYer. Check out this related article where I run through how to remove door knobs and install interior and exterior door levers for aging in place.
What to Look for In a Door Lever for Aging in Place
Door handle levers need to do a few things. First, they need to fit comfortably in the hand of the older adult aging in place. Find one that's easy for their hands to grasp. The lever you choose should open and close smoothly, fit securely in the door, and be easy to install. For exterior doors, look for levers that either come with a deadbolt or pair with an existing one so you know the door is secure.
There are a ton of door lever options out there, but some are much better than others. To help you in your search, I've put together this list of my favorite interior and exterior entry door levers for aging in place.
Best Interior Passage Door Lever
When designing for aging in place, keep things simple as much as possible. When you're deciding on an interior passage door handle to install, look for a lever that's easy to grip and wide enough for large or small hands to grasp easily.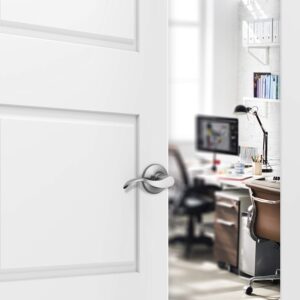 My pick for best interior passage door lever goes to the Berlin Modisch Passage Lever because of its strong, solid handle and simple design. A few of its most notable qualities include:
Reversible handle perfect for left or right-handed doors
Easy-to-install
Opens and closes smoothly and easily for sore hands
Non-locking
Great price
Runner Up: Schlage Hall & Closet Passage Cylindrical Lock
The Schlage Hall & Closet Passage Cylindrical Lock is right up there with the Berlin Modisch and shares a lot of its impressive features. The Schlage option is also simple, strong, easy to install, stylish, opens easily and is reversible for both right or left-handed doors. The only reason this one is my pick for runner up is the price. It comes in slightly over the cost of the Berlin Modisch with no real added value to justify those extra dollars. Either handle set, however, will make a great addition to an aging in place home.
Best Exterior Entry Lever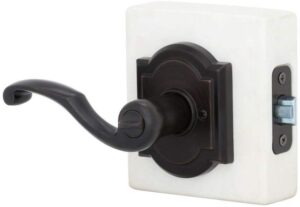 If you're happy with your exterior door's deadbolt and are just looking for an easy upgrade from knob to lever, the Baldwin Prestige Madrina Entry Lever is an attractive, well-built option. I like this lever for arthritic hands in particular because of its multiple grip points. It's easy to use and will be a huge improvement for the older adult you're caring for.
With Baldwin, you know you're getting a high-quality product that's going to last. Other features of the handle that make it my choice for best traditional entry lever include:
Well made, solid construction
Easy to install
Safe and secure with Baldwin's SmartKey security
Available in multiple finishes
Attractive style
Great price for the value
Runner Up: Baldwin Reserve Curve Right-Handed Keyed Entry Lever
With its Curve Entry Lever, Baldwin again delivers a solid, easy-to-grip handle lever that makes life easier and less painful for an older adult with arthritis, or anyone who's aging in place. I choose the Curve Entry Lever as the runner up simply because the handle is sleeker than the Prestige and, therefore, has fewer areas for arthritic hands to grip the lever. Both are solid options for an aging in place upgrade.
Best Exterior Entry Lever with Keypad Deadbolt
Levers, rather than knobs, are much less painful for older adults with arthritis. But, most lever and knob options still require a key to lock and unlock the door. Keys are small and thin to grasp which can cause a lot of pain to arthritic hands. Innovations like keypad locks that eliminate the need for a key are changing the way we think about doors for aging in place.
Schlage is one of the manufacturers leading the way in the keyless entry space. They've always been a trusted brand that I've recommended to customers, so I'm glad to see them giving the aging in place world keyless options.
The Schlage Touch Center Lock with Latitude Lever gives adults aging in place the ability to enter their home with an access code rather than a key. Its features include:
Large, easy-to-read numbers
Fingerprint-resistant touchscreen
Up to 19 separate access codes that you can create and delete anytime
Mechanical and finish warranty
Easy installation with no wiring required
Fits on standard doors
Two-year battery life with a low battery icon
Downlighting illuminates the keypad for adults with poorer eyesight
Pick-proof
High-security rating
Runner Up: Schlage Camelot Keypad Entry with Flex-Lock
The Schlage Camelot Keypad Entry lever with a deadbolt is another excellent option for going keyless. The only main difference here is that this product gives adults the option of using a key or the keypad to enter the home. If the adult you care for doesn't suffer too much with arthritis pain, but you're worried about the pain increasing as they age, this lock may be a good option. They can still use a key to lock up but know that the keypad is there when they're ready for it.
Best Storm Door Lever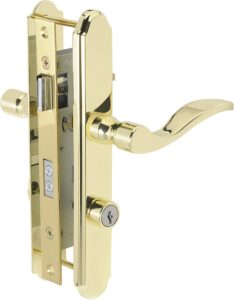 Don't forget about storm doors when thinking about door upgrades for aging in place. The Serenade Style Mortise Set from Wright Products is a great choice for aging adults with arthritis in particular. Its long, ergonomic handle is easier for larger hands to hold onto compared to some other storm door locks. It also has a built-in deadbolt for more security than other models. Some of its other features include:
Fits out-swinging metal storm doors 1-1 ½ inches thick
Replaces most mortise style locks
Easy-to-install
Runner Up: Ideal Security Pull Handle Set for Storm and Screen Doors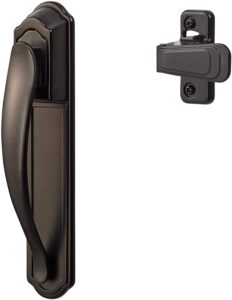 This pull set from Ideal Security is an interesting design that could work well for an older adult with arthritis. Rather than a twisting knob or traditional lever, this handle set has a push and pull vertical lever. This method of opening and closing the door let the muscles in your entire arm power the door, taking much of the pressure off of the hand and fingers.
Best Smart Entry Deadbolt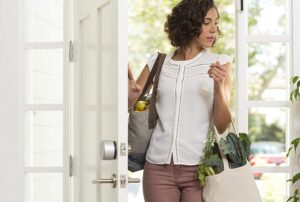 This wouldn't be a thorough review without mentioning the benefits that smart home technology can bring to the aging in place home. The August Smart Lock Pro is a front door deadbolt with smart technology powered by a Bluetooth connection between your mobile phone and the deadbolt. The beauty of smart technology for aging in place is that an older adult with arthritis never has to manually lock and unlock the front door again.
There's a lot I like about the August Smart Lock Pro. For one, it's easy to install and pairs with your existing aging in place door handle and deadbolt system. Or, you can pair it with one of the recommended door levers I mentioned above and you'll have a great entry hardware set for aging in place.
The August Smart Lock Pro has an auto-unlock setting that tells the door to unlock automatically when you arrive home. All you need is your mobile in your pocket and the August Smart Lock Pro does the rest. And, the deadbolt is voice-activated. You can imagine how much easier life could be for your loved one when their door opens painlessly with just the sound of their voice. Smart entry door systems are becoming mainstream, which means the technology, capability and security are far better than it was a decade ago.
Runner Up: Ultraloq Bluetooth Enabled Fingerprint and Touchscreen Smart Lock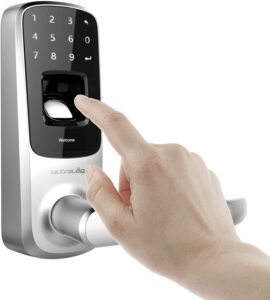 This smart lock option from Ultraloq is a close second. It features a touchscreen lock and unlock option and fingerprint recognition. It gives adults aging in place one more option for getting in and out of their home that won't cause pain to stiff or arthritic hands.
The Ultraloq doesn't look as nice as the August, which is why it gets second place on my list. I also like the option from August because it integrates right into your existing door lever. The Ultraloq requires you to completely replace your existing handle which is more work. But, either of these options will work well.
For any smart entry system to work well, the older adult aging in place needs to be comfortable with smart mobile technology. If they're not, you may want to avoid bringing a new and unfamiliar device into the home. But, if your parent or the person you're caring for has a smartphone or is willing to learn, smart entry systems can do a lot of good for their quality of life and your peace of mind.
SEE ALL DOOR LEVER PRODUCTS HERE!
So, Which Door Lever Should You Buy?
The right door lever for your loved one's home comes down to their level of pain and difficulty opening doors, their living situation, their mobility and how much you've budgeted to spend. Use my list of favorite levers to identify the product features that matter most to you and get started. And, know that whichever product you choose, an upgrade from a doorknob to a lever will give an older adult with arthritis immediate relief from the pain of opening doors and allow them to age in place more comfortably.
Leave any questions in the comments section below. And, good luck with your next aging in place project.
Like this post? Spread the love!