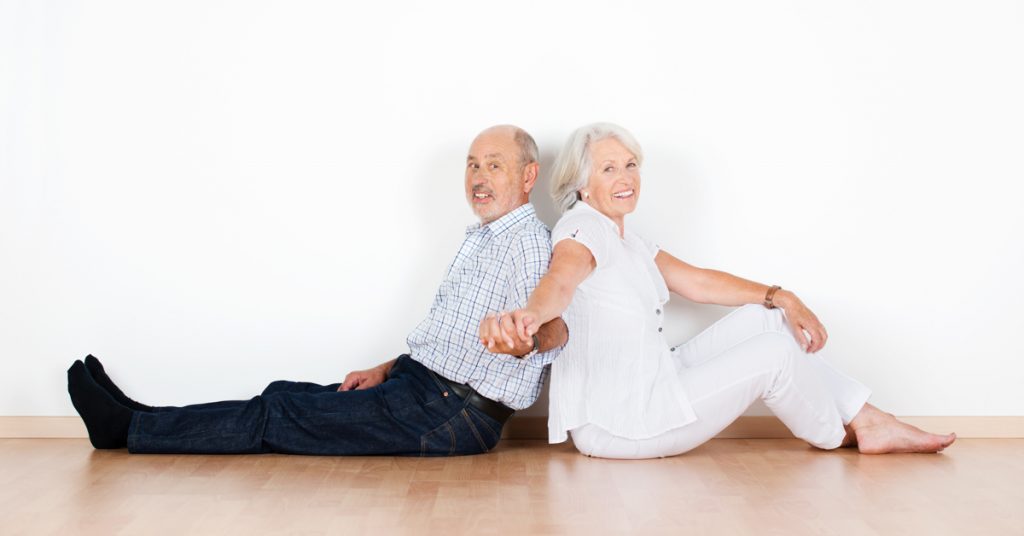 When the time comes to plan the remodeling of your home in anticipation of retirement and beyond, the choice of flooring options should be at the very top of your list.
Choosing a flooring material doesn't need to be intimidating or complicated. It also doesn't need to change the look and feel of the home you've invested so much time and money in creating. There are plenty of options that will allow you to maintain the integrity of your living space, while being mindful of the safety of yourself and your loved ones. 
---
READ: FIVE ISSUES TO CONSIDER WHEN ADAPTING YOUR KITCHEN FOR AGING
---
While there are many factors to consider when deciding on the best flooring, these are the five most important issues to focus on, including:
Slip-resistance
Maintaining slip resistance is one of the most important considerations for those who are aging in place. Not only does slip-resistant flooring prevent hazardous conditions that can cause you or your guests to slip and fall (thus risking serious injury), it also can be highly beneficial for added traction, making mobility easier when navigating the home with a cane, walker, or wheelchair.
Ease of movement
Moving easily about your home doesn't mean you have to sacrifice style and aesthetics, but it does mean you have to be informed about the choices you make. For example, an area rug that's installed without the use of transition strips can become a major source of trips and falls, and even with transition strips, area rugs can pose a danger to those navigating a room with walkers or canes.
Cushioning in the event of a fall
When choosing flooring for your home, it is a good idea to choose an option that minimizes injury in the event of a fall. This doesn't mean you can't choose a harder surface but staying away from stone, glass, and hardwood flooring might be a good idea. Choosing a premium underlayment also can help tremendously for surfaces like vinyl, linoleum, cork, and carpet. Rubber flooring is also a great option for aging in place, though it can get pricey.
Ease of Maintenance
Some surfaces lend themselves to easier cleaning more than others. For example, high-cut pile carpeting won't be as easy to clean as short-cut pile, and vinyl, laminate, and linoleum flooring are going to be the easiest. Maintenance should definitely be considered when selecting the type of flooring that's right for you. You want to avoid any flooring that requires any type of waxing or polishing as those types of flooring tend to be dangerous as we age.
Comfort
At the end of the day, comfort is a key consideration for any type of flooring you choose. Drafty rooms can be helped tremendously by carpeted floors, and warmer areas can be cooled efficiently by linoleum or vinyl solutions. Comfort should trump style when it comes to aging in place, but with such a wide variety of options to choose from, it doesn't have to.
It's important to remember that your priorities will change when going from room to room. There are safety considerations in some, comfort in others. Let's take a look at the most common types of flooring for the aging in place.
IDEAL FLOORING TYPES FOR AN AGING IN PLACE HOME REMODEL
Carpeting
Carpets are the softest and most comfortable flooring under your feet with the added benefit of cushioning in case of a fall. Carpets are also relatively warm, compared to harder materials, and help absorb household noises. If you do decide to install carpeting or carpet tiles, keep in mind that you may prefer to opt for short- or mid-cut pile, which is tighter and denser than high-cut pile. That means easier travelling when using a cane, walker or wheelchair in the high traffic areas of your home. However, you may feel safer to have plusher carpeting in your bedroom, for example, in case you're concerned about falls from the bed. (It also means warmer feet for you on cold mornings.) Again, it's taking each room and determining what flooring works best for you and your home.
Carpeting is also the best option for stairs. Wall-to-wall carpeting is probably the more cautious choice, but carpet runners on the top of wood treads also provide a relatively reliable safety option.
There are some drawbacks to carpeting, however. For example, cleaning and maintenance can both be more difficult than with other surfaces. Cleanliness is important for more than superficial reasons. Your carpet may appear pristine, but as dirt and dust tend to collect in the carpet fibers, they migrate and float through the air. This is particularly problematic for those with allergies, asthma, or other respiratory sensitivities.
Cork
Cork is the softest of the "hard" surfaces. It provides cushioning for your feet and has some of the same thermal and sound properties as carpet. Unlike carpet, though, cork provides a smooth surface for efficient wheelchair travel. Cleaning and caring for cork is comparatively easy, as well, and the sealant over the surface protects it from staining.
However, because of the soft nature of cork, it can be damaged relatively easily from punctures, scrapes, and indentations made from furniture legs. The porous quality of cork also means that, while it is water-resistant, it isn't waterproof, and standing water can get into the seams and damage the core material.
Vinyl/Linoleum
One of the chief benefits of opting for vinyl and linoleum is the ease of cleaning and maintenance. They are also relatively stain- and spill-resistant. If not properly installed, however, standing water can seep through the seams of linoleum and damage the subflooring, but you can choose sheets to help avoid this problem. Vinyl, meanwhile, is almost impervious to water. The fact that vinyl and linoleum are both hard and smooth means that travel with walkers and wheelchairs is easier than many other flooring options. However, it's these qualities that also offer very little cushioning to ease your feet and back.
The difference between vinyl and linoleum is subtle. Vinyl is composed of mostly synthetic material, while linoleum is comprised of natural elements. Both are sold in sheets or in tiles and both are considered resilient flooring, which means they restore their shape after being dented. Both are used in commercial and residential environments, although vinyl is more commonly used in home décor and construction because of its lower cost.  Vinyl is also considered less durable than linoleum.
There are three types of vinyl flooring: vinyl composition tile (VCT), luxury vinyl tile (LVT) and sheet flooring. All types of vinyl have been proven to be worthwhile in aging-in-place homes, but sheets are more popular in bathrooms because they eliminate most seams and crevices, making it difficult for water to seep through. Modern vinyl flooring products are heat-resistant and will repel water.
VCT is a mix of limestone, resin, aggregates and color pigments made in sheets then cut into tiles. Due to its composite, it requires more maintenance than LVT and sheet flooring. The porous ingredients used to create VCT require a wax to be applied to the surface to prevent moisture penetration. Overtime, VCT must be stripped and resealed, which requires more work and money.
LVT and sheet flooring are great for areas of a home that see high-traffic, like the living room. They are limestone-based as well, but have a sealed, outer coating on top. These types of floors are flexible, durable, water and heat resistant, easy to clean and have a wide range of design possibilities.
Rubber
Special rubber aggregates in combination with a flexible epoxy resin coating make rubber floors. The material is slip resistant and has a cushioning effect, which provides additional comfort to residents. Most commonly, rubber flooring has been used in gyms where it's important to have a safe surface that is both shock- and slip-resistant. This type of flooring can easily translate well into aging-in-place spaces.
Rubber materials are naturally slip resistant, water repellent, and easy to clean, which make them a good option for bathrooms and kitchens. Rubber flooring can compose the entire floor or be added in specific areas. Rubber flooring is also available in tiles, making it easy to install and to replace any damaged tiles with minimal inconvenience.
Rubber flooring is durable and very difficult to damage, whether heavy furniture is placed on top of it or water splashes down onto it. However, the seams in between tiles can be vulnerable to letting water seep through, resulting in possible subfloor damage.
While rubber flooring is durable and comfortable, it is not cozy and comes in very limited styles, colors, and textures, making it difficult to create a seamless design in the home. Rubber flooring is also one of the most expensive floors to install, which may have many looking at other options.
ANTI-SLIP MATS AND TILES
If slip resistant flooring is something that currently exceeds a budget, there are several applications or additions that promote safety and slip resistance that can be added to a home. These additions can also be implemented on top of slip resistant flooring for extra safety. Anti-slip mats and tiles are two of the most common.
Anti-Slip Mats
Anti-slip mats can be placed on top of non-slip resistant flooring and slip resistant flooring and are recommended in areas that are often wet, like in front of the kitchen sink or bathtub, because they elevate the resident off the wet, potentially slippery surface and allow fluid to drain through its holes and pool underneath. To reduce the risk of tripping, mats often have edges that incline gradually to the floor.
Cleaning these mats has proven to be difficult, though, due to the drainage holes. In the kitchen, grease and dirt can accumulate in slip-resistant mats; in bathrooms, grime can make for an ugly appearance. To clean thoroughly, these mats must be taken outside, hosed down and scrubbed with a strong cleaner, and dried completely before returning inside to eliminate any bacteria or moisture. The upkeep of these mats may be more than one desires when looking to age-in-place.
Slip Resistant Tiles
Also known as modular flooring, slip-resistant tiles are interlocked during installation to form a continuous surface. These products are commonly made of rubber, PVC or polyurethane and combined with an aggregate to make it slip resistant. Modular floor tiles make for a quick flooring solution in a home – they are durable, quickly installed, and can be easily cleaned and maintained. Slip resistant tiles are raised surfaces and have edges—so, unless it covers the entire flooring surface, tripping may be more of a risk than slipping. This risk can be mitigated by adding a beveled edging option. 
BEST TYPE OF FLOORING FOR AGING-IN-PLACE TROUBLE SPOTS
Kitchen
When it comes to flooring for a kitchen, the choices may seem endless, but there are better options than others when it comes to an AIP home. One option is luxury vinyl tile. While hardwood flooring looks great in a kitchen, it's best to avoid it, because it can absorb moisture and heat that is often present in the kitchen. This results in the hardwood floors expanding and warping, causing tripping hazards.
Luckily, LVT comes in many different options and some of them mimic the look of real wood without the consequences. In fact, LVT is extremely durable and can last up to 20 years if properly maintained (and that part is simple, too). Most LVT flooring is water-resistant and some options are even waterproof. LVT is also one of the most budget-friendly options available.
Bedroom
Carpet is recognized as the most popular flooring option for bedrooms due to the fact that it is soft and warm on a person's feet right when they wake up in the morning and take that first step out of bed. There's also comfort knowing that a fall from a bed onto the floor will not result in much injury with carpeting (especially if it has a high-quality underlayment). Likewise, slipping and falling is minimized as well. It's important to note that carpet pile for aging-in-place homes shouldn't be more than half an inch to prevent tripping. 
Bathroom
One of the most important features of flooring in a bathroom is its need to be slip resistant. Cork flooring and luxury vinyl or linoleum tile are great options to have in a bathroom, since all are water and slip resistant.
Cork not only looks good; it feels good as well. It's soft and cushiony. It also has anti-bacterial properties and resists the growth of both mold and mildew, which can appear in a moist area like the bathroom. There are some drawbacks, though. Cork is water resistant but not completely waterproof. It must be liberally sealed every few years to prevent it from cracking and warping. Also, because it's soft, it's relatively easy to damage, so you have to be careful when moving heavy furniture across it.
Slip-resistant vinyl or linoleum tile is very comparable to cork flooring in that it looks nice and is also soft and warm on feet when exiting the shower. Although some types are more slip resistant than others, vinyl and linoleum tile typically offer padded subflooring options that can help lessen the impact of a fall. This type of flooring can also be installed over an existing floor, which can add to the cushioning. There are also some options that are completely waterproof.
TIPS FOR KEEPING FLOORS SAFE
The type of flooring you choose is only one part of the puzzle when it comes to safety. There are several basic steps a homeowner should take to keep their floors safe as they age, including:
Smooth Floor Transitions:The more consistent they are, the better. Transitions like saddles or thresholds have proven to be tripping hazards, particularly as we age. For the transitions you do have, try to minimize the height differential with transition strips wherever possible.
Area Rugs:Area rugs are another tripping and slipping hazard. Small, light rugs are particularly dangerous, as they don't have the weight to hold them down. If you must use an area rug, make sure it's heavy enough to stay in place and that the height differential is smoothed out with transition strips.
Moisture:Keeping the floor dry is important for many reasons: maintaining the integrity of your flooring and avoiding accidents are just two. The kitchen and bathroom are areas of particular concern when it comes to water on the floor. A good option for those rooms is to use anti-fatigue mats, which are heavy enough to hold themselves in place. They're also soft and cushiony, making standing while cooking or cleaning easier on your feet and back.
Clutter:Your floors should be as clutter-free as possible. This doesn't only apply to obvious tripping hazards such as toys, clothes, and the like – but also ensuring that any wires or cables are safely out of the way.
FLOORING TYPES TO AVOID IN AIP HOMES
It may seem like most flooring can be used in aging in place projects, but there are a few that should be avoided:
Natural Stone: While this flooring option is beautiful and comes in a variety of warm, earthy colors, it's hard and unforgiving if someone trips and falls. In addition, it requires more maintenance than other flooring options and if it is polished when being cleaned, it becomes extremely slippery.
Ceramic and Porcelain Tile: While this flooring option is very easy to maintain, it can be cold and hard. The two most popular areas in a home to use tile are the kitchen and bathroom and both can be quite wet, causing the tile to be slippery. If ceramic or porcelain tile must be used in the home, make sure it has a coefficient of friction (C.O.F.) rating of at least 0.6 for slip-resistance.
Concrete: Even though concrete is durable and easy to maintain, and the textured surface can reduce the risk of slips and falls, it's a very hard surface to land on in the case of a fall. It can also be very cold, making it uncomfortable to stand on for more than a couple of minutes.
PROFESSIONAL INSTALLATION OR DO IT YOURSELF?
While flooring seems like a generally simple component of a home, all homeowners should give careful consideration to whether they want to undertake this type of project on their own.
With the vast amount of flooring options out there, it's important to work with a Certified Aging in Place Specialist (CAPS) to not only save time and money, but to ensure that any immediate or future headaches can be prevented. For example, when selecting the type of flooring, they can provide insight into which might be best for each individual resident, taking their individual needs into account. While vinyl could be the best option for one homeowner, it doesn't mean it's the best option for everyone. Depending on what type of subfloor is in the home, installing the wrong type of flooring can compromise its performance and cancel any warranty coverage.
Even the best type of flooring can be compromised if it isn't installed correctly. Most specialized flooring comes with recommendations from the manufacturer on how to install it, because it isn't as easy as some may think – these high-performance floors require careful installation and if there is even the smallest air pocket, the floor may cause trips or falls.
A CAPS contractor can:
Purchase flooring directly from manufacturers, eliminating the middleman markup and saving money
Recommend cost-effective solutions that align with product warranty specifications to ensure coverage if a problem arises during the warranty period
Keep extra materials available if small repairs are needed
---
READ: THE ULTIMATE GUIDE TO LIGHTING FOR AGING IN PLACE
---
When it comes to flooring, you shouldn't leave safety to chance. Taking these tips into consideration and choosing the right flooring options room by room will help you live life to the fullest in retirement and beyond.