As we age, it's natural for our eyes to begin to change, but those changes affect everyone differently. Some may not be able to see small details like they once could, while others may notice that they have an increased sensitivity to glare. No matter which complications affect us, for those looking to safely age in place, it's important to upgrade the lighting fixtures throughout the interior and exterior of a home.
Here are seven lighting fixtures that can be incorporated into a home to address the most common age-related eye issues. We believe these suggestions meet the criteria set forth in our Ultimate Guide to Lighting for Aging in Place.  
---
READ: 9 Safety Considerations for the Aging in Place
---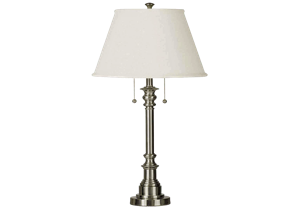 Table lamps provide a great light source and can accent the rest of the décor in a given space. When deciding what table lamp to purchase, consider the weight of the base and the thickness of the shade. If the base is too light, it could easily fall off the table. And if the lampshade is too thick or too thin, it could create visual hazards. Kenroy Home's Spyglass table lamp provides the perfect amount of light for any room. It features two bulb sockets, allowing owners to determine how much light they want. It also has easy-to-reach pull chains, making it simple to turn on and off.
Amazon Rating: 4.2 / 5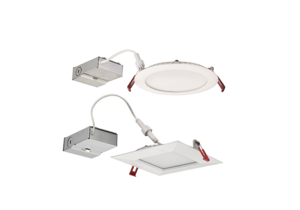 For rooms that may only have one light source, the addition of recessed ceiling lights can improve lighting significantly by brightening the room. While homeowners should avoid using this lighting in the center of a room, if evenly spaced out near walls, they can diffuse light. The Dimmable Recessed Ceiling Lighting by Lithonia Lighting is ideal for both indoor and outdoor use. It's easy to install and saves users money and time changing light bulbs. Its Energy Star® rating provides a high light output with low power usage.
Amazon Rating: 4.7 / 5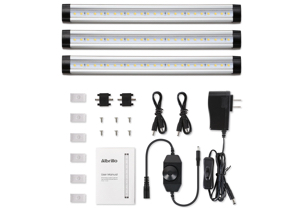 Task lighting, also known as a reading or work lighting, can be placed in any area that requires a focus on detail. Many of these areas include under kitchen cabinets, over sinks, and in other reading and work areas like the bedroom or office. Albrillo's under cabinet lighting can brighten up any dark area and is perfect for performing tasks like cutting vegetables where precision is key. It also comes with a dimmer switch, allowing for homeowners to set their preference for different lighting needs.
Amazon Rating: 4.5 / 5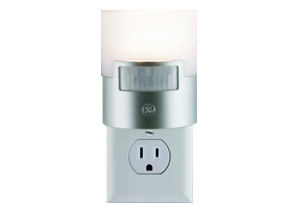 Homes should always have nightlights, especially in hallways, bathrooms, and bedrooms. A nightlight is great at producing enough light to navigate a room without giving off so much light that it takes a while for aging eyes to adjust. GE's motion-activated nightlight automatically turns on when motion is sensed up to 25 feet away, so homeowners will not have to move through a dark room to turn the light on. The light turns off after 90 seconds of in activity to preserve energy.
Amazon Rating: 4.4 / 5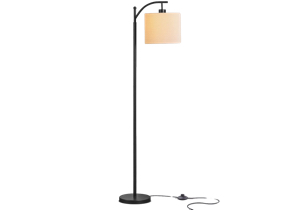 Floor lamps are  a welcome addition to any room as long as they are placed out of the way of heavy foot traffic. The Montage floor lamp by Brightech is a classic design and can be used to brighten up any room. Standing at only five feet tall and lightweight enough to reposition, this slender lamp fits easily beside any type of furniture and can be an additional light source while reading or working at an office desk. The Montage includes an on and off foot pedal which is located conveniently close to the base of the lamp, meaning homeowners can position the cord out of the way and be able to use the pedal while reducing the chances of tripping.
Amazon Rating: 4.6 / 5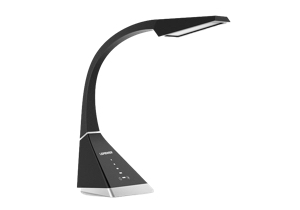 As a result of different factors – whether it is arthritis, finger flexibility, or strength – sometimes it can become difficult for older adults to turn on and off floor and table lamps. To bypass this, homeowners can invest in touch lights. LEPOWER's LED desk lamp has many attractive touch control features. With a touch power key to turn on the light, users are given the option to choose from three different temperature modes: reading, relax, and sleep. Within these modes, there are five adjustable brightness levels that are controlled with a simple touch of the base. This lamp is also packed with some of the latest lighting technology, producing soft and flicker-free lighting while protecting one's eyes while working.
Amazon Rating: 4.5 / 5
Implementing motion sensing lighting outside of a home is a great way to ensure one's safety. For example, if someone is arriving home late and they forgot to turn on the outside lights before leaving, they won't have to worry with motion sensor lighting – it'll automatically turn on, and they'll be able to make their way into the home. LITOM's outdoor solar lights are equipped with high power LEDs and a wide range design, increasing the area of illumination by 50%. Three different modes allow users to place these lights where they feel it is convenient, whether it's the front door, the backyard, or the driveway.
Amazon Rating: 4.4 / 5
---
NEED TO DISCUSS ADDITIONAL LIGHTING FIXTURES? WE HAVE YOU COVERED. START HERE
---
SELECT LIGHT FIXTURES THAT WILL IMPROVE YOUR QUALITY OF LIFE AND KEEP YOU SAFE
The right lighting fixtures can have a dramatic impact on your safety and quality of life. That's why it is important to choose wisely and to choose the best products available, regardless of cost. After all, you can't put a price on your well-being.
Please note: We only suggest products that are well reviewed and are likely to offer a benefit to those who desire to age in place.
Like this post? Spread the love!